Tenchi Universe is my favorite Tenchi series even if it doesn't follow the original manga series as well as the OVA series does. I have fond memories of renting the videos from Blockbuster and watching them over the weekend as a teenager. So nostalgia plays a big part in this. If you don't know what a "video" or a "Blockbuster" is, Google it.
As you can imagine, I was pretty excited for this release. I missed the Pioneer box set release but had the original Pioneer single releases. But enough about that, let's dive right into this:
Packaging: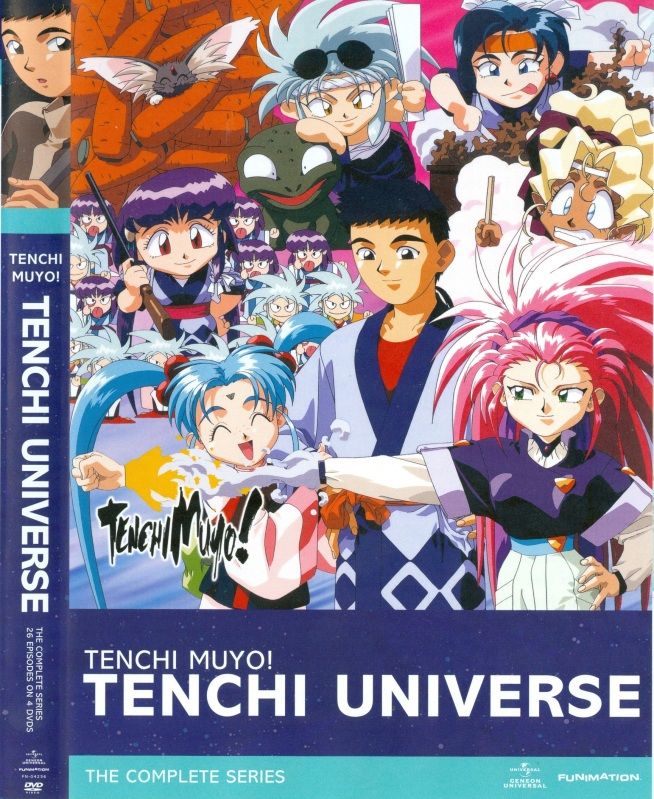 The cover art is the same art used for the original Pioneer single for Vol. 2…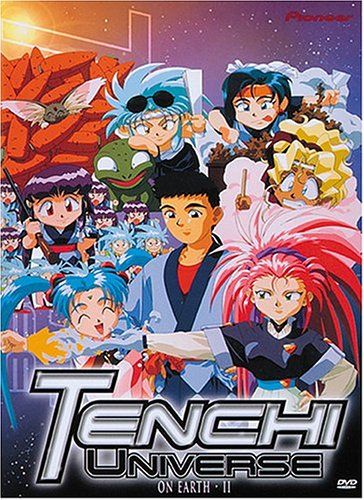 Now, I'm not saying it's a bad thing but, it seems like this art is specific to episode 7. I think I would have picked something less specific. Also, the DVD comes with one of those cardboard sleeves…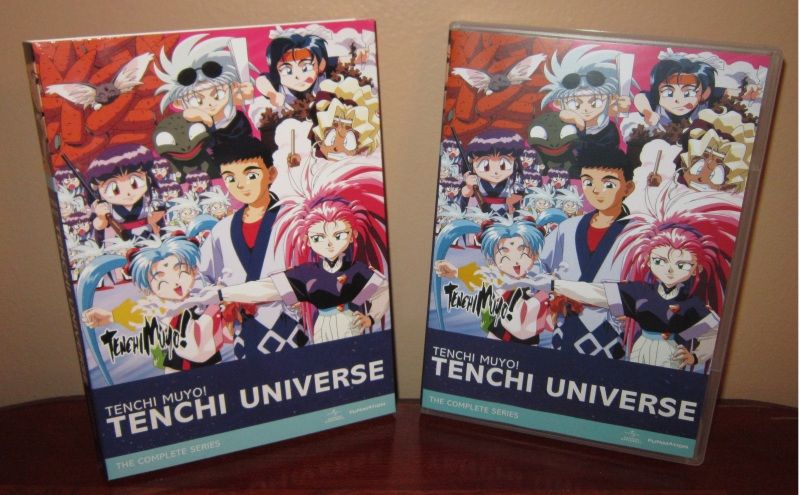 When you open it up the episodes are listed on the left in a clear, easy to read font…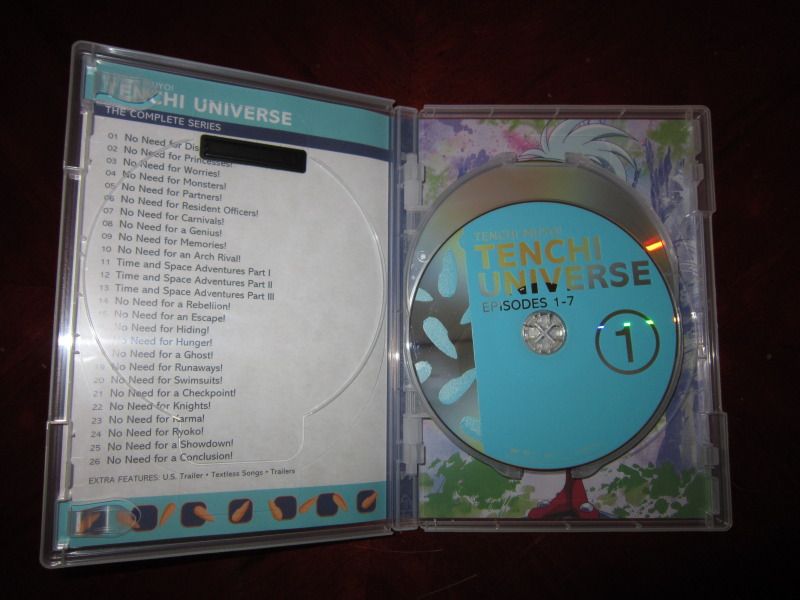 The disc art seems a little bland. But, it tells you what episodes are on the disc so, it get's the job done. On the opposite side of the DVD case there is an image of Ryoko. Here's what the backing looks as one sheet…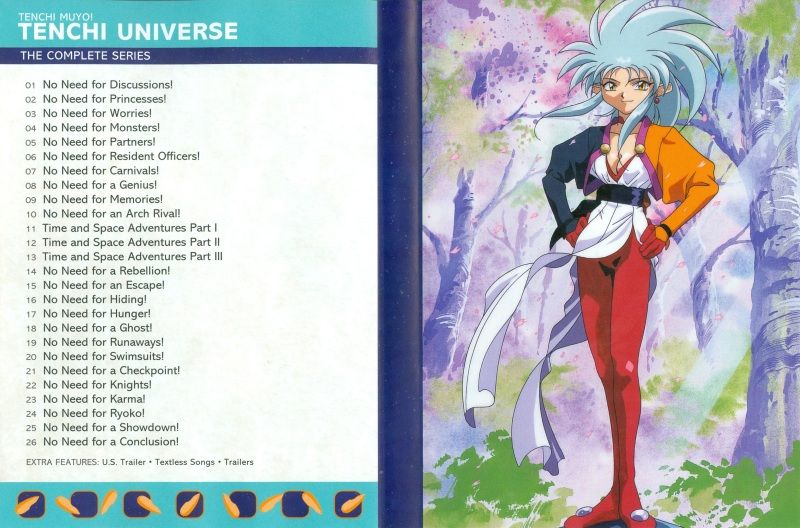 The back of the DVD is pretty cool…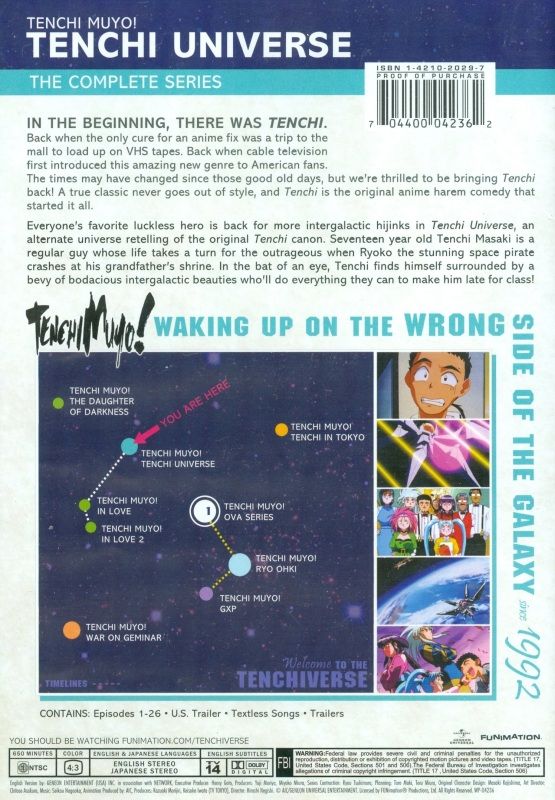 It has a map explaining what Tenchi series or movie fits where! How cool is that? This is pretty helpful to casual fans. Also I noticed FUNimation's description on the back seems to imply they're banking on the nostalgia market for this one. Talking about trips to the mall to buy VHS tapes… that's how I opened this review! Also they're using fan terminology saying flat out that this is somewhat of a side story to the Tenchi canon. It's odd to see but, I don't mind.
DVD:
Now for the DVD itself. The menu's all use art work previously used as cover art for the Tenchi Universe singles by Pioneer. That's fine I guess, I didn't think FUNimation would get a whole bunch of new promotional art with this. The font, once again is clear and easy to read. It's a real straightforward menu format…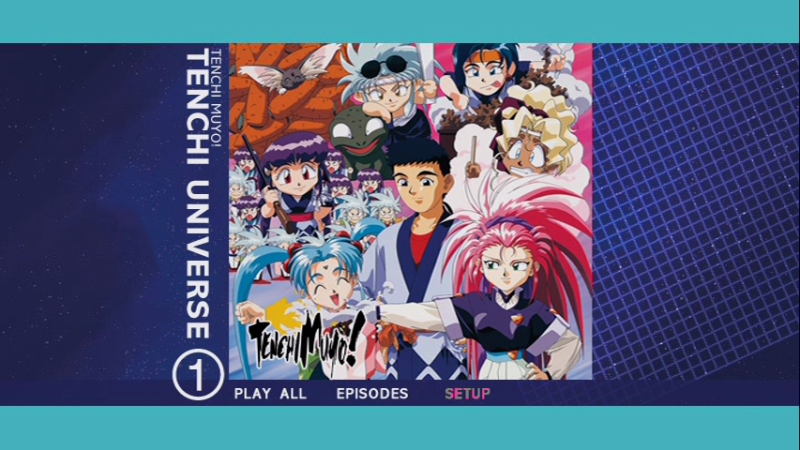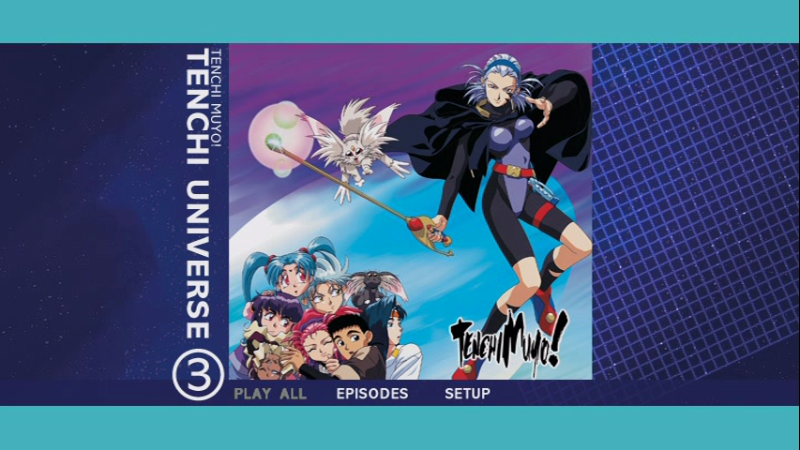 There isn't much in the way of extra's. Mostly trailers and textless opening and closing animations.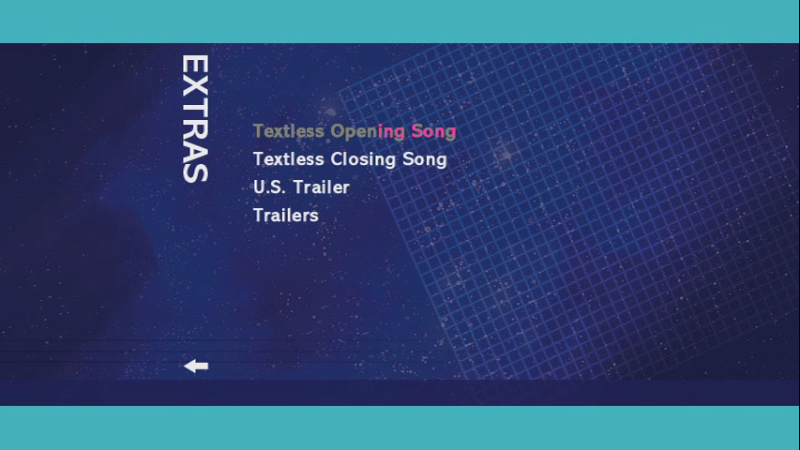 It's not like FUNimation has a lot of Tenchi stuff just laying around to put on the disc as an extra so, I understand.
And now the biggie. The film transfer. It's not good. Basically it's the same as the old Pioneer transfer. I was really disappointed to see this, the difference is so slight it almost doesn't even matter.


(For a lossless screen shot, here's a link. Click "zoom" and hit "original size": http://s17.photobucket.com/albums/b90/tanookikuribo/Tanooki%204/?action=view&current=vlcsnap-2012-09-29-22h56m37s56.png)
Can you tell the difference? Well the Pioneer version is on the left and the FUNimation version is on the right. Perhaps for the time, the Pioneer version wasn't so bad. But now? It looks aged and not so hot. The worst case is during the credits…
Along with the aged film transfer, the Tenchi Universe series sufferers from a lot of film damage. This is typical with traditional hand drawn cel animation, and some anime's are worse than others. Most of the time you wouldn't even notice without someone pointing it out. But when it's pointed out you'll be surprised how much there is. For example, watch this clip below and just keep your eyes on the top of the screen. Every few moments you'll see some white spots. That's film damage…
And just for good measure I guess I should mention the font for the subtitle track. It looks much better than the original font used for the Pioneer version.

Conclusion:
I gotta say, I was a little disappointed that this didn't get a new video transfer. Does that make this a bad release? Well, yes and no. In one aspect, if you were just looking to get the Tenchi Universe series on DVD and were willing to buy the old Pioneer DVD's but found them to be too expensive due to their rarity, then this isn't so bad. But if you're a Tenchi Muyo fan who already has all the old Pioneer DVD's and were looking forward to a new transfer then, maybe pass on this one. All in all though, it's an alright release. I don't regret buying this, I don't have the old Pioneer DVD's and right now they're insanely expensive so, this is a good way to go. It's just that, there was so much FUNimation could have improved on and didn't.