I'm not pointing out errors to complain or anything like that, I find them interesting and fun…
The first error is this movie came as South Kai smashes his hand up against King Kai. In the first part of the scene his hands are pink, as they should, but as King Kai falls back in the next scene, his hands are now blue!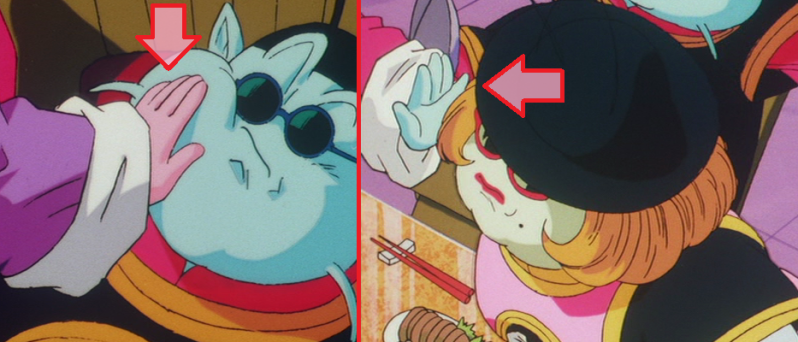 Edit: (totally missed this the first time around) the camera pans down on Goku and Paikuhan. Goku's shirt is colored orange when it should have been blue…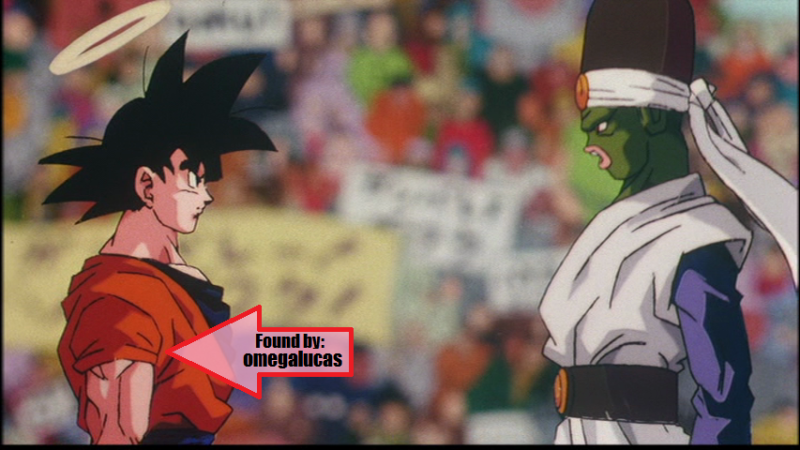 The next one isn't an error but hey, look at who's in the stands! It's Arqua, that's totally Arqua!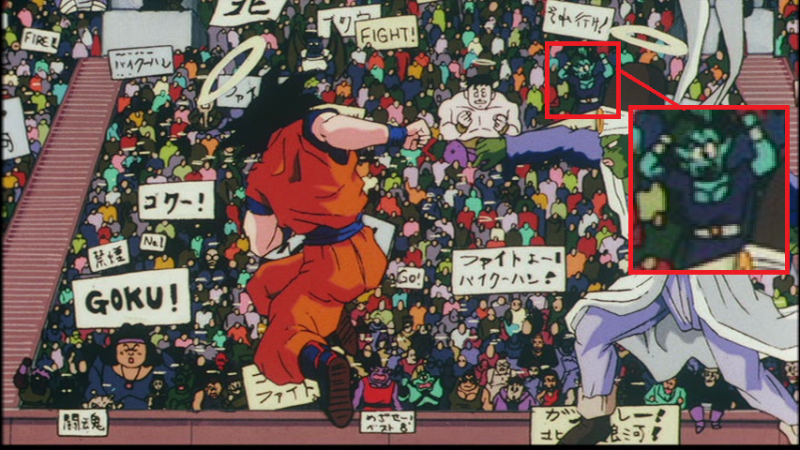 I was thinking if I should exclude the opening since it's so common and there have been a few errors and oddities pointed out here before but, I figure for good measure and for the sake of conversation, it wouldn't hurt.
FUNimation took one frame of animation from this opening for one of their "Great Saiyaman" videos. This was really a hard frame to capture, it's really just one shot of Gohan's face moving….
Gohan has a book back in once scene then in the next it's gone…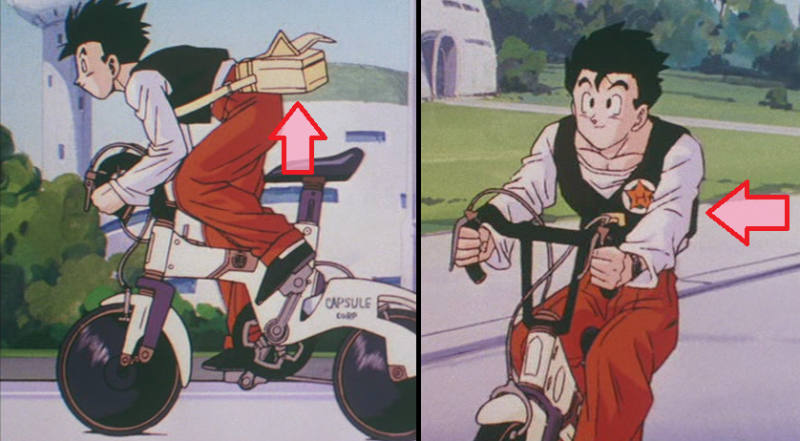 Goten also changes clothes from one scene to the next…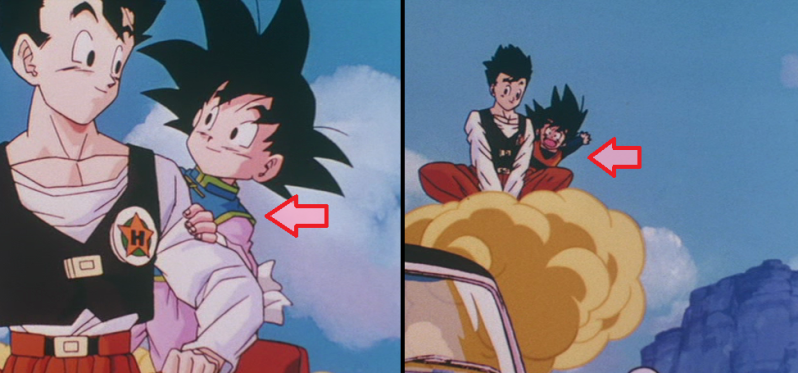 Also in that scene, a rare picture. Piccolo, Krillin and Bulma driving in a car. What an odd combination. I wish they would have had this on the screen for more than a half a second…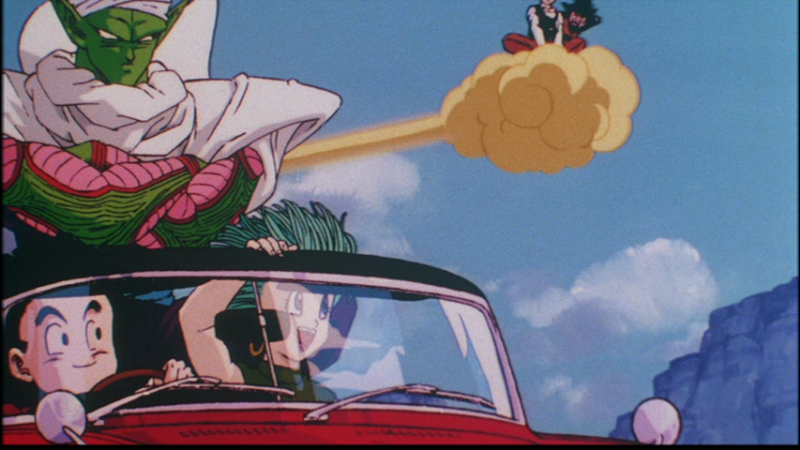 A shot of Gohan turning Super Saiyan has a small error, Gohan's eye brows are still black…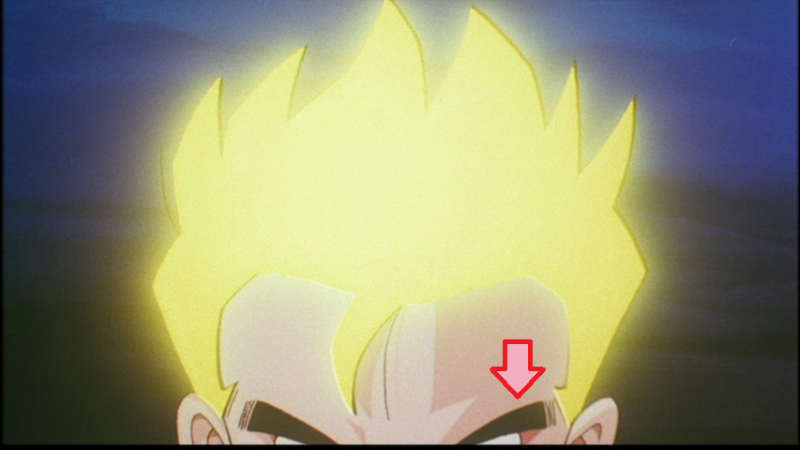 And, the last thing I'll mention from the opening. FUNimation takes another screen shot for one of their covers. This time this Goten and Trunks are used for one of the "World Tournament" videos.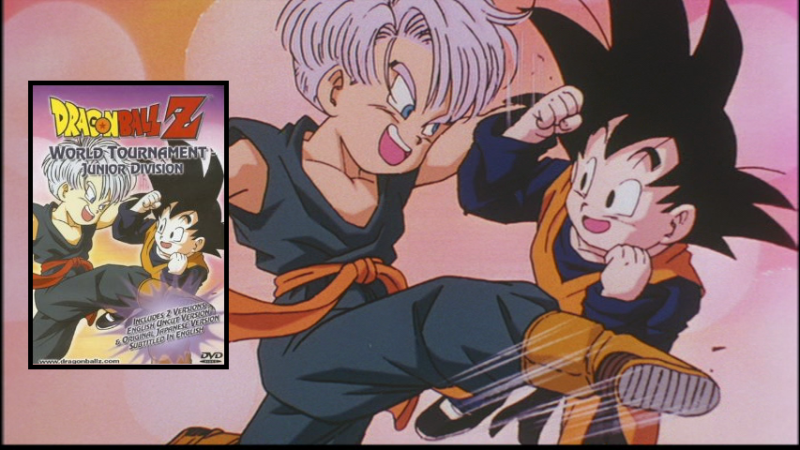 As the movie starts we see Enma-Daio doing what he does best. But hey, what's that!? He has one human hand?! Also, his hamburger isn't colored the right way, looks kinda odd, but it's colored in full at the end, you'll see…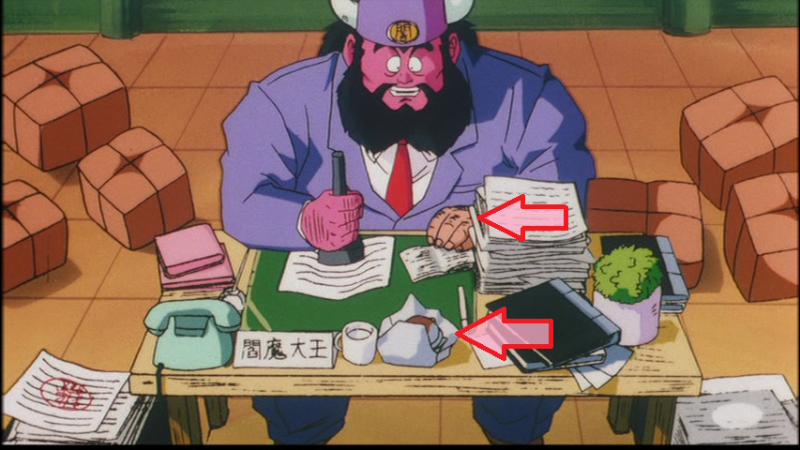 Side note: Who's he sending to Hell? Find out here: http://daizex.fanboyreview.net/viewtopic.php?f=7&t=10440&hilit
After Janemba takes over Tank Boy's body… or whatever he does, he sits on the roof of the check-in station. His armor is white…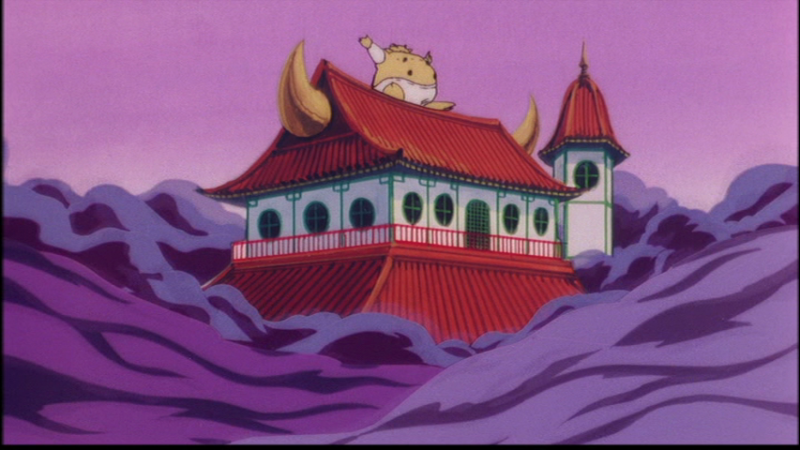 Meanwhile at the Son house. Videl helps Chi-Chi with the dishes, in one scene there are spatulas and what not hanging on the cabinets, in the next scene they're gone…
Side note: DBZ movie 12 took place on a Saturday, the 16th!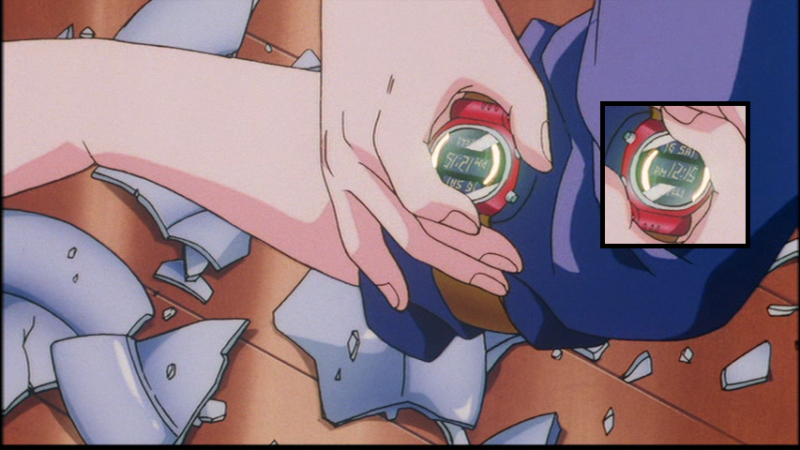 As Goku and Paikuhan meet Janemba for the first time, Janemba flicks Paikuhan back and crashes into a jelly bean… thingy. The body impact is in a totally different area then where he actually hits. Check it out for yourself, it's a little odd…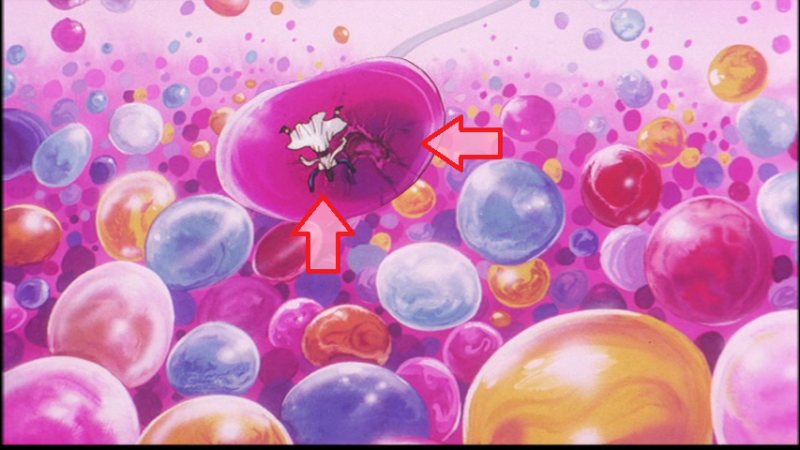 As dead people are coming back to life, Freeza comes across Gohan. After Gohan takes his cape off and introduces himself as "Son Gohan", the next scene shows Gohan with the cape on, with his back turned…
As Freeza summons his minions, Jeese seems to be wearing tighty whiteys…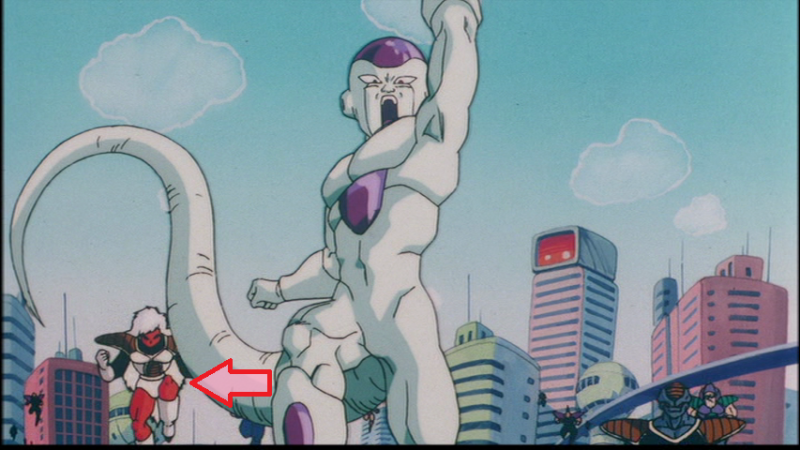 Later at Bulma's house, the Dragon is summoned. Did you ever notice Bulma's parents were there?
Now this next one is really strange. So you know that scene where Super Saiyan 3 Goku is beating up on Janemba? Well, right before Goku forms those two energy balls in his hands, there is a slight, slight image from later in the movie. It's very strange and I don't know if this is on other versions of the film. I'm using the DragonBox singles for this post…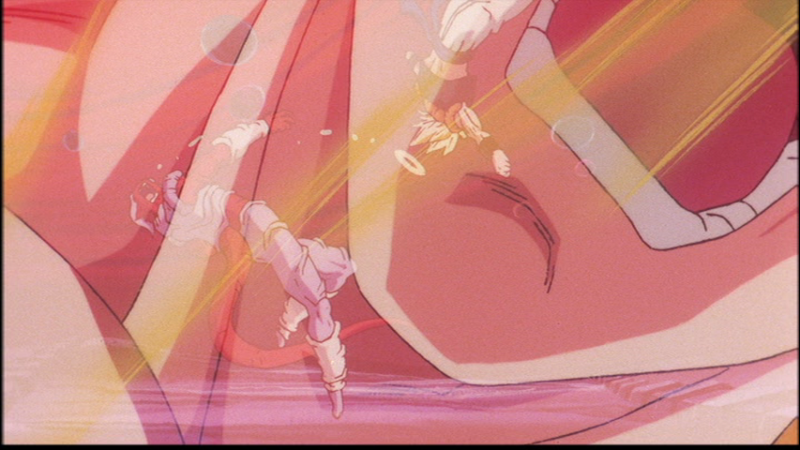 As Goku comes down on Janemba with those two energy balls, one shot shows Janemba's stomach totally fine, the next we see some damage…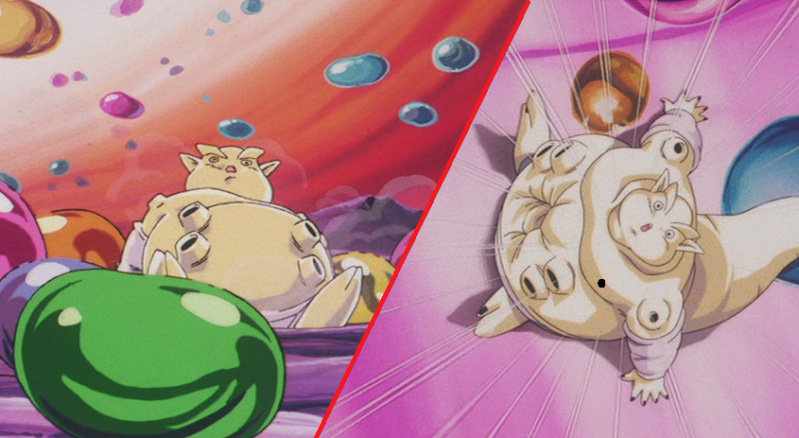 Later on, Goku is stuck inside the transformed bloody pond. Strange thing happens here. As Janemba strikes Goku we see the blade attack head right for him, but then out of no where an energy ball! It's Vegeta! But wait, the energy ball didn't actually stop the slash attack, it goes right past it! Goku should be in two pieces after this scene! 😆
Then a while later, Goku and Vegeta are talking about fusion. Goku grows his shirt back for one scene…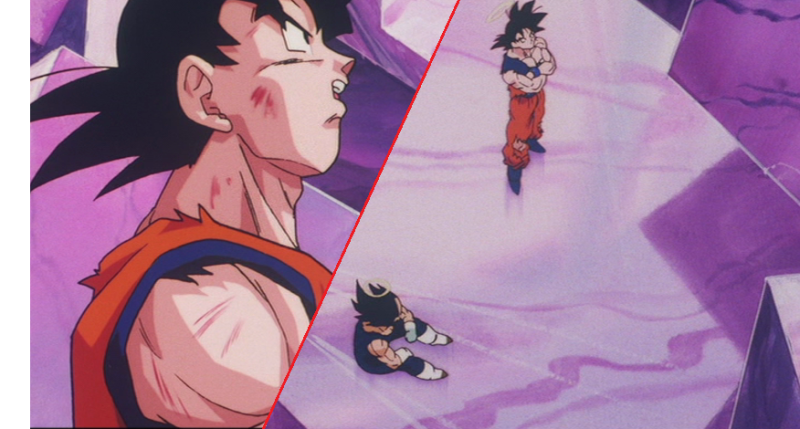 And then I couldn't find anything else until the very end. Enma-Daio's hand is still flesh colored, but now his hamburger is colored brown and… his pen changed from pink to white. Why would I even notice that? Also, check out that stupid face he has, that made me laugh…