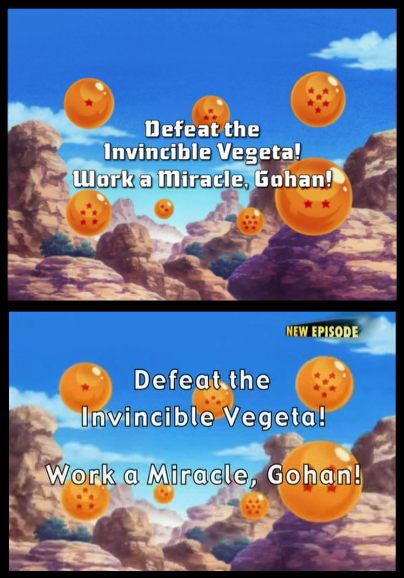 As the episode starts we see a bloody Vegeta in the middle of his battle with Gohan. This episode has a lot of blood on the faces and bodies of everyone in it. Usually in other episodes the blood would eventually turn black, but it only happened once in this episode. Man, the person who had to re-color all that blood…
The first audio edit though, comes from Krillin as he holds the Spirit Bomb, waiting for the right time to throw it at Vegeta. As he thinks of the situation at hand he lets out a "damn" before continuing on with his thoughts.
The plan doesn't go according to plan but still, Vegeta does eventually get his with the Spirit Bomb. Vegeta gets blasted far into the atmosphere (yet again) and while he's off somewhere up in the clouds, Goku, Krillin and Gohan think the battle is over. Goku tells Krillin he must be exhausted, to which Krillin replies…
…yea, I'm as confused as you are. I… I just don't know… 😯
It's a bird, it's a plane, no! It's Vegeta! Vegeta's body hurdles back towards Earth and crashes near Goku, Gohan and Krillin. Krillin says…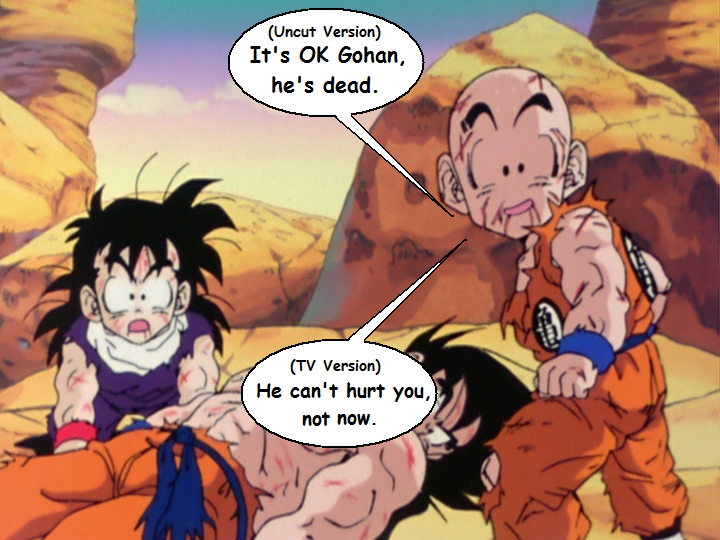 Krillin walks over to Vegeta and says…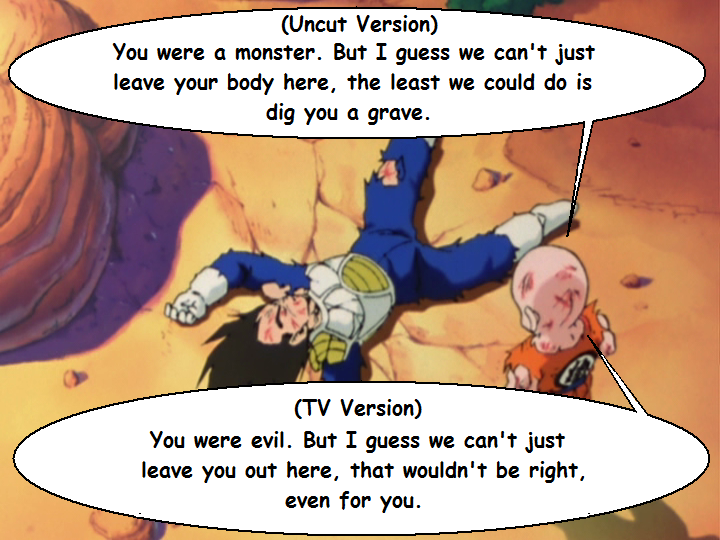 But, it seems Vegeta wasn't dead.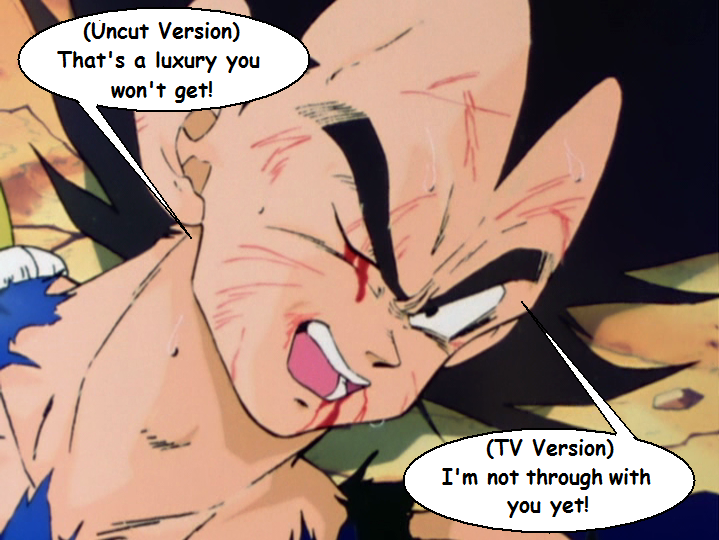 Vegeta smacks Krillin in the face. It wasn't flash edited, but just edited for blood. Crazy no? It's a direct hit to the face. I don't know anymore…

After that, Vegeta starts to walk towards Goku and Gohan and says…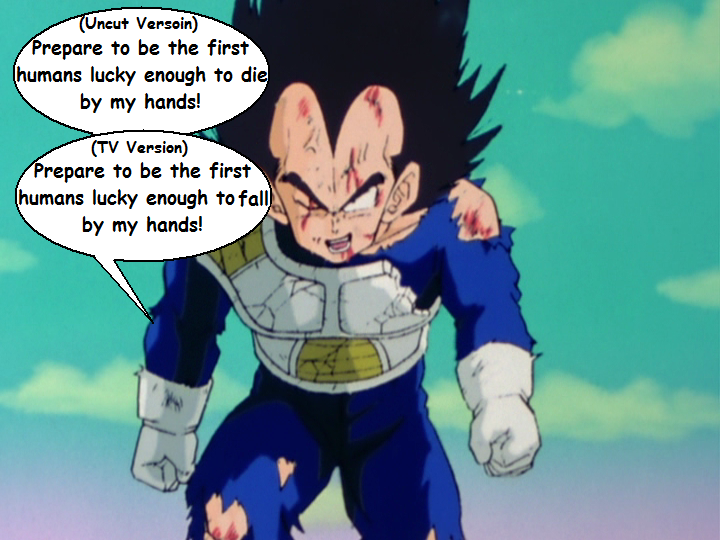 Vegeta then blast everyone away with some kind of attack that doesn't really do anything except clear leaves off your lawn in the fall. After this, Vegeta realizes Gohan's tail has grown back, as he powers up to chop it off, Yajirobe steps in and slices Vegeta's back. The close up shot of the slice in the back of the armor is cut out…
What's also cut is Vegeta falling to the floor. In the TV version you just see Yajirobe, but in the uncut version you see Vegeta fall behind Yajirobe. I bet someone isn't gonna read this and just see the images and think they edited Vegeta out of the picture! 😆
Then, Yajirobe, being a total moron yells out…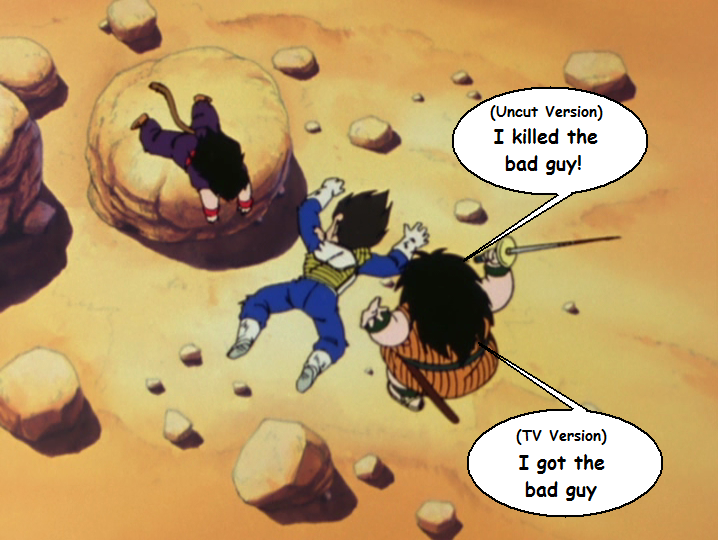 And of course, again, Vegeta isn't dead.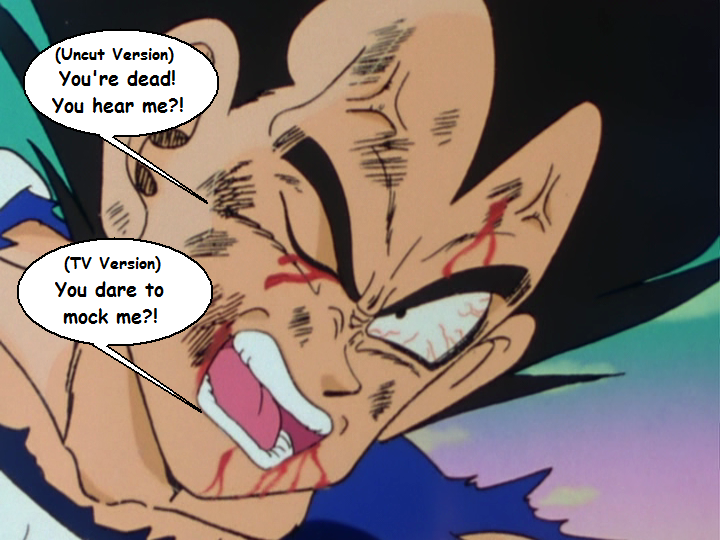 Vegeta gets up and kicks Yajirobe in the face while he's talking. There was a slow motion reaction shot of Yajirobe, which made it longer then a typical hit we see on the show. Needless to say the reaction was cut, but the actual kick was flash edited…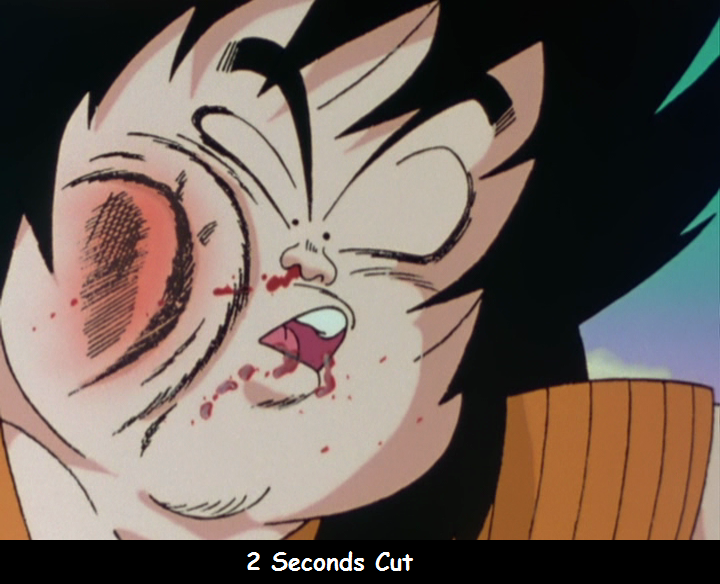 As if that wasn't enough, Vegeta punches him soon after, again it's in slow motion but is one second shorter…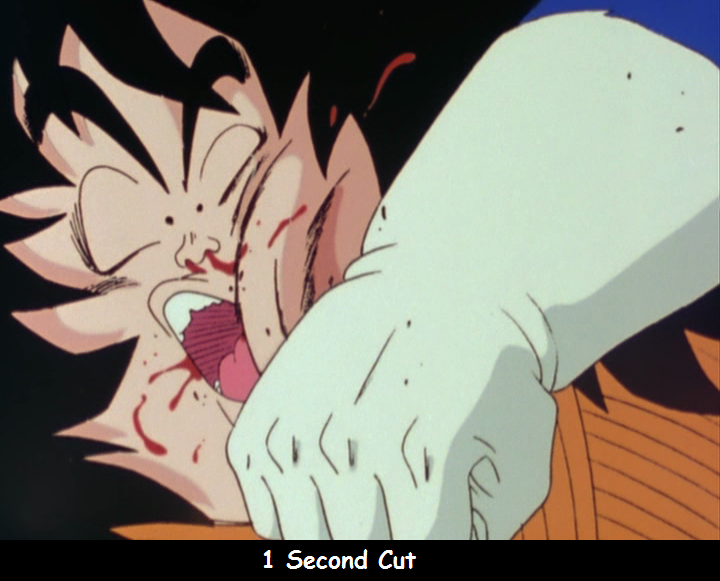 Krillin looking down on this beat down says…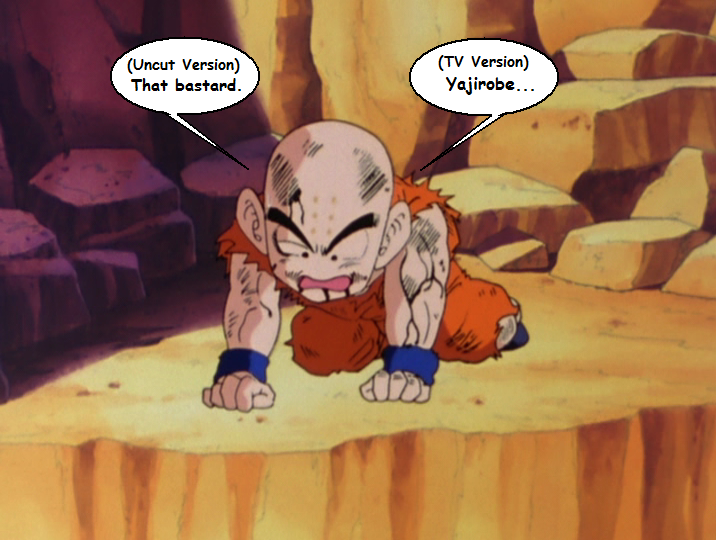 While Vegeta is busy kicking Yajirobe's ass, he forgets about the situation with Gohan. When he rushes over to Gohan and see's he has already started transforming. Vegeta yells out…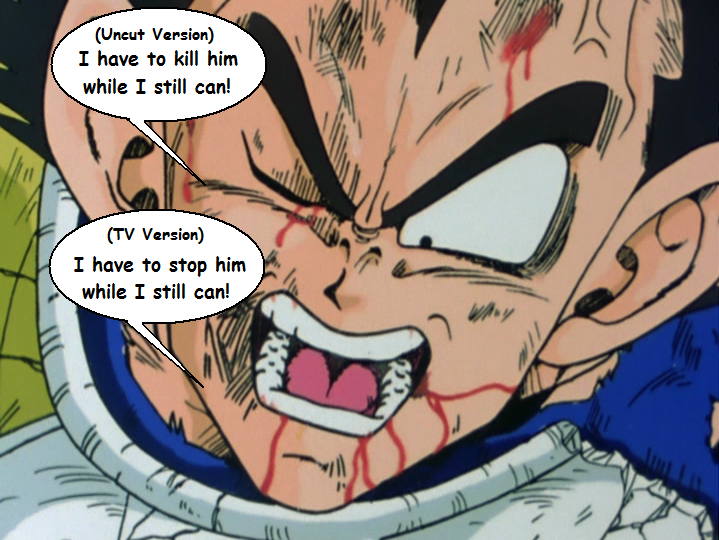 Gohan eventually fully transforms into a giant ape. While in this form, it seemed like he had no motive, he was just running wild. Krillin eventually yells out…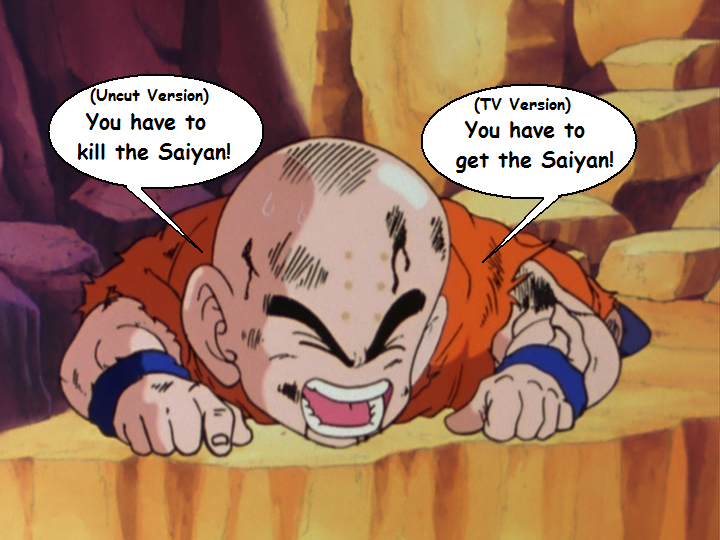 Hearing Krillin yell this, Vegeta says…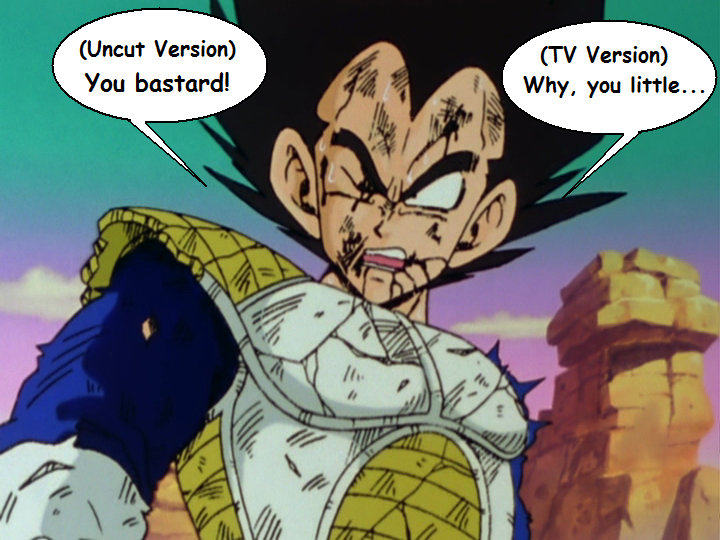 Goku yells at Gohan and it seems like Gohan finally gets it. Vegeta knows he has to cut off Gohan's tail and after a few failed attempts, he finally hits his mark. In the TV version we don't see the tail actually getting cut off, just a flash edit…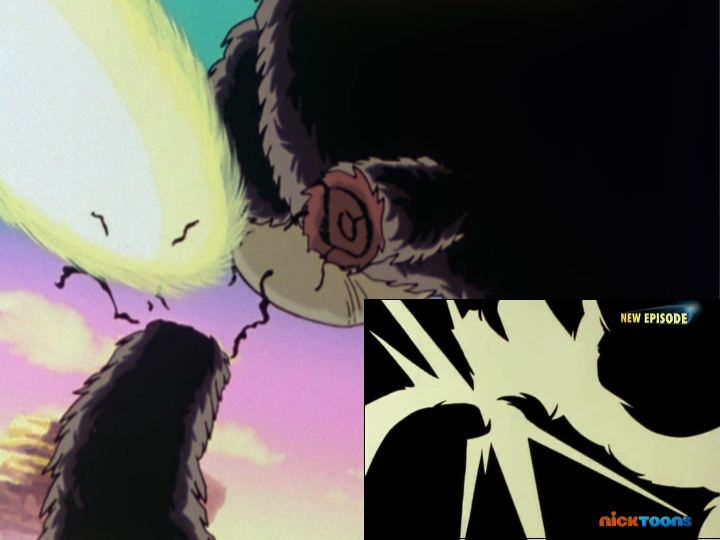 This particular flash was actually in the uncut version at the moment the tail was being cut off.
With Gohan's tail gone, he turns back into a normal boy, but due to a miscalculation by Vegeta, Gohan lands right on top of him. After this Vegeta is done. He has no energy left to defend himself and so, calls him space pod. Krillin sees this, grabs Yajirobe's sword and says…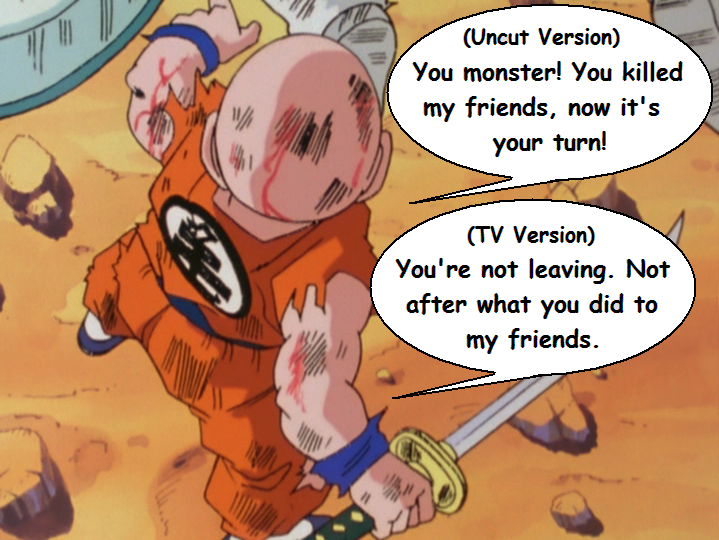 And without any warning, the end credits start. The episode is over!