Part 1: Development Years
As early as 1988, Shigeru Miyamoto and a team of 16 people were busy developing the successor for Super Mario Bros. 3. It was about this time, in the late 80's that screen shots from an early version of Super Mario World started popping up in video game magazines…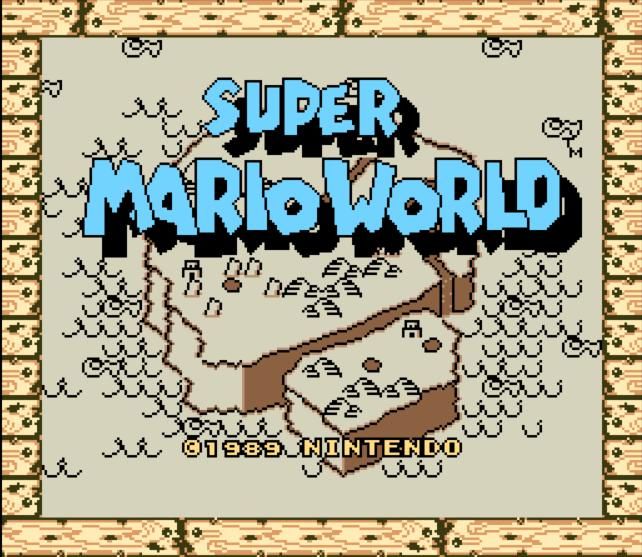 This Beta (early) version seems to have been almost completely different than the version of Super Mario World we know today. It was actually a lot closer to Super Mario Bros. 3 than anything else. Early screen shots of the game would typically show Mario with the Tanooki ears and tail. We might never know if this was just a place holder for a flying power up that wasn't created yet, or if this was just a scrapped idea.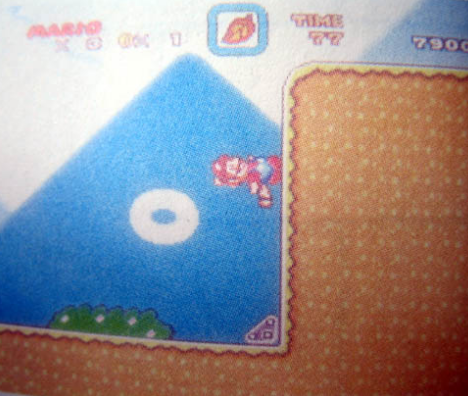 The World was a totally different place as well. Many of the sprites seemed to be upgraded from Super Mario Bros. 3. In this early version the Koopa Troopa's looked the same as they did in previous games instead of how they eventually ended up in SMW – walking upright and wearing boots…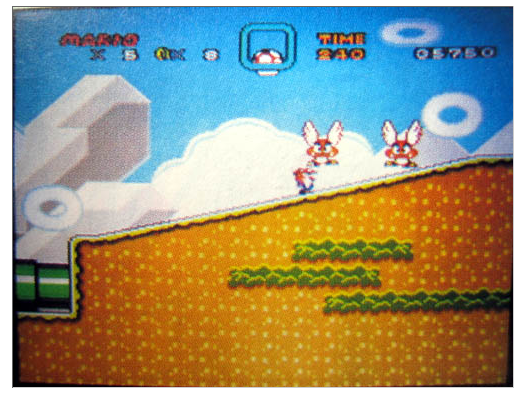 You can read some early news of the SMW in this article from EGM #2! Interesting note from this article: Nintendo had no plans on bringing Super Famicom to the US at that time.
Over the course of about a year or so, screen shots for Super Mario World started to evolve and look a little different. The game started to look more like the version we know today. News of Mario riding a dinosaur in this game started to surface and soon, screen shots of this dinosaur were popping up…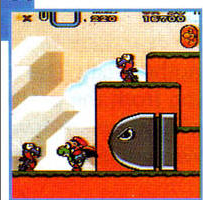 It was a while before we knew what this dinosaur or dragon's name was. Even Nintendo Power, an official source didn't mention this creatures name yet…
As we all know, this dinosaur was eventually named "Yoshi". It has been said in many interviews that Shigeru Miyamoto always wanted Mario to ride a dinosaur. But due to the limitations of the NES this never happened. Miyamoto shares an early sketch of Yoshi in the book "Mario Mania"…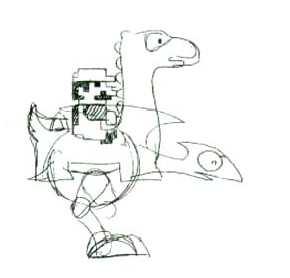 By late 1991 the game was just about be released with the brand new Super Nintendo system. It seemed everything was done and set in stone. Except one thing: the name of the game. In Japan where it was released first, it was called "Super Mario World: Super Mario Bros. 4". But here in America, it seemed Nintendo wasn't too sure about keeping the "Super Mario Bros. 4" subtitle. Some early commercials showed a version of the game with the "Super Mario Bros. 4" in the title. Some commercials showed a version with just "Super Mario Bros."…
But, Nintendo of America eventually decided to just name it "Super Mario World". Interesting note – even though there is a "Super Mario Bros.4" subtitle on the Japanese box art and SMW merchandise, the subtitle isn't on the Japanese title screen.
Part 2: The Release of Super Mario World.
And so, 9 months after the Japanese release, Super Mario World was released here in the US on August 13, 1991. There were two ways to get a hold of this game. You could buy the SNES Super Set or just buy the game separate.
The cover art wasn't as cool looking as the Japanese version. The American box art just had an image of Mario riding Yoshi. The Japanese box art had that same image but with a bunch of crazy stuff happening in the background. I mean, it just looks more appealing…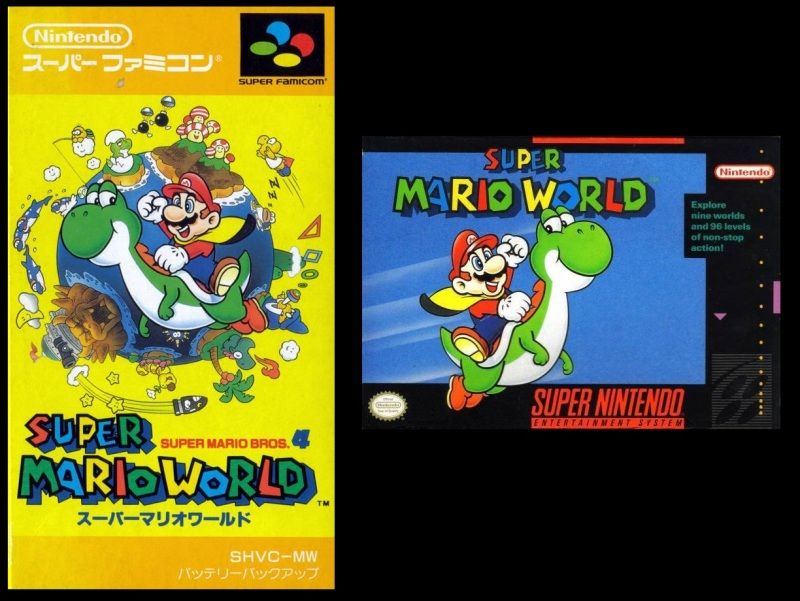 Speaking of the Japanese version. There were a few minor differences between the two versions. Nothing too noticeable, but there are some tiny differences. A few examples of those are…
On the Japanese title screen, there is a bigger shadow around the words forming "Super Mario World". A star was added to the American version if you got a 96 – confirming you have completed everything. A paw print was added to Yoshi's letter in the beginning of the game. And probably the most bizarre, Yoshi can eat the dolphins in the Japanese version, but not in the American version…
In addition these changes, the game itself was made just slightly easier. For example, in Lemmy's castle you would start off with 300 seconds to complete the level. In the American and European version you get 400 seconds. Also power ups were added in places where they weren't originally…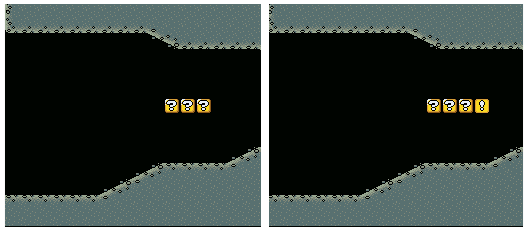 Even though SMW was a critical and commercial success. Miyamoto wasn't completely satisfied with the end result of this game. He has said that he felt that the game was incomplete and that development was rushed. Makes me wonder, if he actually had all the time in the World to develop this game to his liking, how dramatically different would it have been.
The game was re-released in 1994 in an updated version of Super Mario All-Stars. Surprisingly it wasn't just a straight port. It seems they created all new sprites for Luigi. Originally in SMW he was just a Mario sprite, but with a color change. But here in SMAS, Luigi actually looked like the taller, skinnier brother…
Later, this game resurfaced as "Super Mario Advance 2: Super Mario World" in 2001 for the GameBoy Advance. The cover art for this release stayed pretty close to the Japanese box art.
This time, the game was given small updates here and there. The color pallet was changed to a more pastel look. The characters were given voices. There was an opening movie added using in-game sprites as well as some sprites made just for this new opening. Also, the game was changed to single player, although Luigi was still playable. Now Luigi was able to jump a little higher than Mario but ran a bit slower. On top of that, Luigi once again had a sprite chance. Now it seemed they just updated the sprite used for Super Mario Advance: Super Mario Bros. 2…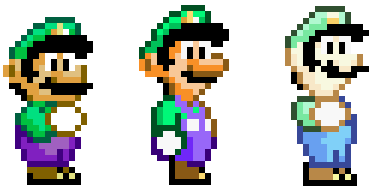 Part 3: Super Mario World 2?!
No, not Yoshi's Island. I'm talking about a direct sequel to SMW. Back in the mid-90's Nintendo had plans to create a CD rom based add-on to the SNES. You can read about the early information about this add-on in this article from an early EGM issue…
But Nintendo scrapped this idea and only the Phillips CD-i system was created out of this. Phillips still had the rights to create games with some Nintendo characters so, that's exactly what they did. Now, I'm not gonna go into the history of the Nintendo CD rom and Phillips CD-i because I would just trail way off topic. Let me just get right on topic here. Phillips was developing a SMW sequel called "Super Mario: Wacky Worlds". It was almost completed too.
Apparently, Mario would travel to what looked like real-World places. The levels resembled places ike Egypt, the arctic, and there was one level that was pirate ship…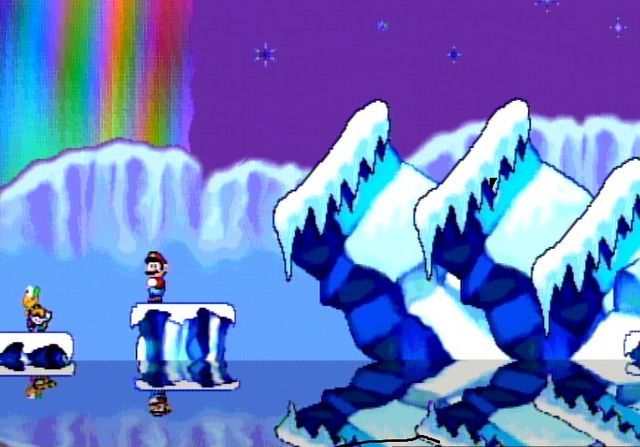 In retrospect, if this was how the game looked at about 90% completed, I'm kinda glad it wasn't released. It looks intriguing yes, but also uninteresting. There aren't a lot of enemy's and it didn't seem like Mario had any power ups.
Part 4: Later Discoveries.
In the late 90's people started to illegally dump roms on the Internet. This gave people the perfect opportunity to dissect the rom itself and check out some coding. People started to discover sprites that were in the game but were never used. Here, I'll take a look at just a few of them.
It seems there was originally a blue jay character in SMW. Apparently he would show up on the map screen and in-level with other blue-jay's carrying Mario around in a giant cage…
There were also tiny doors, it seemed only small Mario could fit through these. Interesting that this was scrapped here but years later this idea saw the light of day in the New Super Mario Bros. series. There were also some "?" blocks that would have a Koopa shell in it.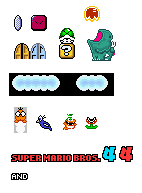 There was also some strange map sprites. It looks like Lakitu was originally going to be on the map along with Mario. Also, a generic looking Koopa Kid was programmed for the map screen, it turns out this sprite would drag Mario into certain levels just like those creepy hands in Super Mario Bros. 3.
Well, that's it! I'm just about done telling you everything I know about Super Mario World's history. I hope you enjoyed it. Huge thanks to TheMushroomKingdom.net If you enjoyed reading this article, go check out that site!