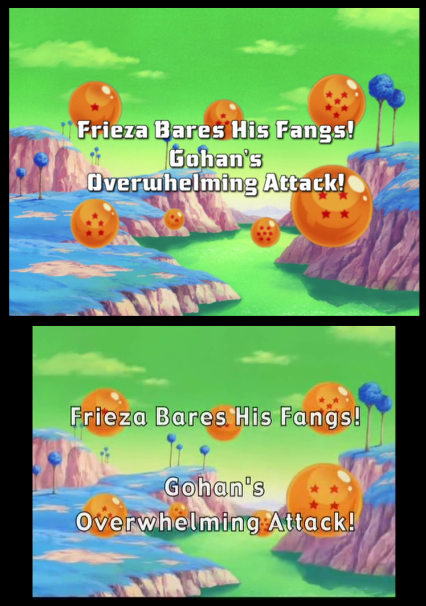 As the episode begins there is an edit right smack in the very first shot. The episode begins with a shot of Krillin on Freeza's horn and it pans down to behind Gohan. The Nicktoons version starts the pan a little bit after Freeza is out of the shot…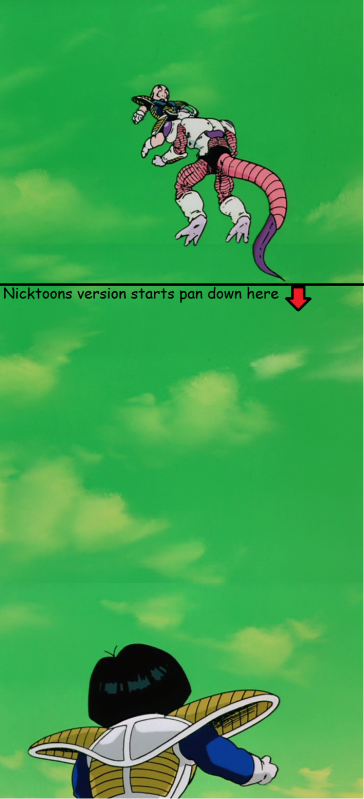 A shot of Krillin on Freeza's horn omitted…
Vegeta looks on and says…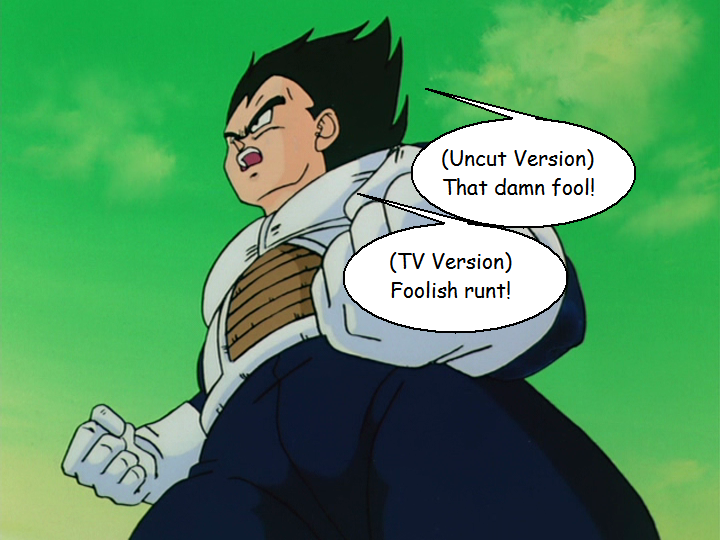 Next there's a shot of Freeza's horn and Krillin's blood dripping down off of it. The alternate shot they used was actually a small shot of Freeza talking from later in the episode, looped to be stretched out and edited to fit the word flaps for the dialogue in this shot.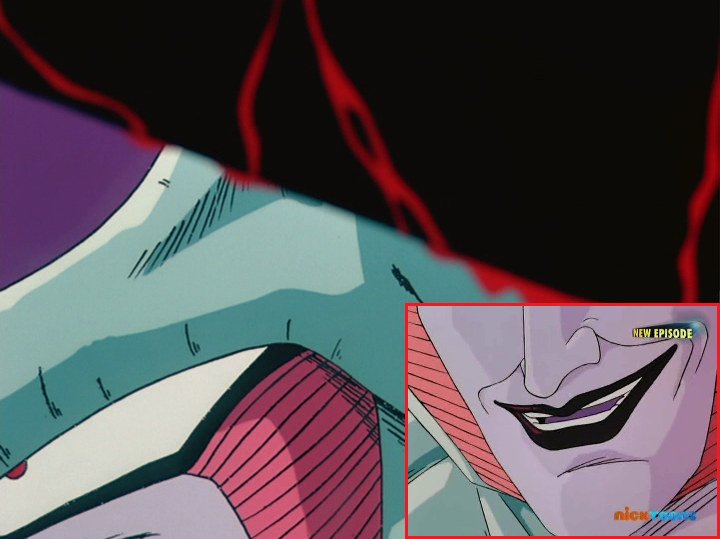 The very next shot is an edited shot of Krillin's back…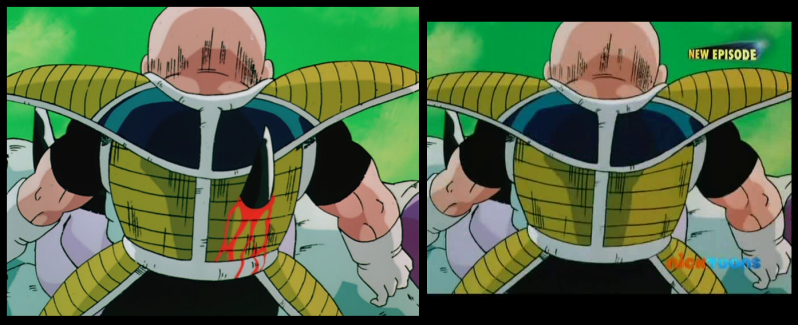 Krillin then tries to kick Freeza, it was altered to omit the shot of Krillin on Freeza's horn…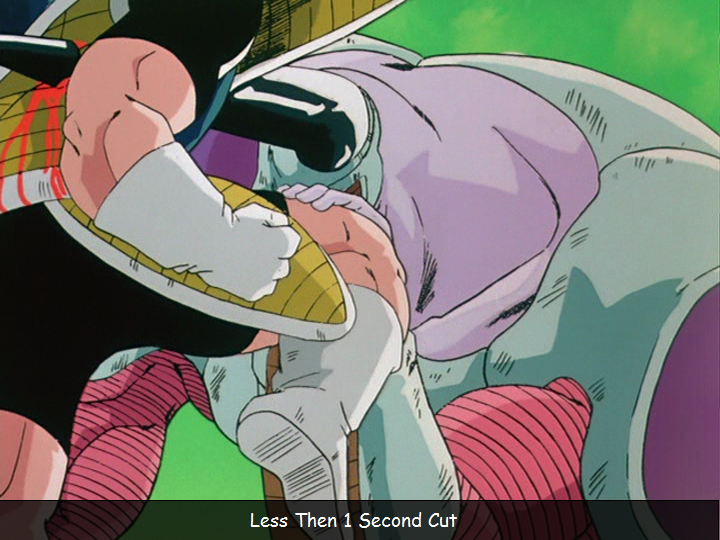 As Gohan rushes Freeza there is a shot of Freeza pushing Krillin's knee back…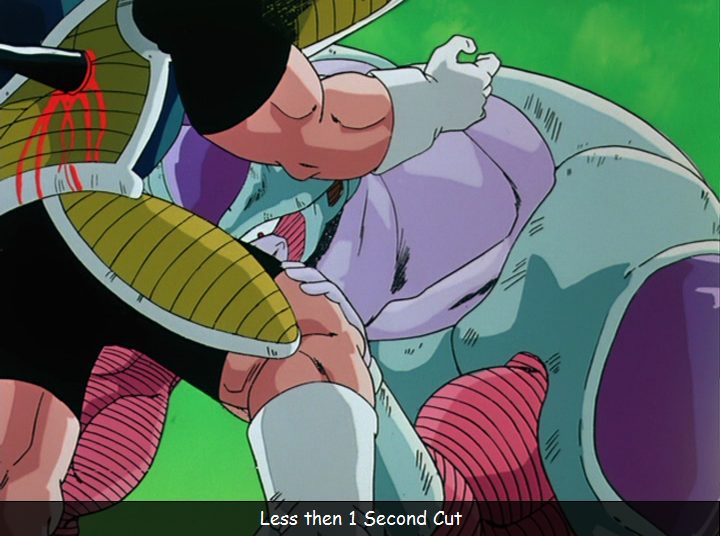 As Gohan rushes him there is a quick shot of Krillin on Freeza's horn…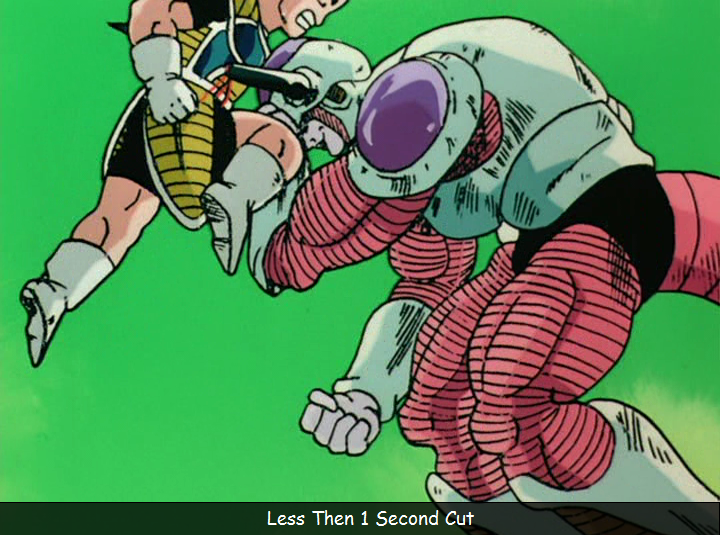 Gohan get's tail smacked and looks up at Freeza, Krillin yells to Gohan to not even try…
Gohan looks up and Freeza lift's his head…
Freeza tosses Krillin into the sea, the blood spurts are edited out…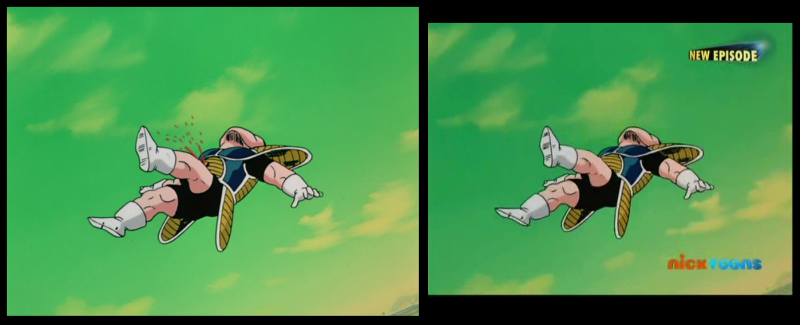 Gohan rushes to try and save Krillin but…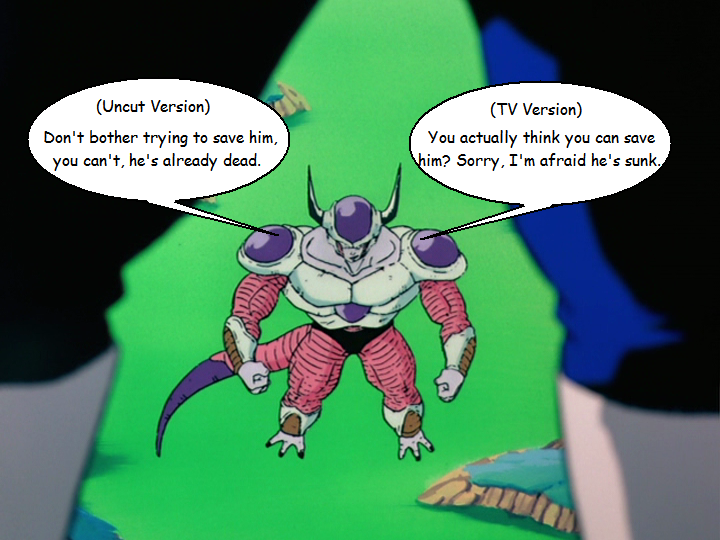 Enraged that Freeza won't let him pass, he attacks Freeza. Ninety percent of Gohan pummeling Freeza is edited out…
I should note, they added a very awkward sound bit during Gohan powering up to blast Freeza. As Gohan readies his blast you can hear Vegeta off screen say "what?!"
At some point Gohan blast Freeza right in the face. The initial animation of the blast in Freeza's face has been flash edited. It kinda seems like they just cut the shot and then layered the flash over the missing piece of animation because the flash happens during some animation of smoke due to the blast.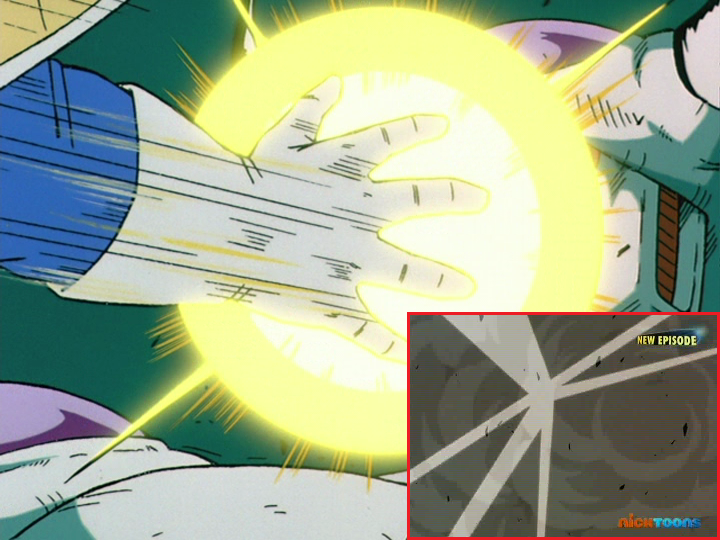 As Freeza lays on the ground, Gohan blast him with a bunch of attacks. This was edited out. I don't know why, they've allowed this kinda stuff before…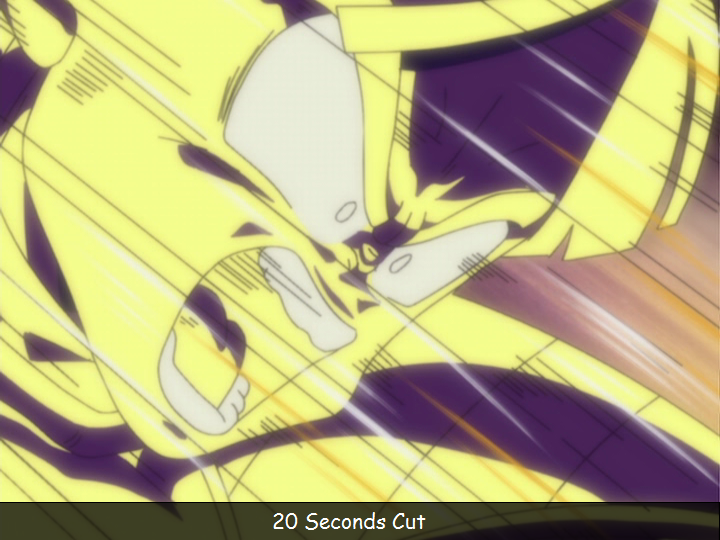 With Freeza temporarily down, Gohan tries to save Krillin but, Dende got him!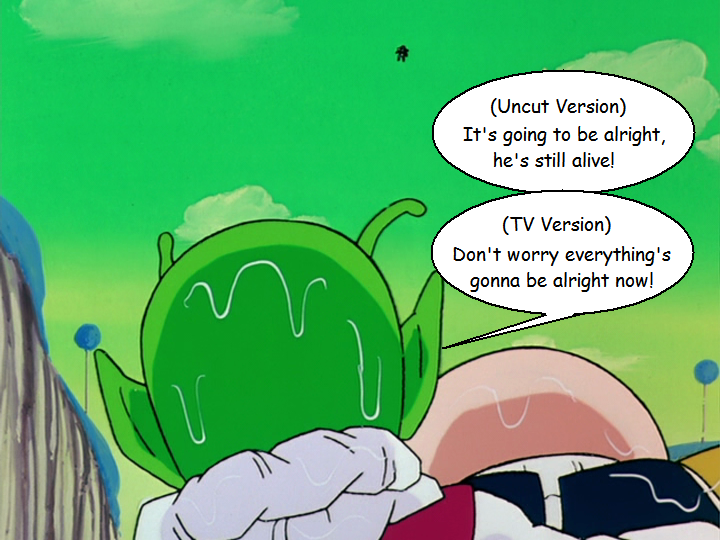 Freeza gets up and says to Gohan…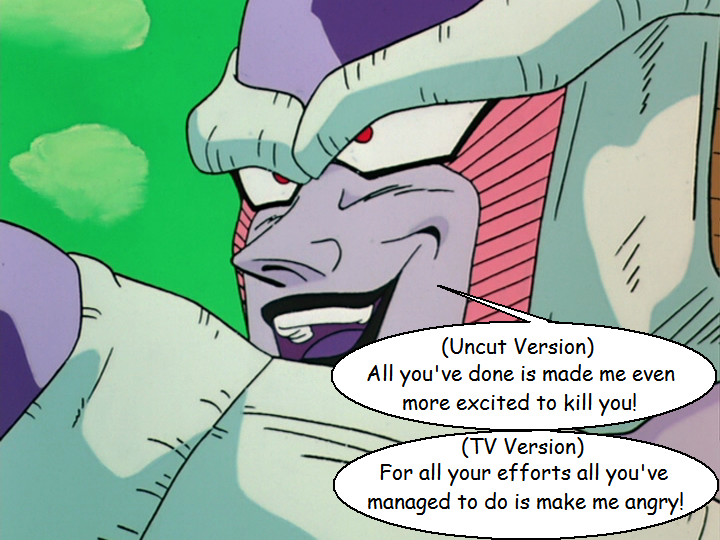 Vegeta yells to himself…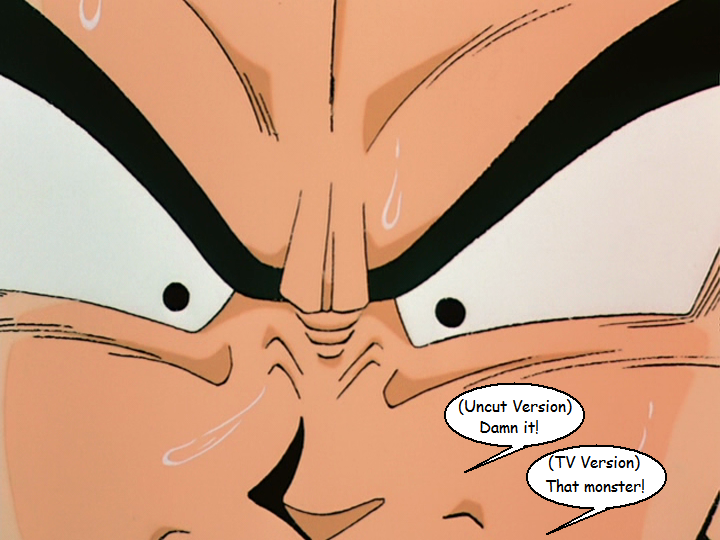 Freeza flies up to Gohan and smacks him…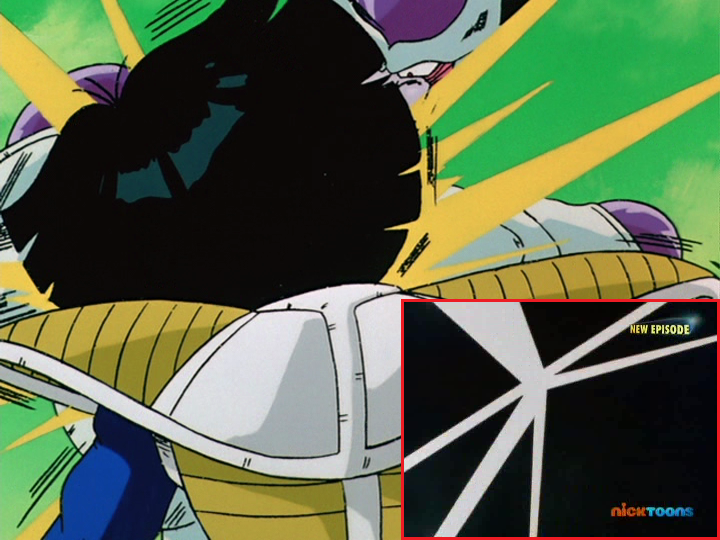 Freeza continues his attack with a knee to the stomach, Gohan's blood spat is edited out…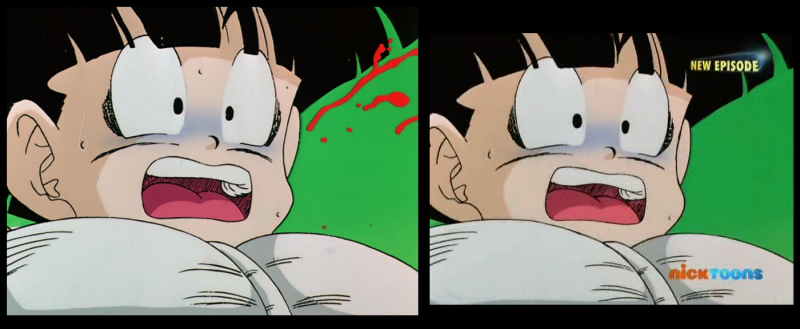 Gohan then gets a kick to the face, again–the blood spat is edited out…
As Gohan lays on the ground, Vegeta sees an opportunity and blasts Freeza…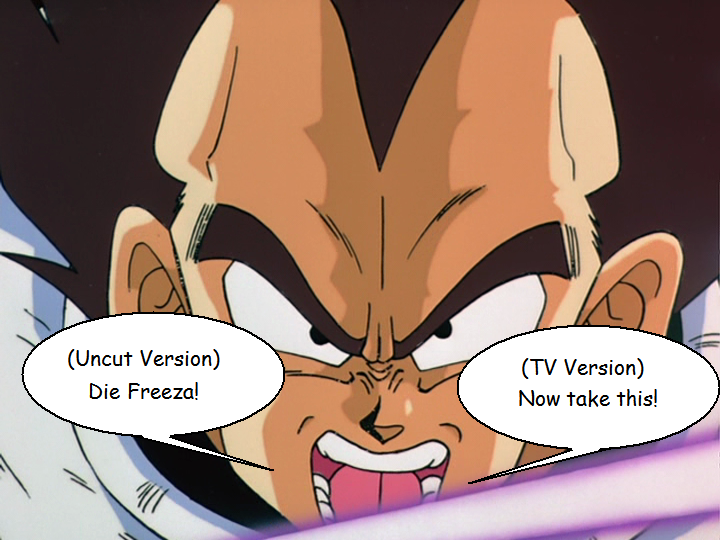 Ignoring Vegeta's pitiful little blast, Freeza continues on with Gohan. Gohan tries to attack Freeza but to no avail.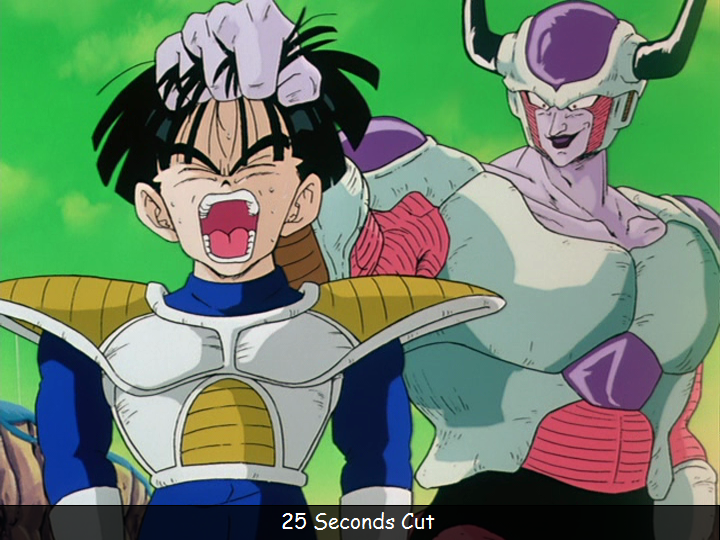 This whole edit was very confusing to follow and put into words. They took some scenes from the previously omitted scenes and placed some of them in the next scene coming up. Basically they cut it to make it seem like after Gohan got tail smacked (wich happens in between this edit and the next), he went and attacked Freeza but fails wich makes him fall to the ground. But that's not why he's on the ground, it's because Freeza slammed him there…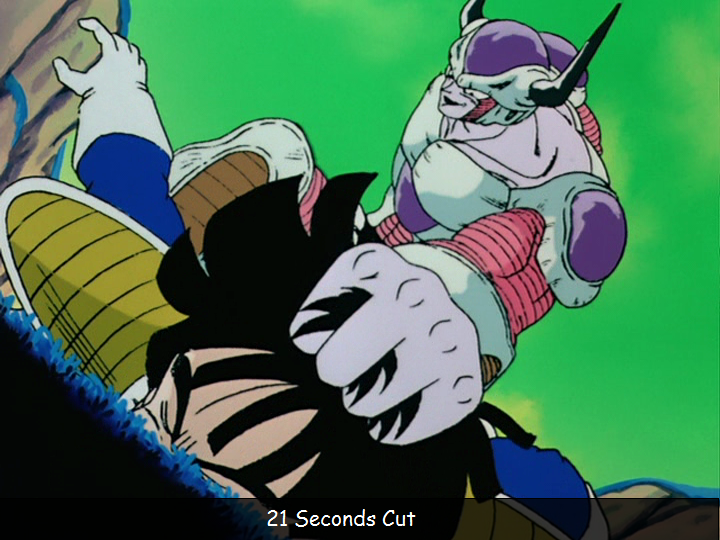 Confused? So am I. It's really something you'd have to see to understand.
Any shot of Freeza's foot on top of Gohan's head was replaced with a shot of Gohan laying on the ground from the previous scene which, really doesn't look very good in certain places…
Freeza asks Vegeta if he's going to do anything to help or if he's just paralyzed with fear. He then goes on to taunt Vegeta…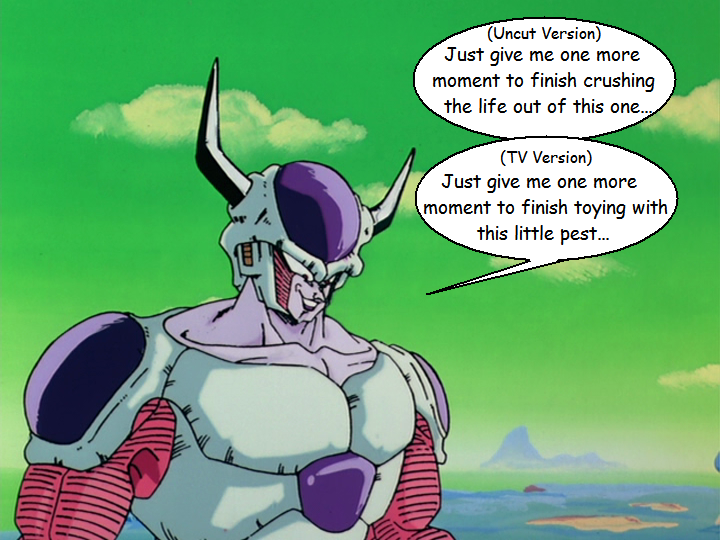 Vegeta thinks to himself…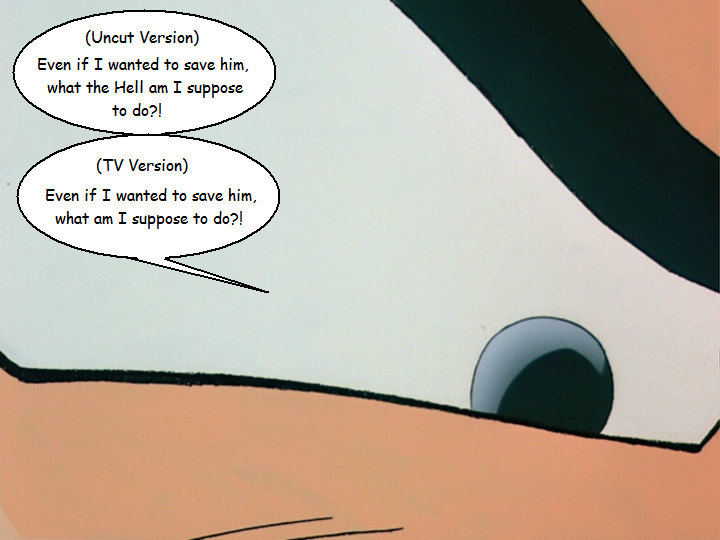 Vegeta's eye is altered to replace the image of Freeza's foot on Gohan's head…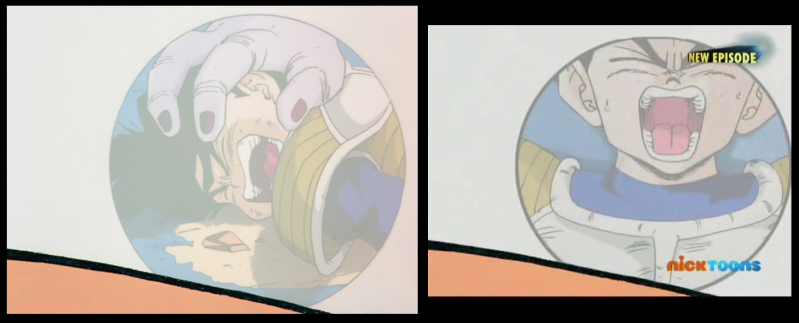 Freeza is about to finish the job…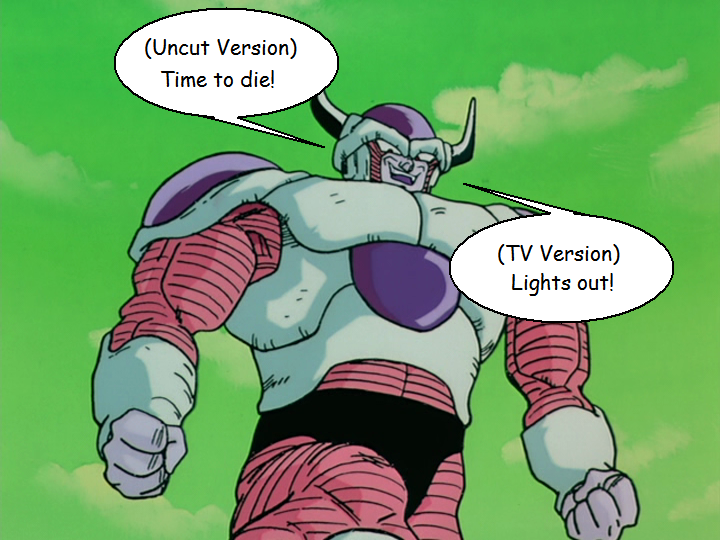 Meanwhile, Goku senses Gohan's fading energy…
He continues on to say…
As Freeza is about to finish off Gohan, Krillin returns! Krillin throws a Kienzan, clipping off the end of Freeza's tail…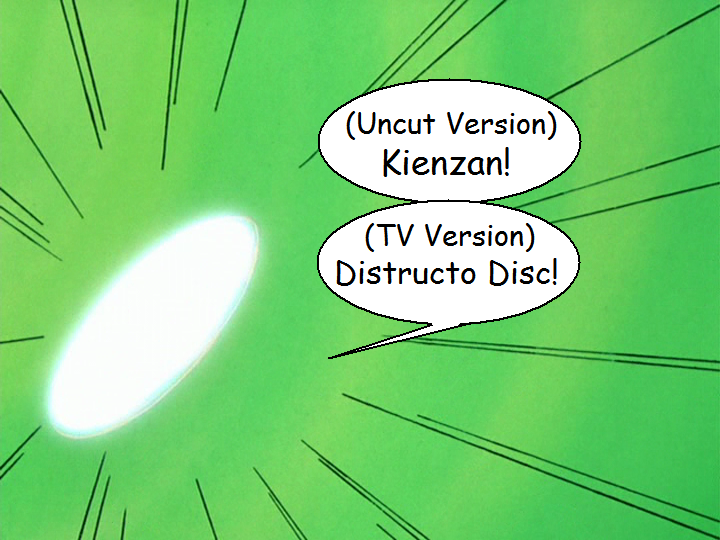 After seeing Krillin, Freeza yells…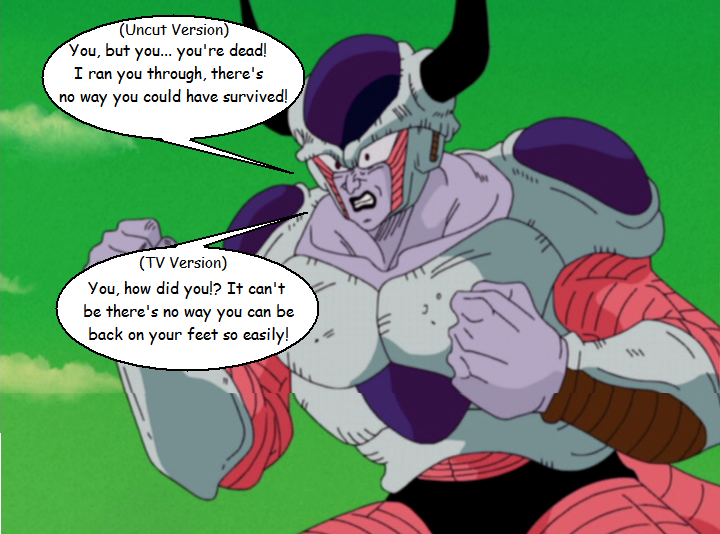 Krillin fires up another Keinzan…
Krillin mocks Freeza a bit, then there's a reaction shot from Freeza. In the uncut version, there is one more scene of Krillin mocking Freeza before Krillin runs off. The second mocking scene was cut…
Krillin runs off trying to give Dende enough time to heal Gohan, eventually Freeza catches up to Krillin and says…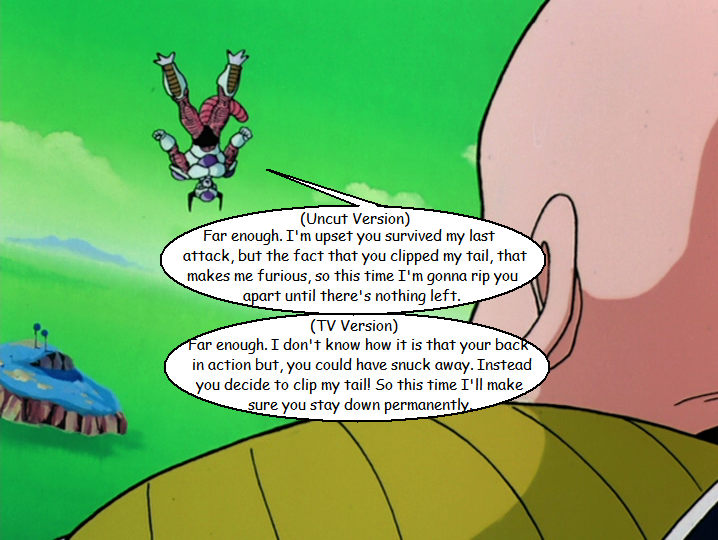 Krillin then dives into the sea and swims away…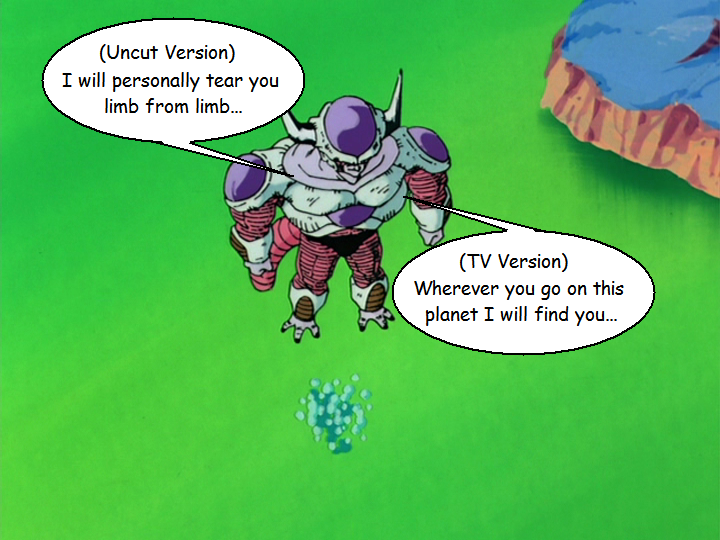 Eventually this doesn't work. Krillin then tries a Taiyo-ken to get away, and successes.
Meanwhile, Dende goes and does what he does best, healing…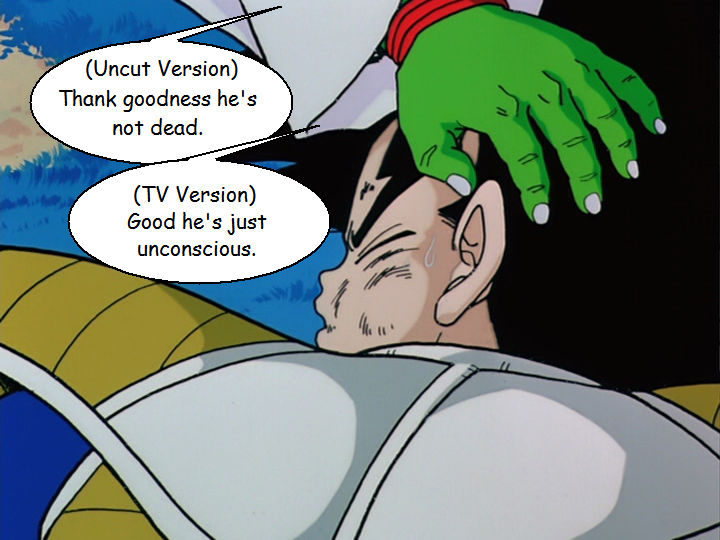 When Freeza gets back to the battlefield he finds Gohan is now all healed up as well…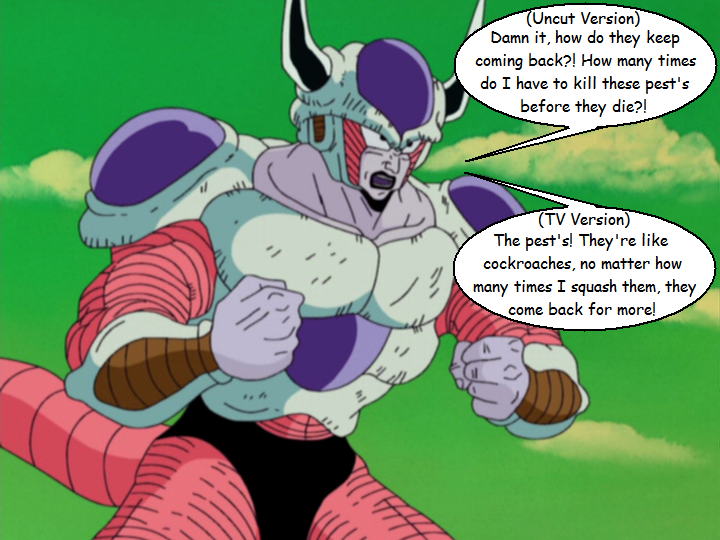 Now that Gohan is back in action, Vegeta feels confident about teaming up to defeat Freeza. After they do, Gohan goes and attacks Freeza himself. Before he could get to him, Piccolo appears! Vegeta, confused by this says…
Piccolo declares he'll take on Freeza by himself, and the episode ends soon after.
In the next episode preview, there are a bunch of editing errors. Mostly every punch or kick shown in the preview is either flash edited in the actual episode or cut out completley!