As the episode begins Ginyu-Bulma tries to switch bodies with Piccolo. Gohan throws the Frog-Bulma in the beams path and just like that everything is back to normal. Meanwhile Goku is getting the beating of his life. There are some quick shots of Goku getting hit, they're the same from the previous episode so, you would think they'd have the same things cut, but not everything stayed the same…
This first shot was cut in both episodes…
But In the previous episode this shot was only edited for blood and kept in the TV version…
And this shot, in the previous episode was edited with a flash, but here it's not…
Moving on. Freeza then knocks Goku into the air and elbows him in the stomach, this shot was cut…
Goku then get's knocked downward by Freeza's tail. This shot was edited with a flash…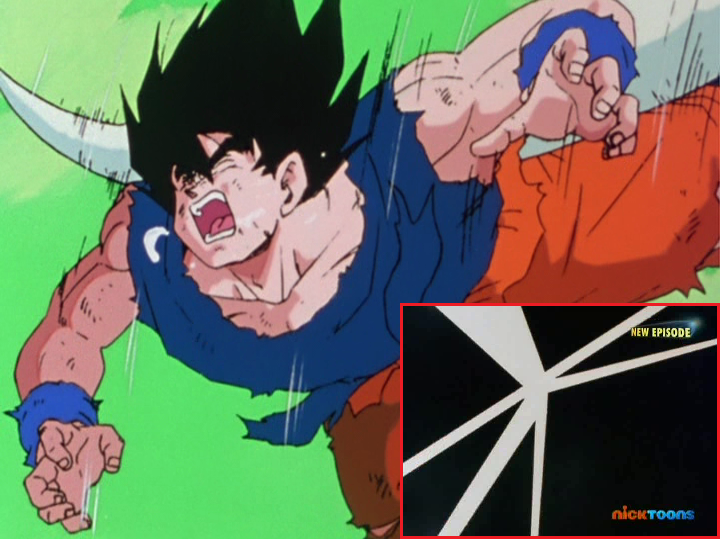 Freeza shoots out an attack that seems to slice the ground like it was nothing. Feeling helpless, Goku says to himself…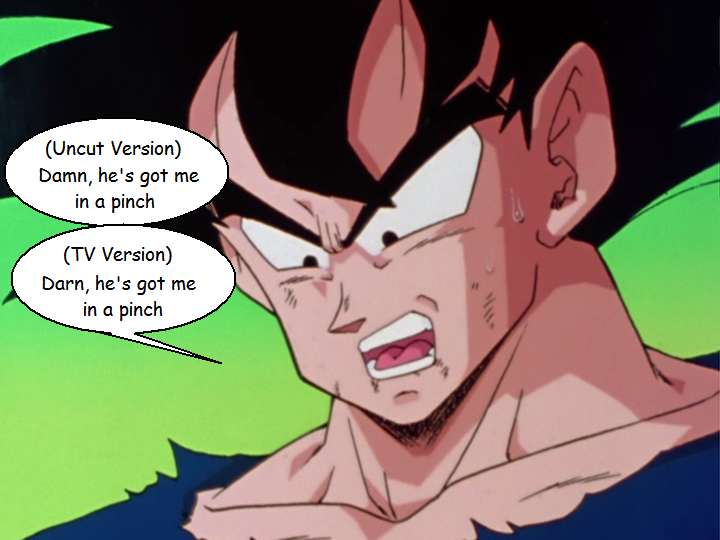 After a few words are exchanged, Freeza goes on the attack again. This time Freeza is going so fast he seems invisible…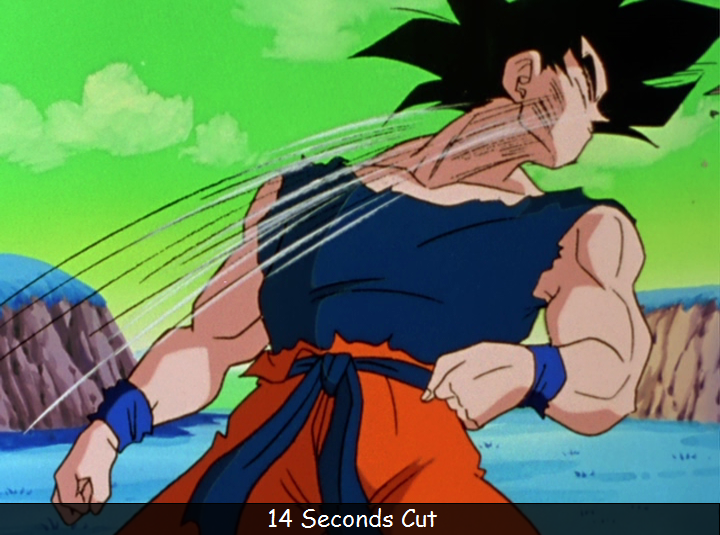 After this attack Goku is laying on the floor. Freeza kicks him up into the air, this is where the TV version continues from, but then there is an edit a few seconds later when Freeza grabs Goku with his tail…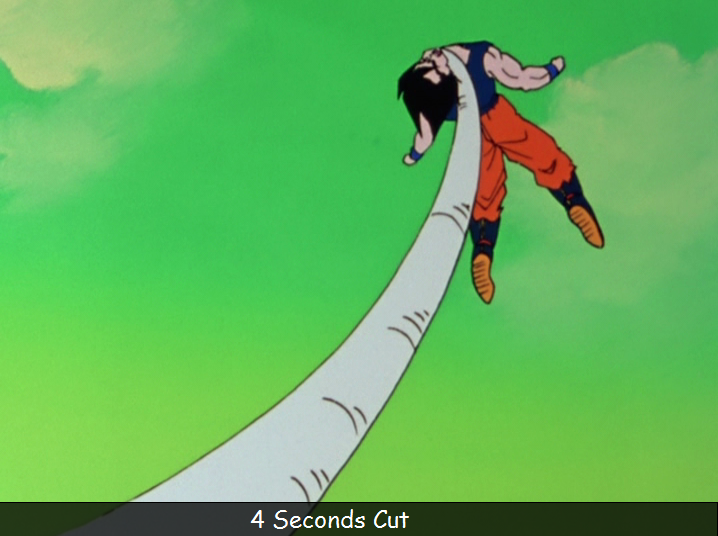 Freeza flings him aimlessly and this is where the TV version picks up again. In the TV version it looks like Freeza kicked Goku up into the air and then quickly attacked him (which is what he does after the tail grab).
Goku get's thrown through a mountain, when he lands, he tries to stand but Freeza soon knocks him down. This was edited with a flash…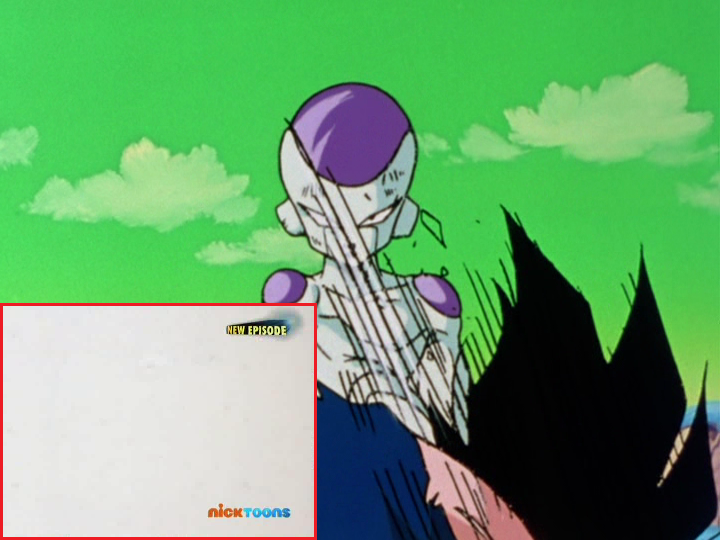 Freeza grabs Goku by the neck and throws him skyward. In the TV version the tail grab and Freeza's dialogue are cut out but you still see Goku wrapped in Freeza's tail right before he throws him upward…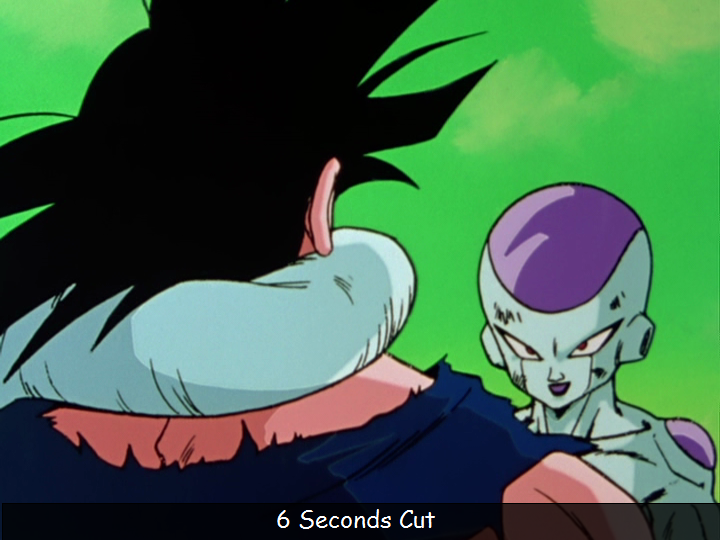 When Goku descends he falls into the sea. When he tries to get out, Freeza holds his head underwater. The scene of Freeza grabbing Goku's head and Goku struggling and eventually passing out are edited out.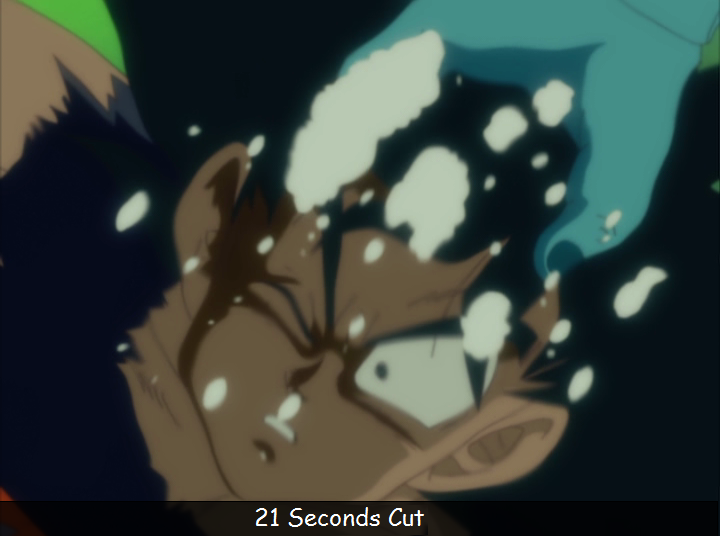 After Goku passes out, all shots of him with Freeza's foot on his head have the foot edited out…
After having a horrifying dream, that surprisingly wasn't edited. Goku get's a sudden burst of energy, charges up and shoots a Kamehame-Ha at Freeza. It does nothing.
At this point in the episode, we have the blood edits. Surprisingly there was none before this scene. There is blood on Freeza, Goku and for some reason even Piccolo. Piccolo's blood isn't edited. The blood edits continue throughout the rest of the episode. They start off very small, barley even noticeable, but by the end of the episode there is a lot more…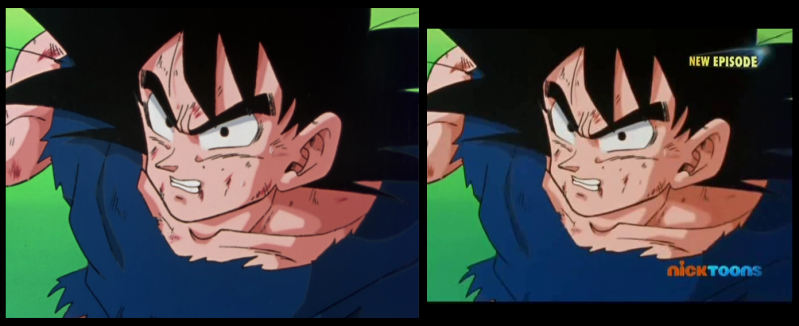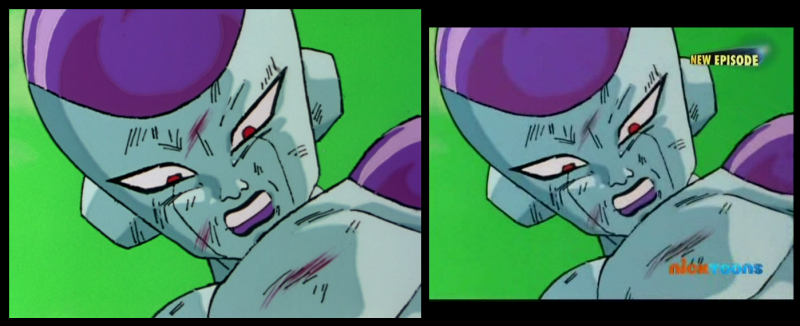 Freeza looks at his hand, shocked that someone could conflict so much damage. When he looks up we have another eye error due to the blood color change technique they use…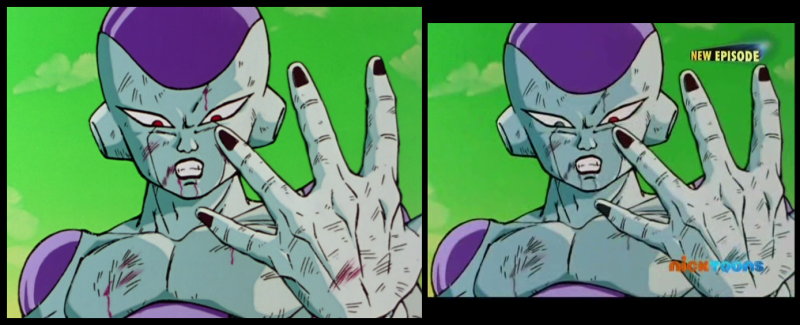 Freeza then charges Goku, there is a small spat of blood edited out of this shot…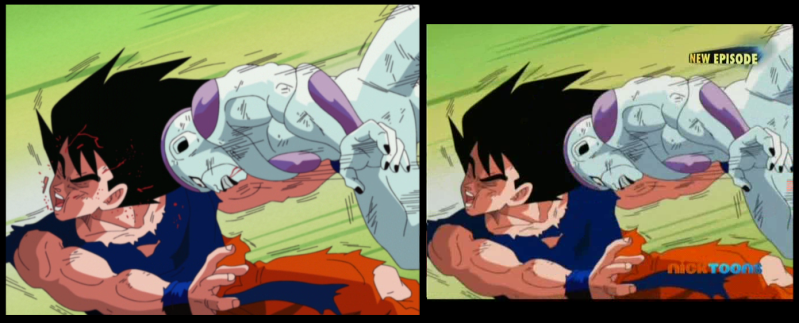 After Goku lands, Freeza walks up to him and kicks him upward. It seems pretty painful and was cut out. You still see the very beginning of the kick in the TV version but Goku flying back and a close up shot of Goku are cut out…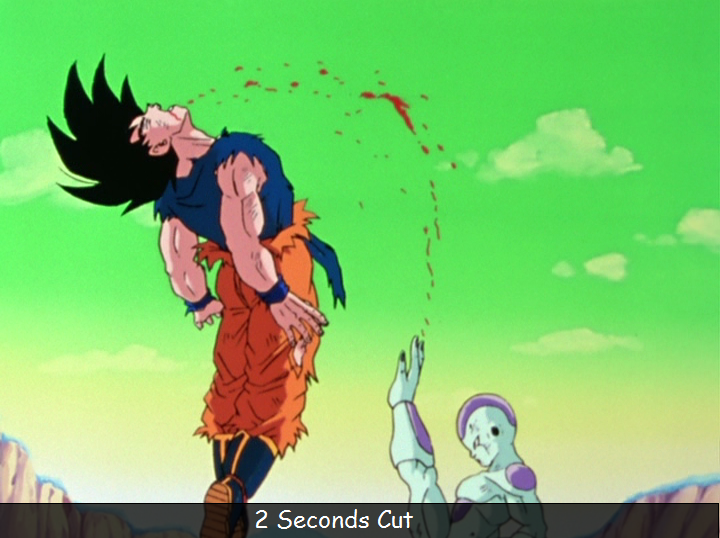 The next attack that follows is flash edited…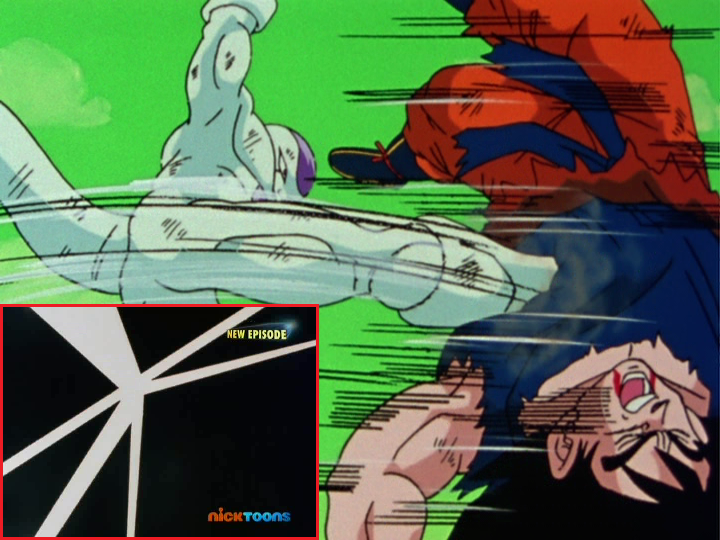 After this, Goku lays on the floor trying to catch his breath, Freeza blast Goku with some wind, while he's distracted, Freeza rushes him and kicks Goku in the chest, this was edited with a flash…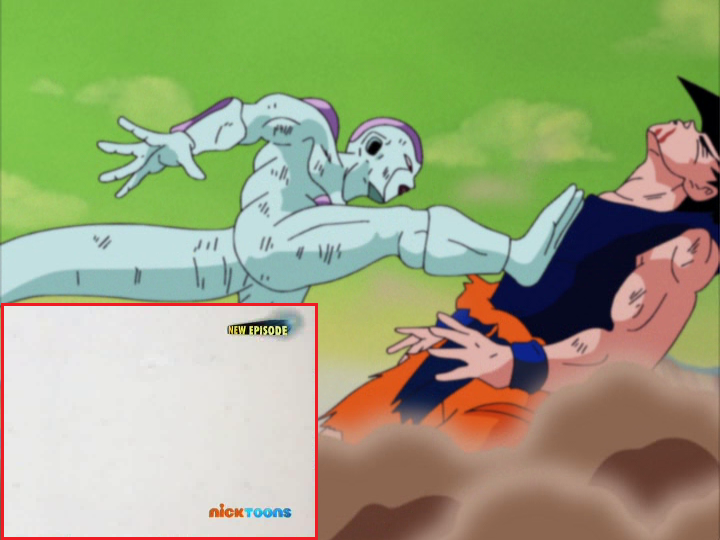 This knocks Goku's upper body into the ocean, when Freeza gets a hold on him, Goku spits in Freeza's face. This was cut…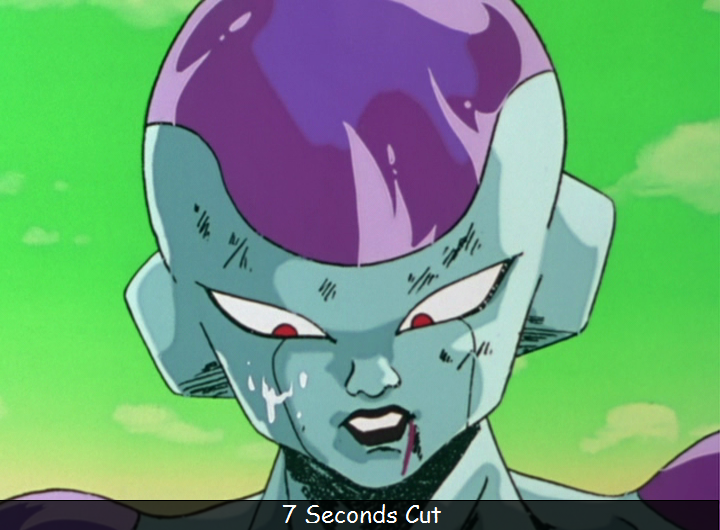 Enraged, Freeza then smacks Goku with his tail…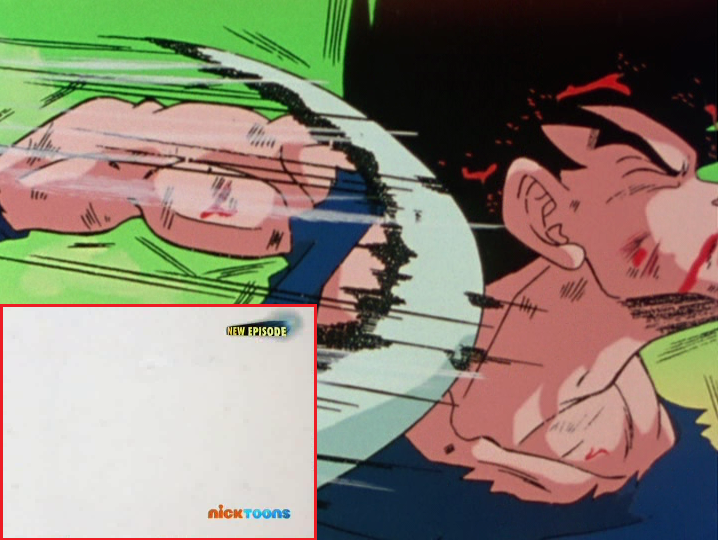 Like I said before, the blood edits gradually become bigger as the episode goes on. Just for good measure here is a look at how bloody Goku looks at this point in the episode…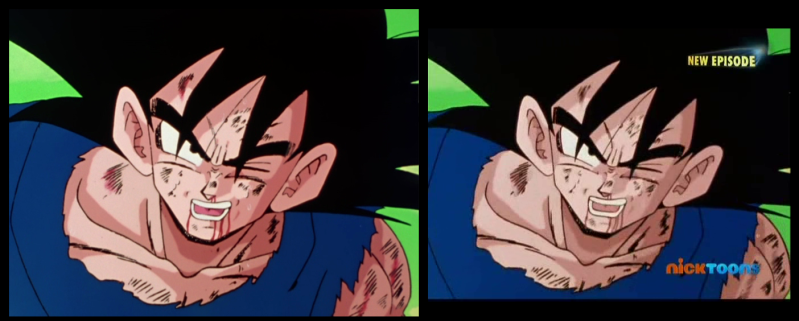 Freeza walks towards Goku and brags about how he destroyed the entire Saiyan race, he continues on and says…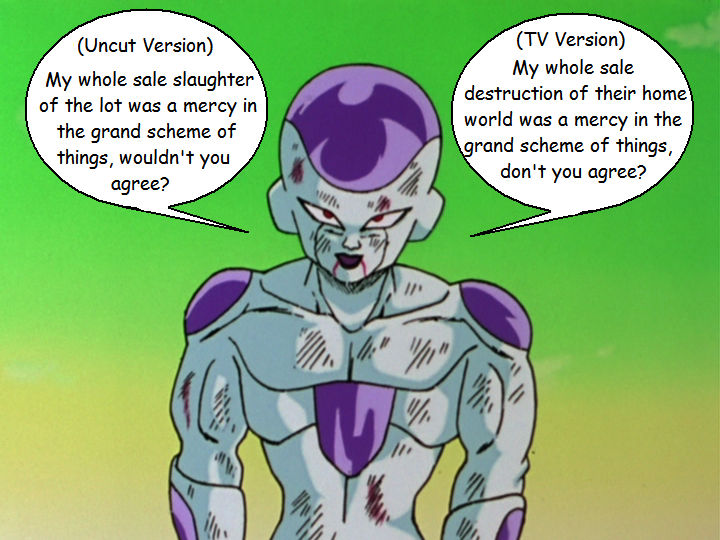 Goku then get's some flash back of Vegeta's death, as you probably already guessed, the shot of dead Vegeta was edited for blood…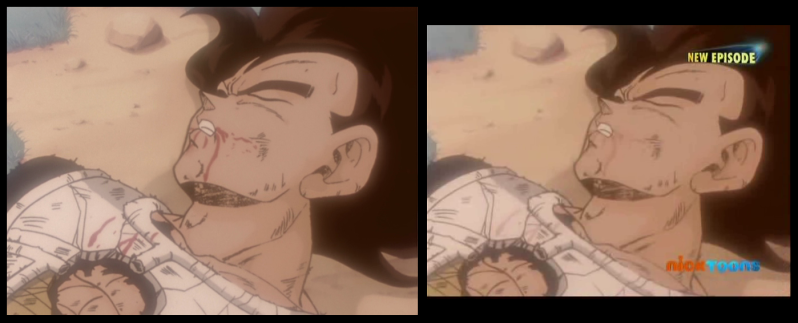 Goku starts hearing Vegeta's voice. For some odd reason Goku says, in the uncut version only…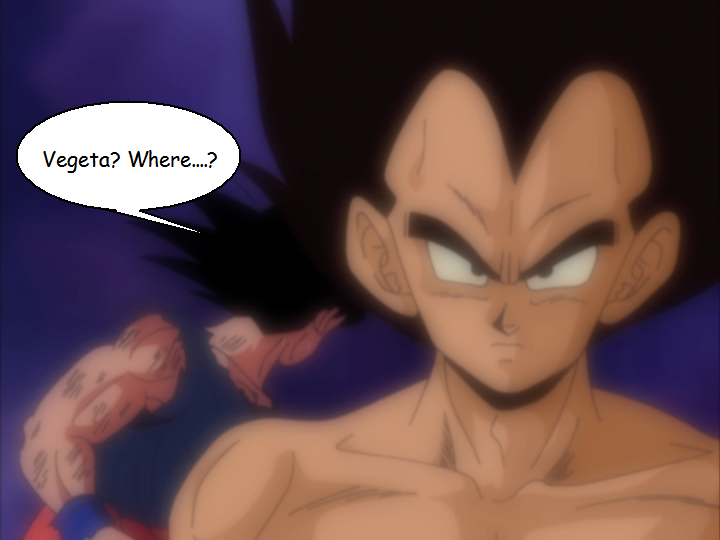 During this vision Goku is having, Vegeta is nude. In the TV version they drew on some brown shorts…
As Vegeta talks to Goku, Vegeta changes into different forms of himself and other Saiyans. He talks throughout most of these changes. At one point Vegeta continues on…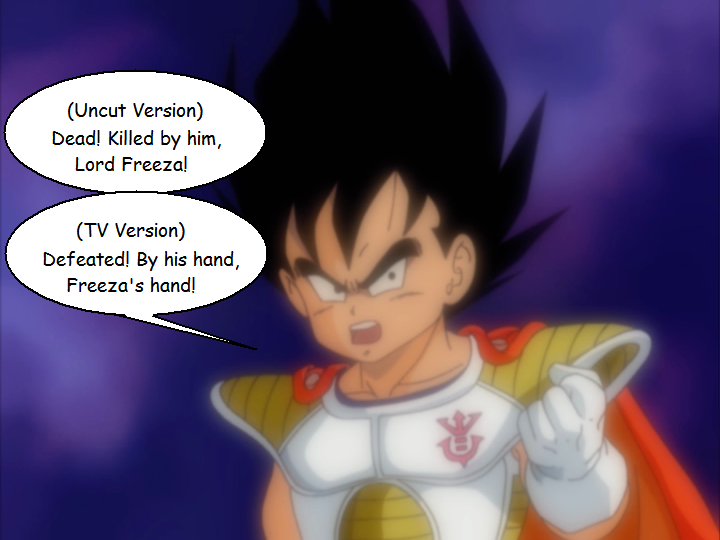 We then see Goku and Vegeta's father getting killed by Freeza. Bardock and King Vegeta (not shown) are edited for blood…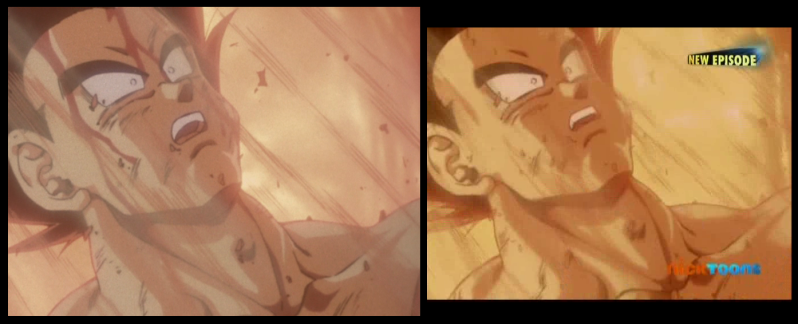 Vegeta's speech continues on and has one last dialogue edit…
In the uncut version, kid Vegeta continues on and says "Everything we were survives now only in you", but in the TV version it's actually adult Vegeta that says this line.
Goku snaps out of this vision with a newly found respect for his race. He now knows he must defeat Freeza for him, his father and all the Saiyans killed by Freeza.
Freeza then rushes Goku and the episode ends abruptly with no narrator dialogue.