As the episode starts the Earthlings and Namekians find themselves on Earth. Gohan runs to Piccolo and yells…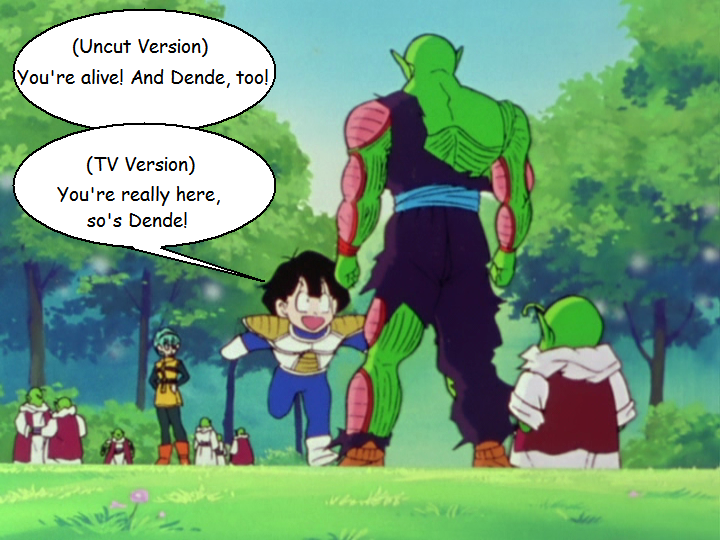 Meanwhile on Namek, Freeza and Goku seem to be in the middle of a taunting session…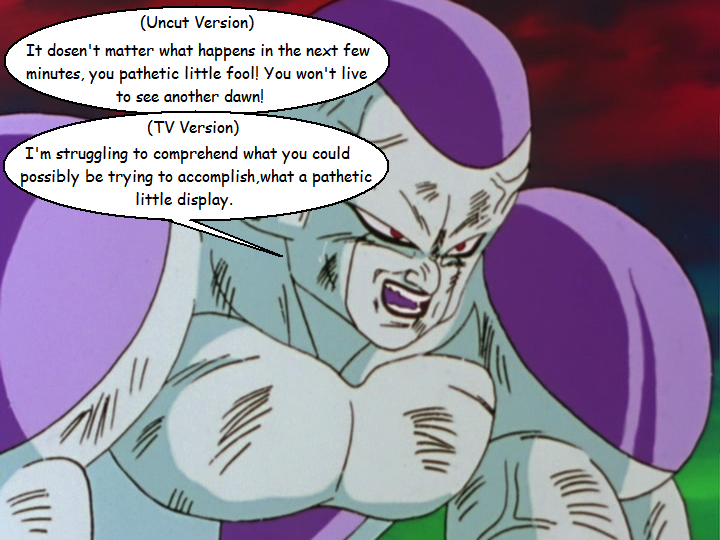 I think now is a good time to bring up the blood edits in this episode. Usually I just tell you there are a lot and throw some samples up. But in this episode we have a little bit of an odd thing going on with the blood. It seems in some places, instead of re-coloring the blood like they usually do, they've gone a step further and actually removed blood from some scenes. I don't know why this is, or why it's only in some shots during the episode. It just seems like a lot more work for them to do so; I don't really see the point. But here's what I'm talking about….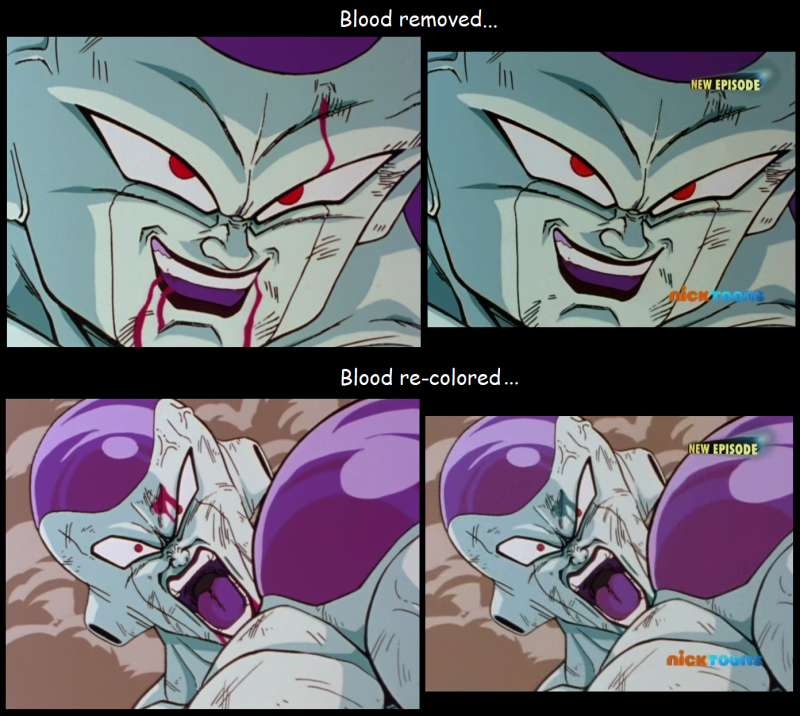 Back on Earth, the Grand Elder tells the others exactly what's going on. As the scene ends Bulma looks to the sky and says…
Goku and Freeza are locked in battle once again. There is a small hit in this scene that was omitted…
As the events on Planet Namek unfold, King Kai tells the others what's happening…
Back on Namek, Goku gets the upper hand as he grabs Freeza's leg as he was trying to kick him; this and a few moments after this were cut out…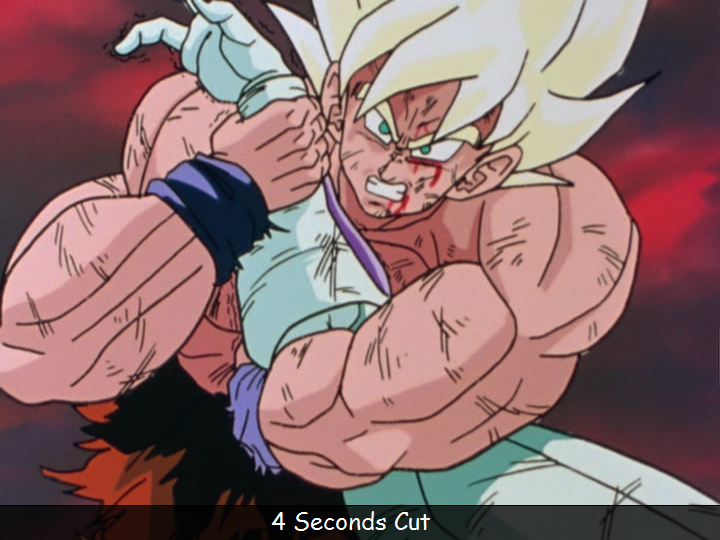 Next Goku and Freeza exchange a barrage of punches, there is one punch to Freeza that was cut out…
Goku then chops the back of Freeza's neck, this edited with a flash screen…
Freeza's reaction to this attack has been cut out…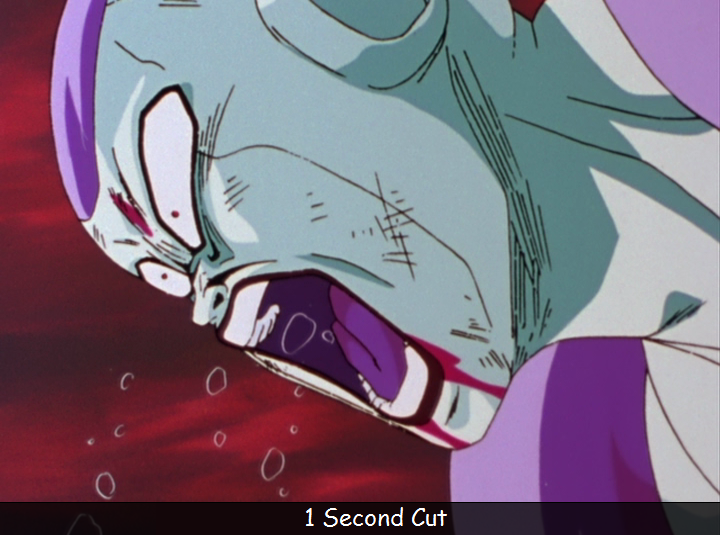 After seeing what was going on Earth, we return to Namek to see the fight raging on. A small attack here was edited with a flash…
Freeza gets the upper hand and get's a hold of Goku. This whole scene of Freeza holding Goku and Goku elbowing Freeza in the gut to let him go where omitted…
After Goku breaks free, Freeza rushes him but Goku gives him a powerful hit to the gut. The reaction shot of blood spewing out of Freeza's mouth was cut out…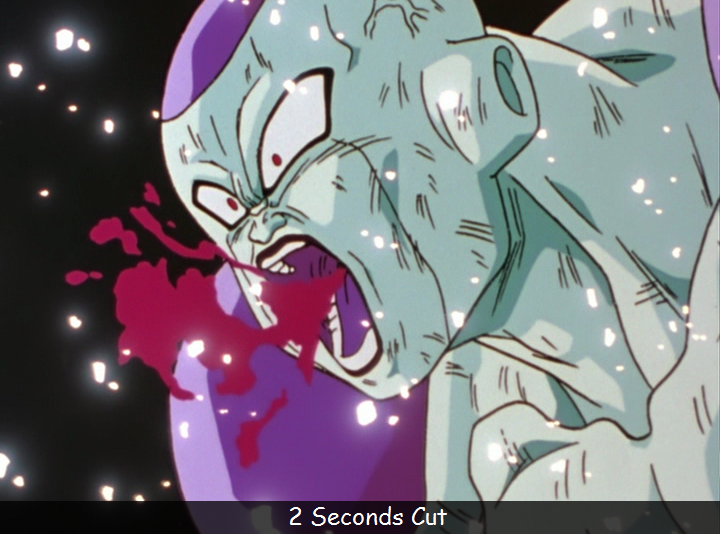 There are a few shots in this scene that were edited with a flash…
A boot to the face…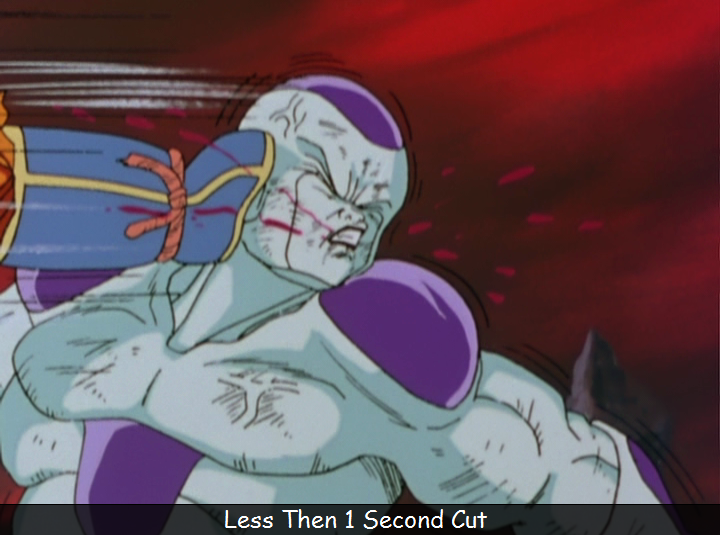 Goku knocking Freeza back to the floor after the boot to the face…
…next, a punch to the gut from Goku after kicking Freeza from the floor into the air…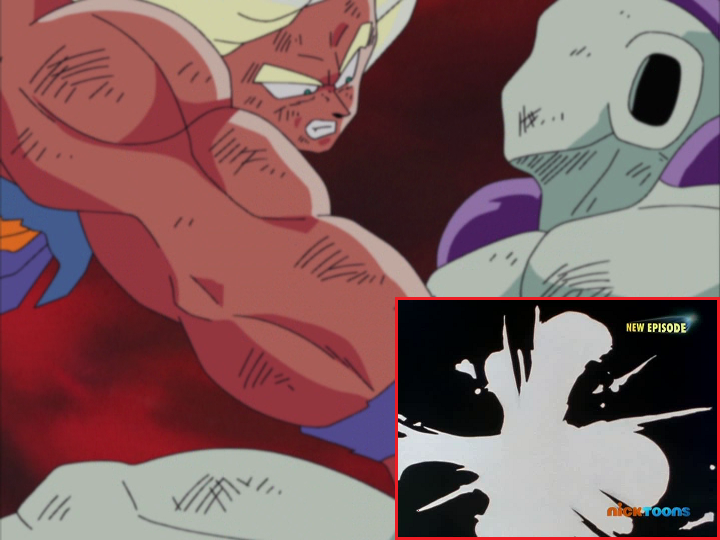 Goku then plays a game of cat and mouse with Freeza. Everywhere Freeza vanishes off to, Goku appears right beside him. At one point Freeza gets frustrated and punches a rock that he thinks Goku is behind. In the TV version Freeza doesn't say anything but in the uncut version…
Goku eventually makes a move and punches Freeza in the gut. Blood spews from Freeza's mouth again and this whole attack was edited out…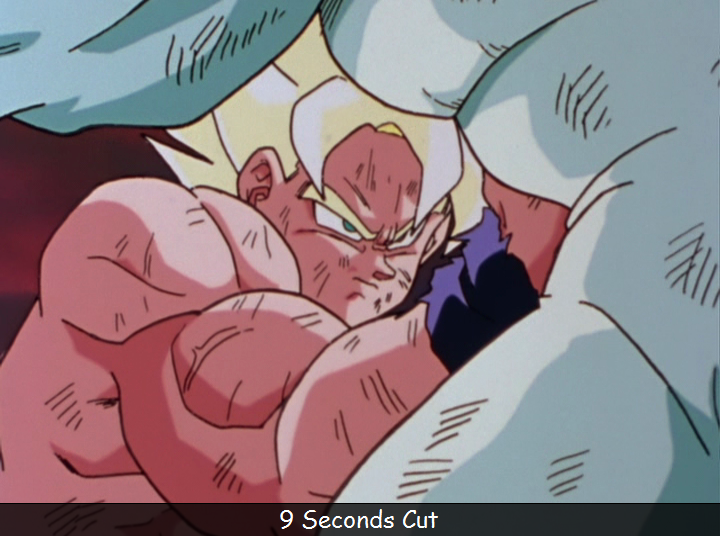 When the two fighters stop for a moment, Freeza yells…
As Goku powers down, and fly's off claiming the fight is over, Freeza throws a Homing Kienzan at Goku, slicing his face. The cut bleeds down his cheek, in the TV though; there is no blood, just a cut…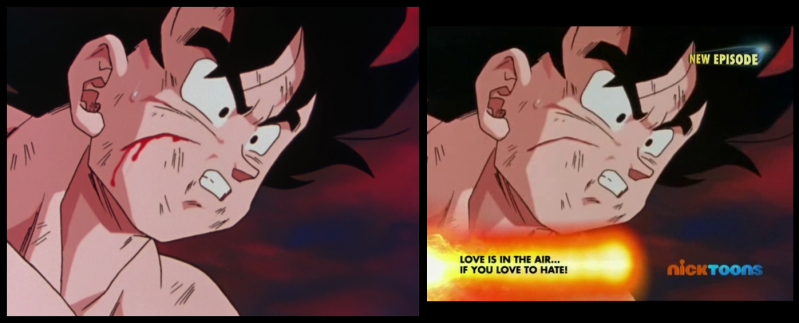 Goku transforms into a Super Saiyan again and there is a camera pan of Goku's body. This pan shot is cut out for some crazy reason…
As Goku out runs Freeza's attack, There is then a shot of Goku's face and a shot of Freeza's face. For some reason in the TV version, the shot of Goku's face was taken out…
Freeza then ups his attack by now throwing two Homing Kienzan at Goku. Freeza yells…
Goku flies around a bit, trying to out run them while at the same time fighting Freeza. Goku elbows him right on top of the head this was cut as well as Freeza's reaction and the following moments where Goku slaps Freeza around. Goku then elbows Freeza on the head again (which is the shot that is seen on the TV version).
Freeza gets thrown into the ground. When he gets up he is unknowingly in the path of the Homing Kienzan creating one of the most well known scenes in all of the DragonBall series.
This is how it goes down in the TV version. There is a reaction shot of Freeza's face from earlier in the episode to replace the shot of him getting cut in half…
…then the shot of Freeza getting sliced from a behind shot was cut out…
The next shot shows Freeza and his body parts falling to the ground. The blood was edited out and the shot of Freeza's arm falling was cut from this shot…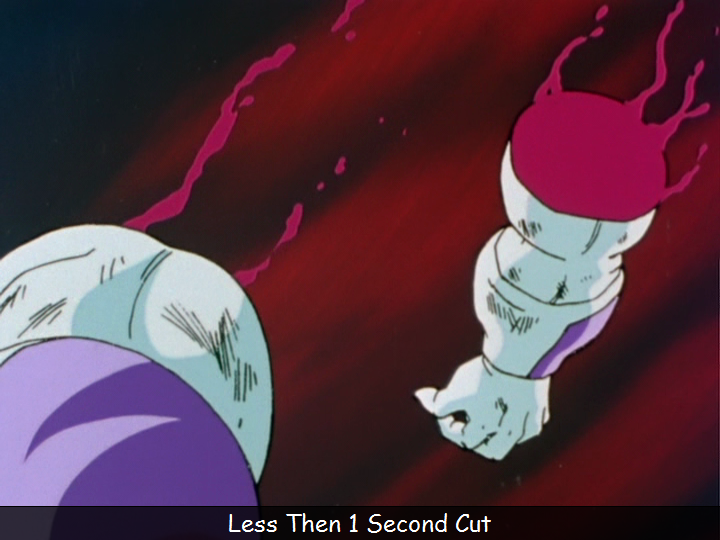 Freeza's torso then hits the ground, this was also cut out completely…
In the TV version we just see Freeza's top half hit the ground.
King Kai freaks out and the others ask him what happened? Was it Goku? He responds…
The episode ends right after that. Then, in the next episode preview we have one dialogue edit…