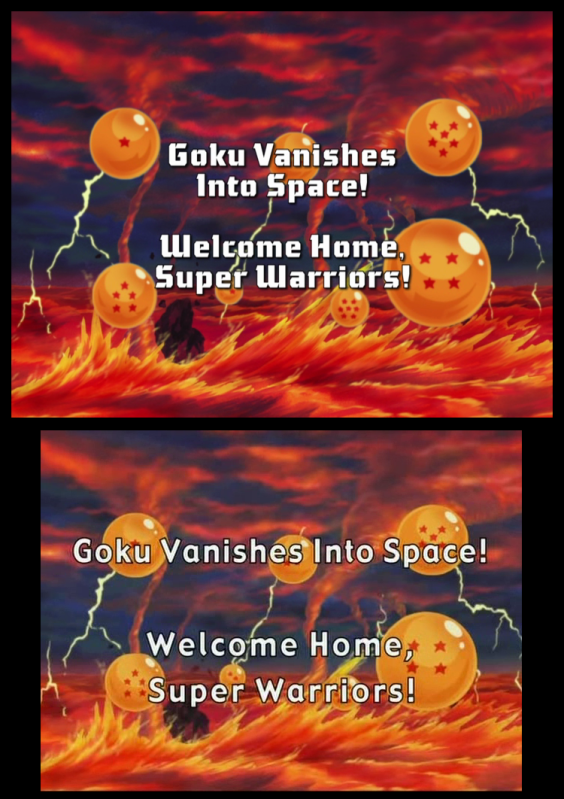 As the episode starts, King Kai is searching for Goku's energy but finds nothing.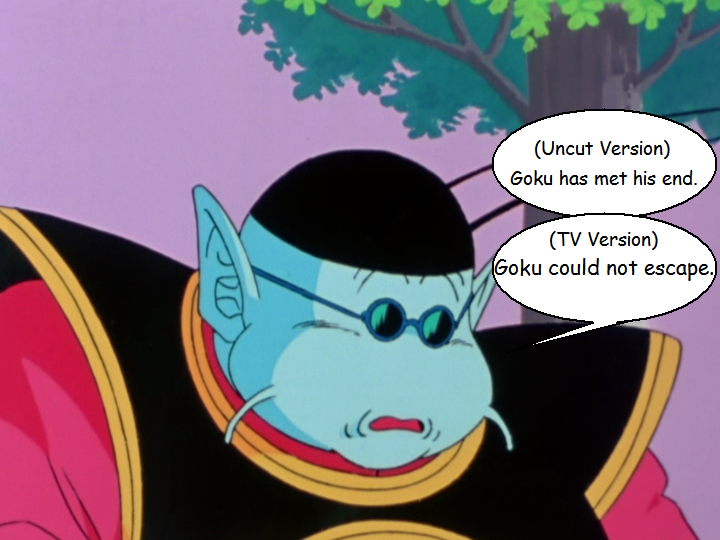 King Kai decides it would be best for someone to tell Bulma and the others on Earth of this news. Yamcha decides to give Bulma the bad news. When Yamcha gets through to Bulma, she asks "what've you been up to"? Yamcha replies…
And so, Yamcha continues to tell Bulma the bad news…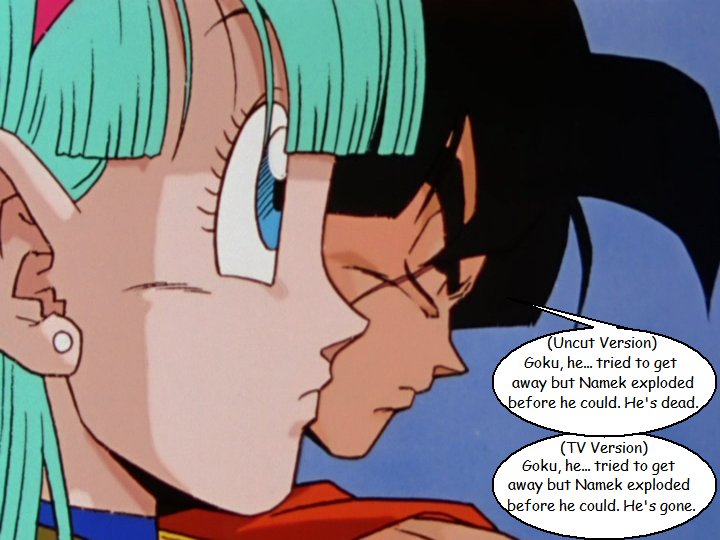 Bulma then tells the others the horrible news in a very casual way. Yamcha chimes in…
Bulma laughs and tells Yamcha it's no problem to wish Goku or anyone back with the Namekian Dragon Balls. Everything seems to finally look up until King Kai interrupts…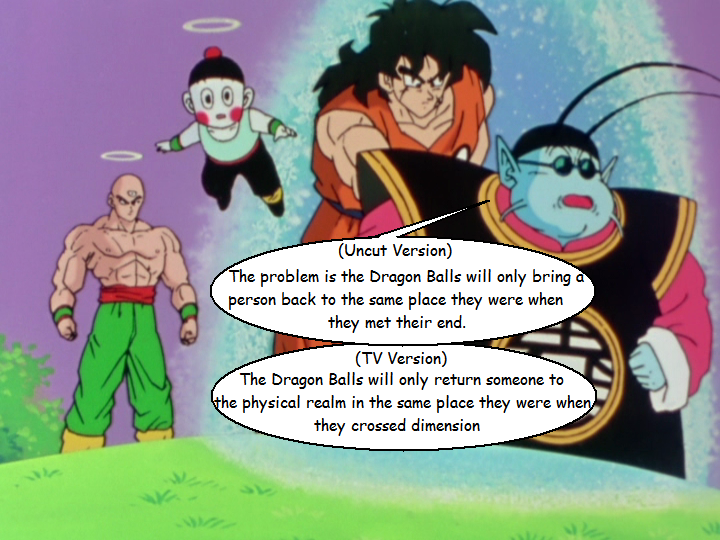 Frustrated that there is little King Kai could do to help, Tien yells…
All hope seems lost. Until, Vegeta chimes in and says…
And finally a plan is in place to wish back everyone!
Bulma invites the Namekians along with Vegeta to stay at her house until the Dragon Ball are active again. Meanwhile Chi-Chi and Dr. Briefs are on their way to pick everyone up. While Chi-Chi is yelling at Dr. Briefs to go faster, there is a slight edit to omit his cigarette (there are also a few later on, not shown in this comparison)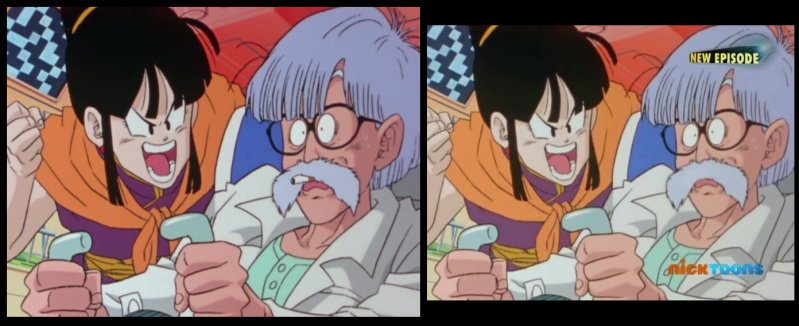 130 days later, the Dragon Balls are active again and the plan to bring back everyone is under way. The Dragon is summoned and everyone looks at it in awe. They first ask to bring Goku and Krillin back to Earth.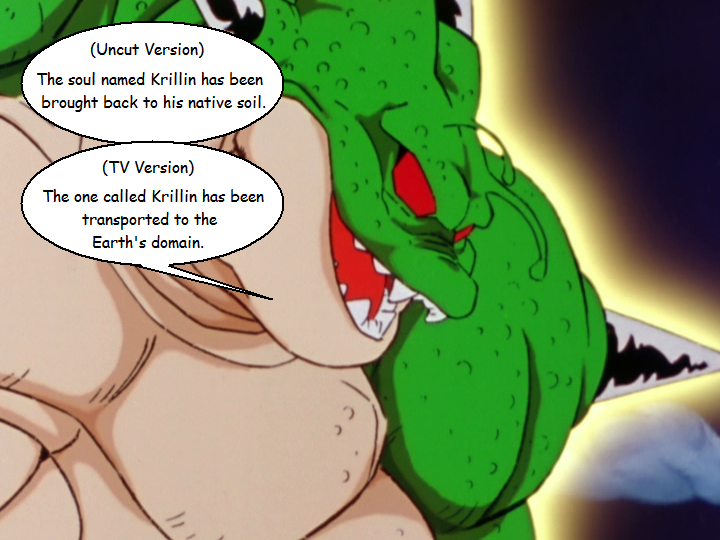 When Bulma asks why not, the Dragon replies…
With that news, Bulma decides to wish for Goku to be transported to Earth but first, she wishes Krillin back to life…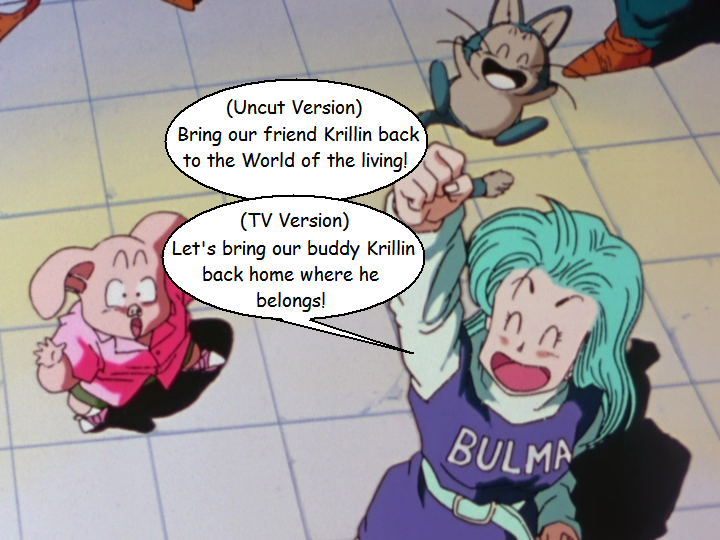 After Krillin is brought back, the Dragon says…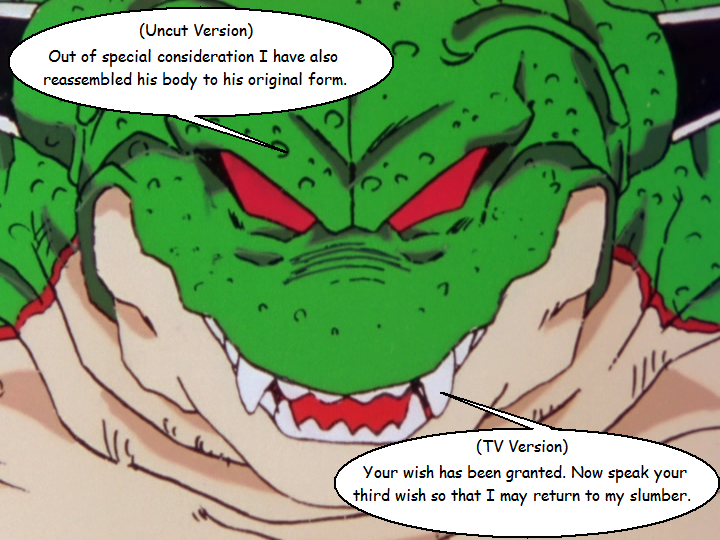 Bulma replies…
When they wish Goku back to Earth, the Dragon tells the others Goku doesn't wanna come back to Earth right now. Saddened by the news that Goku dosen't want to return right now, they continue on. Next, they decide to bring back one of warriors on King Kai's planet back to life. After some talk about which one would want to go first, they ultimately decide it's Yamcha who will be wished back…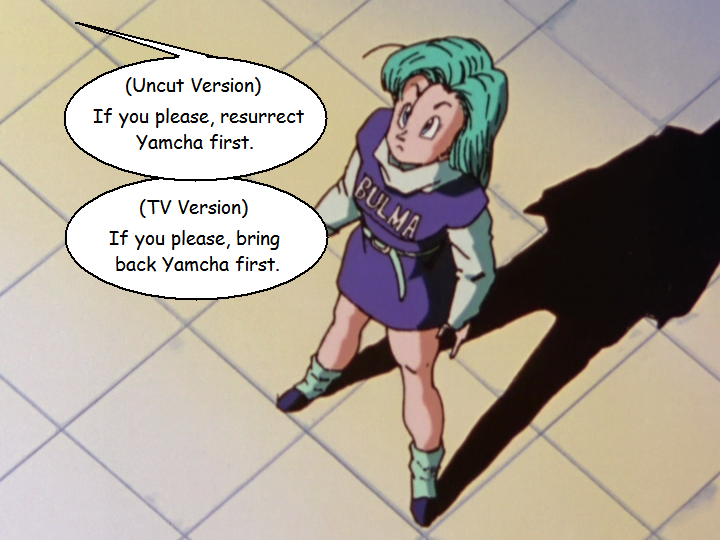 And so, Tien and Choutzu get wished back a year later. Then the Namekians are wished to their new planet Namek and thus, finally ending the Freeza arc.