Episode 55 stats without a recap of the previous episode. We start in space upon the floating rubble of planet Namek. Eventually Freeza, who is now almost dead, is now floating aimlessly in space. The shots of Freeza are edited for blood and his gash is re-colored…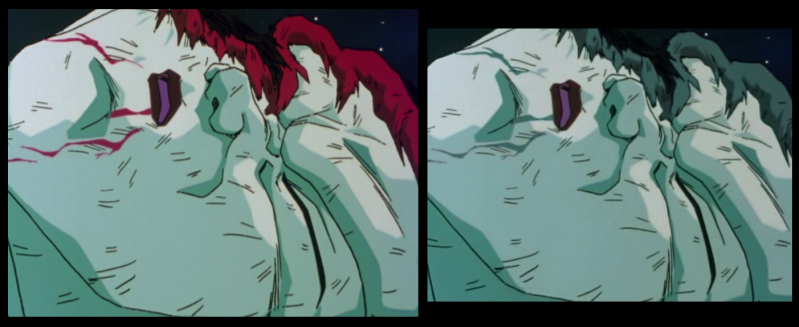 Eventually King Cold, Freeza's Father, floats by in his spacecraft along with his crew. One of his crew members tells King Cold that Namek is destroyed and that not even his son could have survived. King Cold says…
He goes on to say…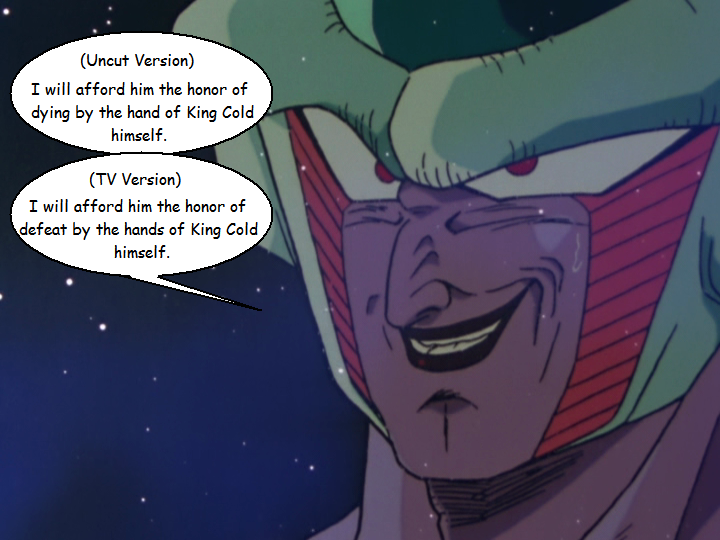 They eventually find Freeza and bring him on the ship. The crew works on reassembling his body into some android type being. After the operation Freeza gets up and says…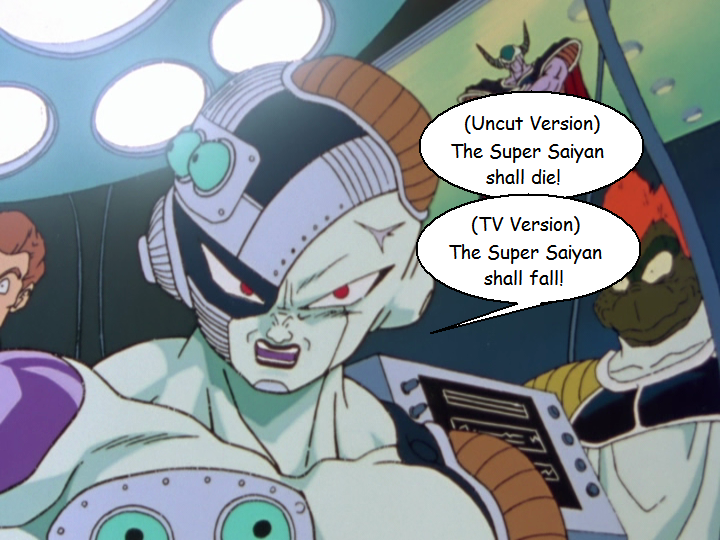 And then the opening starts and the title card follows….
Back on Earth Krillin is training on Roshi's island. He blasts a KaMeHaMeHa through the water, but it causes a big wave to wash over Kame House. Before it hits he says…
Meanwhile, Vegeta crash lands back at Bulma's house where her, Yamcha, Puar and Oolong where eating outside. Yamcha rushes the space ship and confronts Vegeta as he comes out…
Bulma takes one whiff of Vegeta and demands he come in to take a shower. A shot of Vegeta in the shower was cut slightly…
While in the shower, Bulma asks the guys…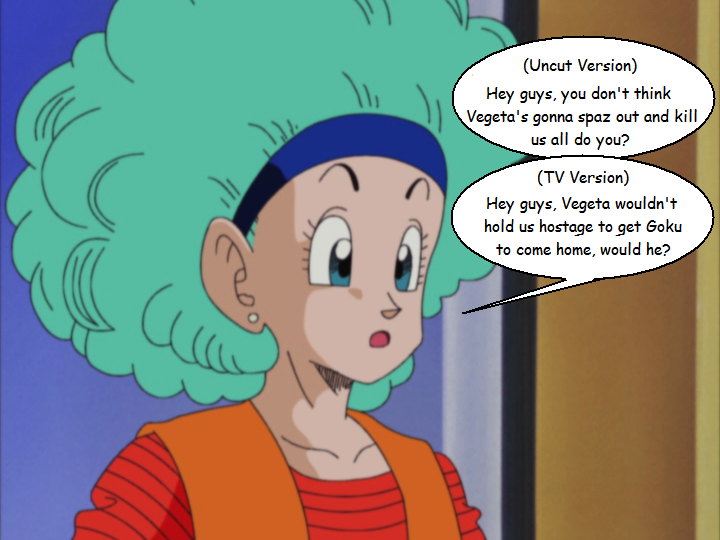 Vegeta walks out of the shower, reluctantly wearing the clothes Bulma laid out for him. When the guys see what he's wearing they all laugh at him. Vegeta yells…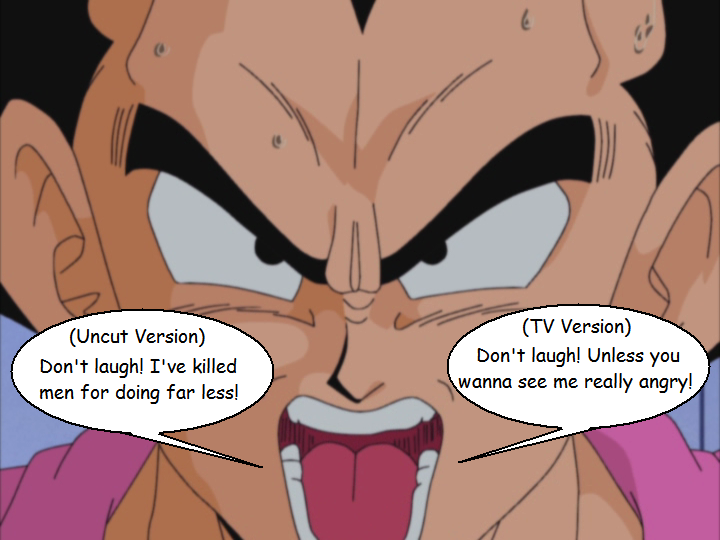 Later on, everyone starts to feel a wave of evil energy approaching the Earth. Krillin calls Gohan and says he thinks it might be Freeza. Gohan says…
Meanwhile, Vegeta feels the energy and immediately knows it is Freeza. Yamcha then says to him…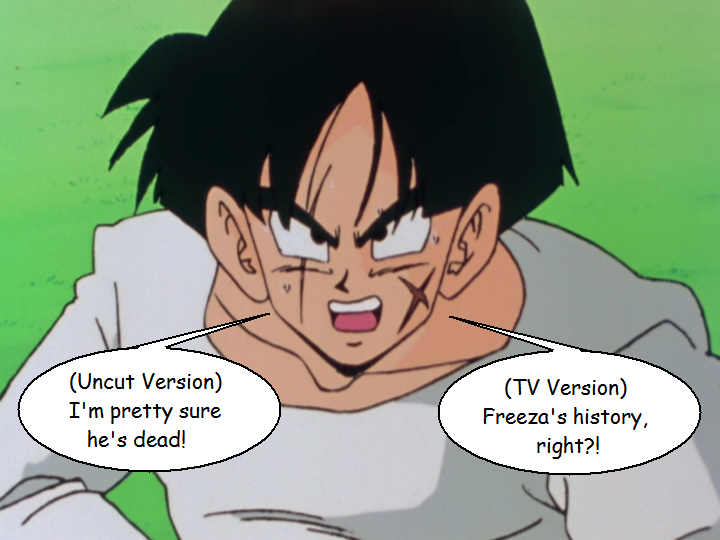 As Freeza's ship approaches Earth, Freeza tells his Father how satisfied he will be when he treats this Super Saiyan to the nightmare of his ultimate form. King Cold replies…
Back on Earth the others gather to where they feel the energy will be landing. As Gohan fly's towed the scene Krillin catches up alongside Gohan. Krillin tells Gohan he knows Freeza's vibe anywhere. They then flashback to when Freeza killed Krillin and a few seconds when we see Krillin's body expand are edited out…
A few moments later we see Freeza on the ship anticipating his meeting with Goku. He thinks about the battle on Namek. We have an editing error here. Previously, the shot of Freeza getting hit with Goku's blast was edited out. This time it's not…
As the others arrive at Freeza's predicted landing site, Yamcha questions Vegeta, how can he know this is where he'll land?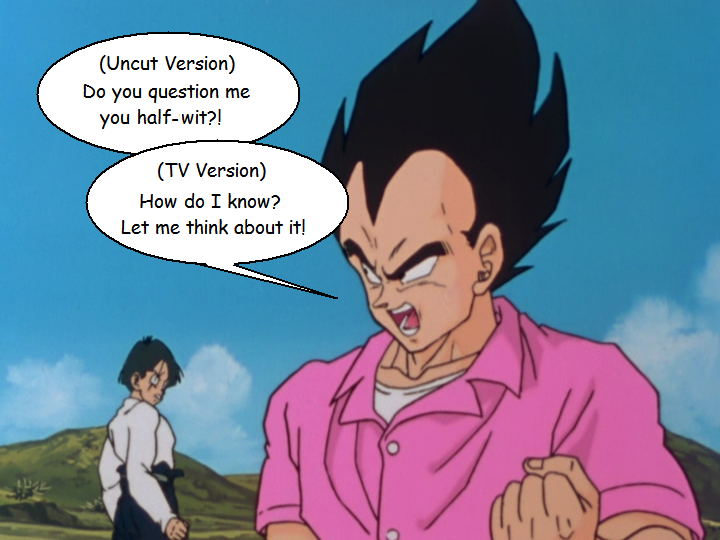 Yamcha, Vegeta, Tenshinhan, Chaozu, Bulma and Puar have now all gathered in one spot to anticipate Freeza's arrival. Yamcha and Tenshinhan start talking to each other, debating if this really is Freeza. Vegeta yells to them…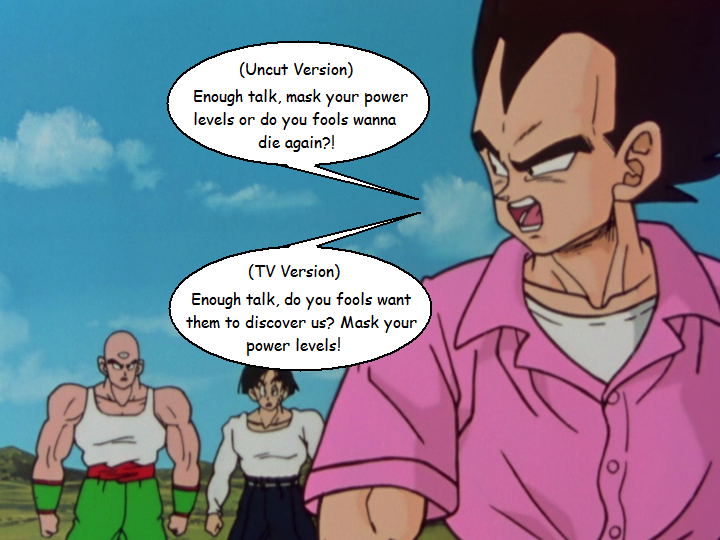 Soon after Gohan and Krillin land at the meeting spot with the bad news that Goku hasn't come home yet.
Freeza and King Cold's ship finally makes its way to Earth and lands nearby. Freeza and his Father make their way out of the ship and Freeza thinks of ways to kill some time while waiting for Goku to arrive…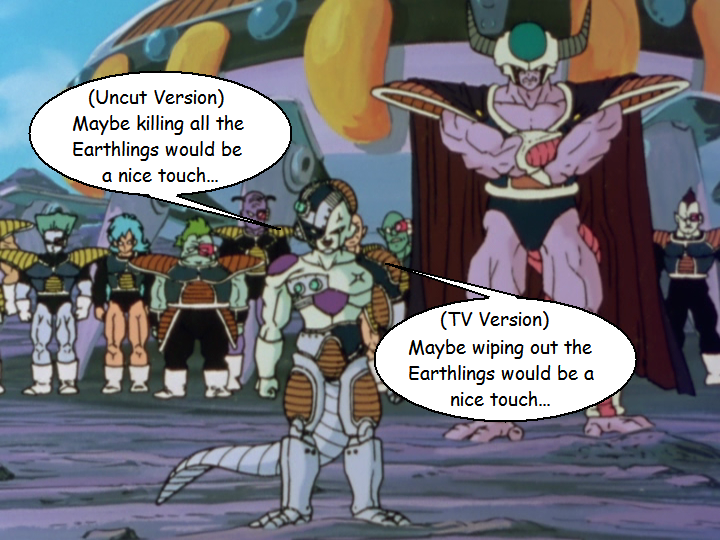 Freeza then laughs like a maniac and yells…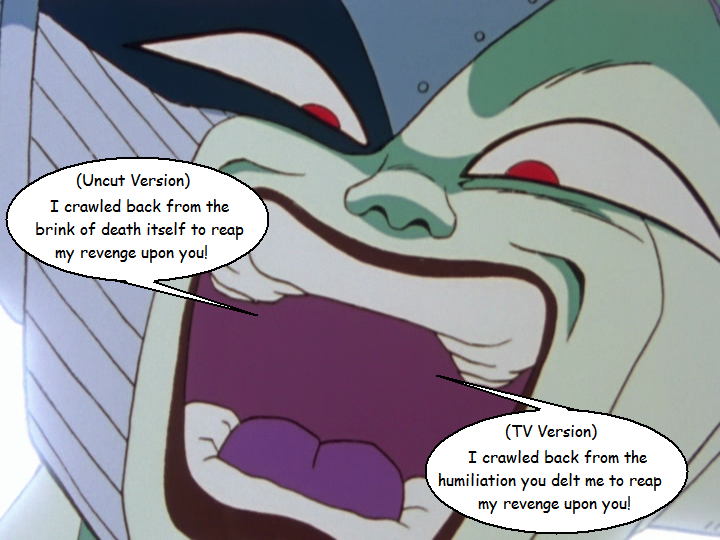 The Z Warriors are now making their way to where Freeza and King Cold have landed. They are going the old fashion way, by walking, so they don't show up on anyone's scouter. Yamcha, knowing that all hope is lost, says…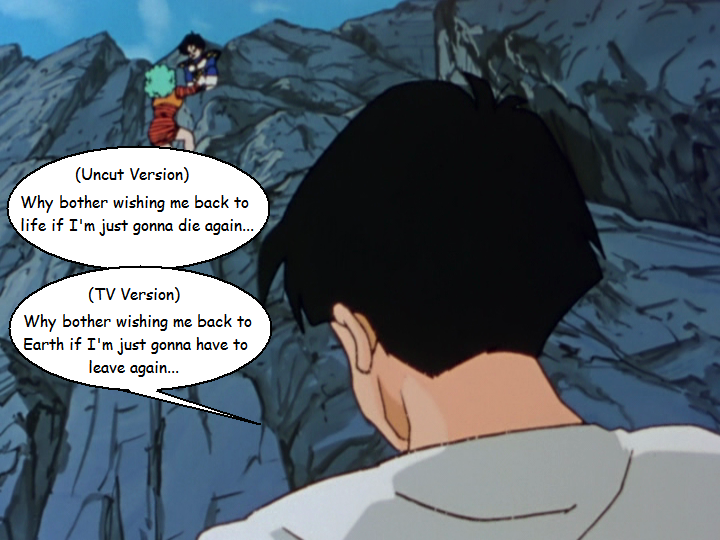 At that moment a mysterious young man appears and slices Freeza's minions like nothing. I should note that none of the slashing or body parts where edited. Odd.
When Freeza asks the young man what brings him here, he says…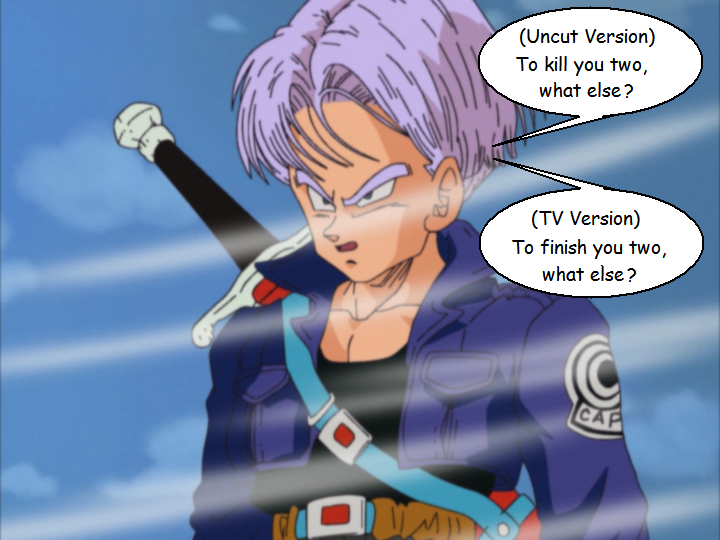 The episode comes to a close seconds later.