During the recap for episode 59 we have two editing errors. The first is a shot of Yamcha becoming limp in Android 20′s hand…
The second is a very minor error. In the episode 59 when Goku punches Android 20 in the face, a few frames of animation were removed. Here in the recap though, some of those frames that were removed are now present.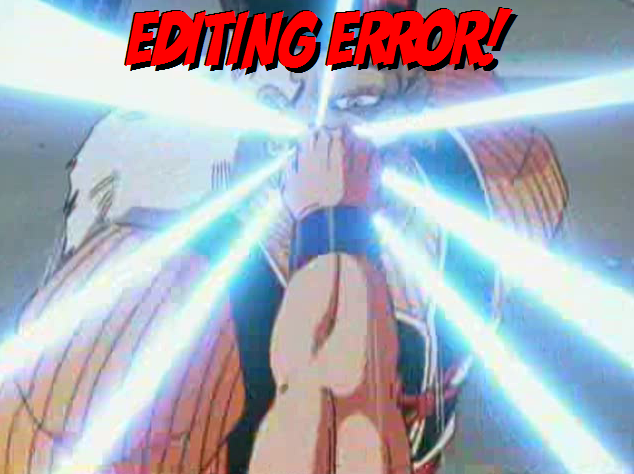 Soon after the episode begins…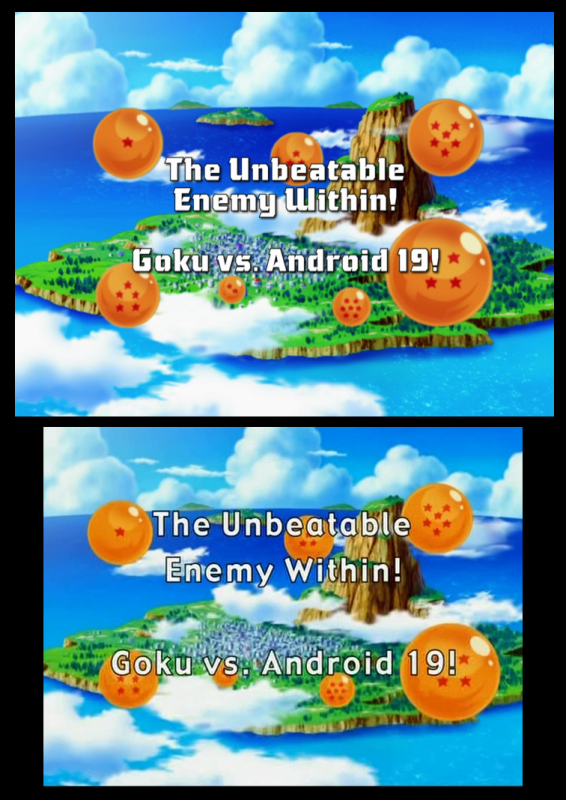 As the episode begins Krillin and Gohan learn from Yamcha that the androids can steal energy. It becomes clear to Krillin and Gohan that they need to get to the others with the Senzu to inform the others. Yamcha is hesitant to tag along at first and says…
Gohan and Krillin fly off without Yamcha. While watching them fly off Yamcha says to himself…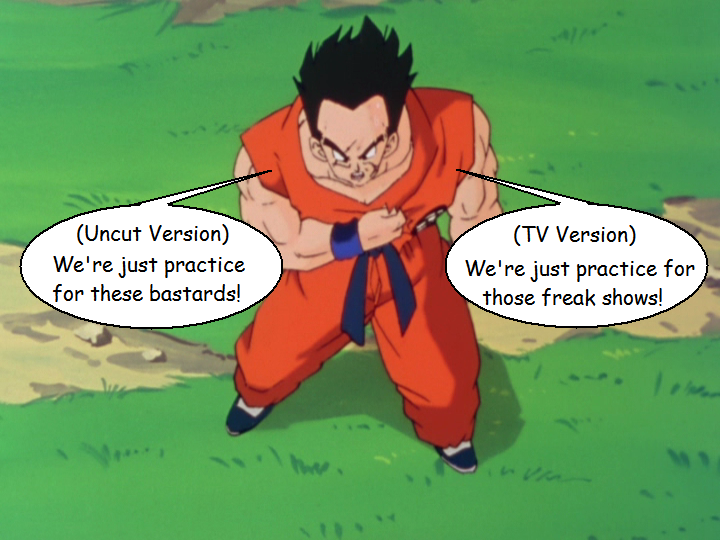 Yamcha declares he won't fight the androids but he'll go anyway and flies off. Yajirobe remarks to Bulma…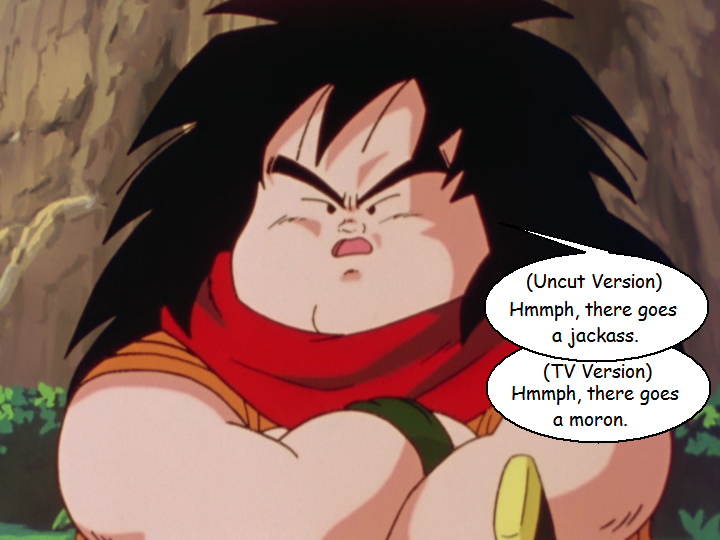 Meanwhile Goku and the others have lured the androids away from the city. Since they changed locations, Krillin, Gohan and Yamcha now have no idea where they are. At the battle field Goku asks the androids how they knew about everyone. Android 20 goes on to tell Goku that they had a robotic spy bug follow him around since he was a child. A flashback to the World Tournament has the Japanese characters changed to English letters…
During the flashback of Goku fighting Tenshinhan, two frames of animation were removed during the barrage of punches Goku was dishing out to Tenshinhan. These are the two omitted frames…
Although, as the bug pans across the screen to segue into the next flashback, we do see a bit of the omitted frame, but I guess it's OK this time since the bug covers the punch to the face…
Android 20 goes on to tell Goku they followed his life battles up to about the time he left for Namek. Goku then surprised them and turns into a Super Saiyan. This spike in energy also alerts Gohan, Krillin and Yamcha to their location.
Goku tell Piccolo and Tenshinhan to stay out of this…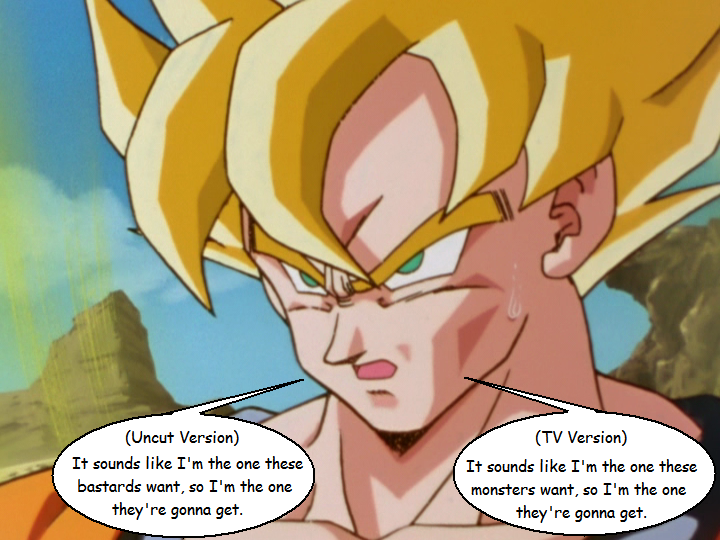 Goku rushes Android 19 and rapidly attacks. At one point Goku elbows him in the back and then (through his elbow?) blast him through a mountain. The elbowing in the back part was left in the TV version but for some odd reason, the reaction shot to that elbow in the back and the following elbow blast thing Goku does, was cut out…
The fight continues and a few moments later Goku knees Android 19 in the stomach and then elbows him in the face. These were cut…
Then there were some hits here and there that were taken out and one flash edit to cover a face bash during this part of the fight…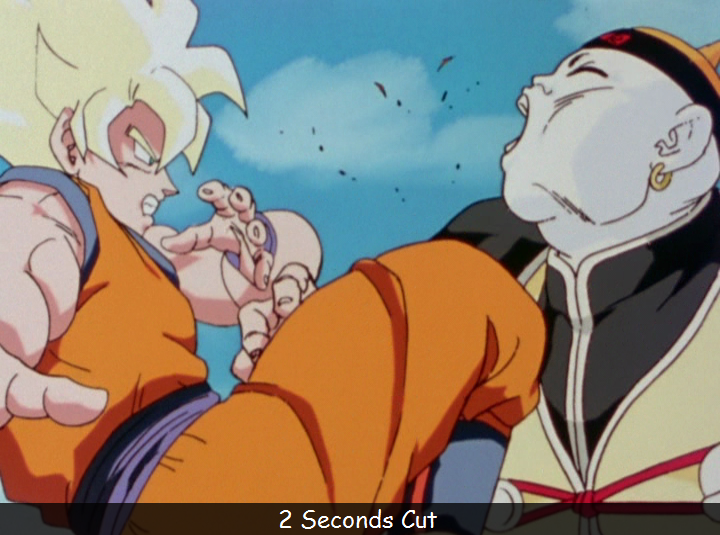 The reaction shot to that face bash was also removed…
Krillin, Gohan and Yamcha finally make it to the battle field. As they look on we see these quick shots of Goku attacking Android 19. These shots are all removed in the TV version…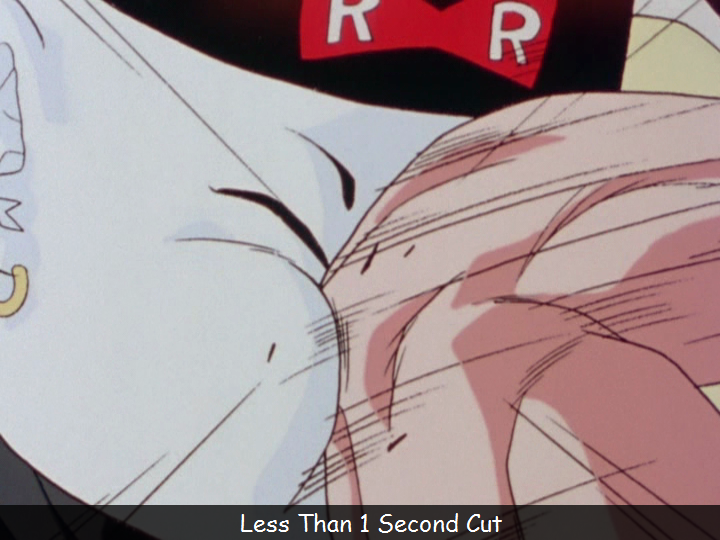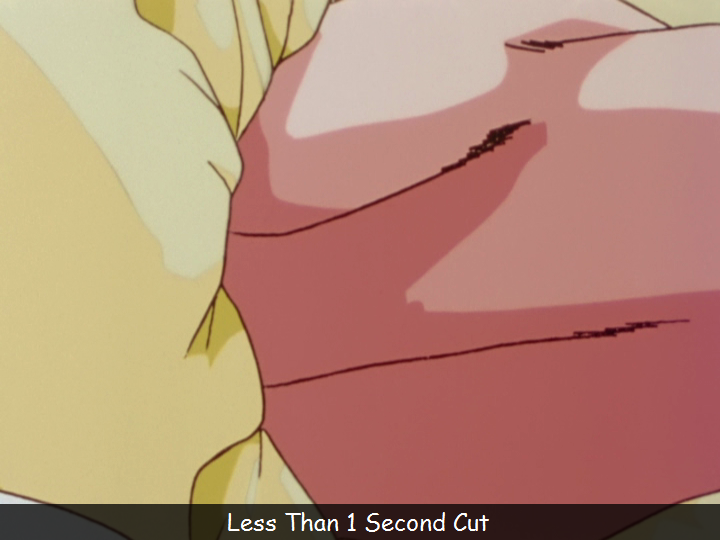 Piccolo and Gohan are confused why Goku isn't as power full as he should be. As they do there is a 2 second shot of Goku fighting Android 19 that is removed in the TV version…
As Yamcha is telling Piccolo and Gohan that the androids can steal energy, Goku knocks Android 19 into the ground. The others cheer on Goku, Yamcha yells…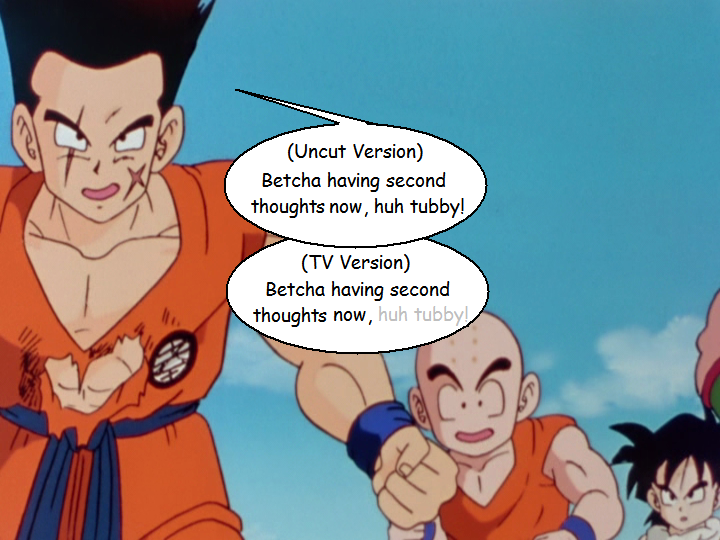 The TV version just omitted the "huh, tubby?" part of that line. Odd, I didn't think tubby was gonna be a problem.
Goku throws an energy blast at Android 19, which the android just absorbs. Now that the android obtained a good amount of energy, he goes on the offensive and attack Goku. Sometime during these attacks Goku gets some blood coming out of his mouth. Of course, this is all edited from here on out…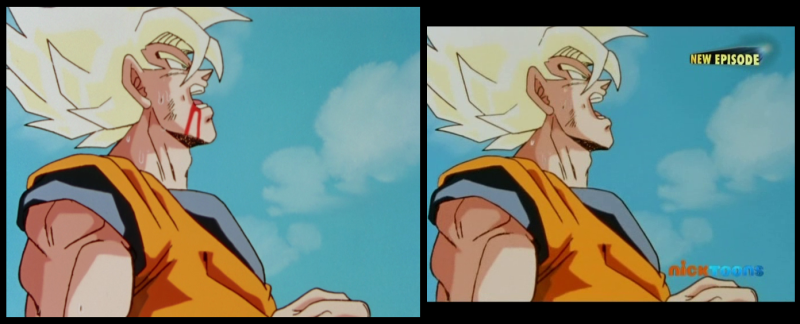 Goku blast Android 19 again, but this time Piccolo yells to Goku before he can fully shoot the blast, reminding him they can steal energy. Goku then yells to Android 19…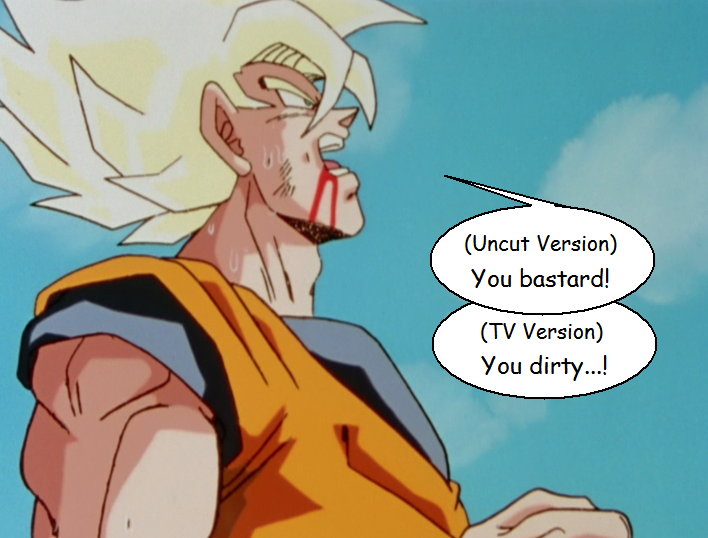 It then becomes obvious to everyone that Goku isn't well. They try giving him a Senzu but even that doesn't help. Android 19 uses this opportunity to attack Goku even more.
The android now has the upper hand and is brutally attacking Goku. There was a kick to the face that was covered with a flash screen…
Then a poorly placed flash screen was, I think to cover a kick to Goku's chin but, the kick is totally visible in the TV version and the flash screen happens to come a few seconds before this attack. Perhaps it was just a mistake…
Then two hits where just edited to remove blood splashes, but not for actual hit connections…
Goku lands and he transforms out of Super Saiyan form. Android 19 then sits right on top of Goku. Android 19 holds Goku's arms down with his feet and we see Goku struggling. This was cut. Also I should add, they added a white flash screen in between Android 19 sitting on Goku and the close up shot of Android 19 which takes place after the cut. Don't know why they did this; it makes the cut seem much more obvious.
The android then puts his hand on Goku neck and we see Goku struggling some more. There was 6 seconds removed from this small part and it starts right after the android puts his hand on Goku's neck, right before Goku opens his eyes…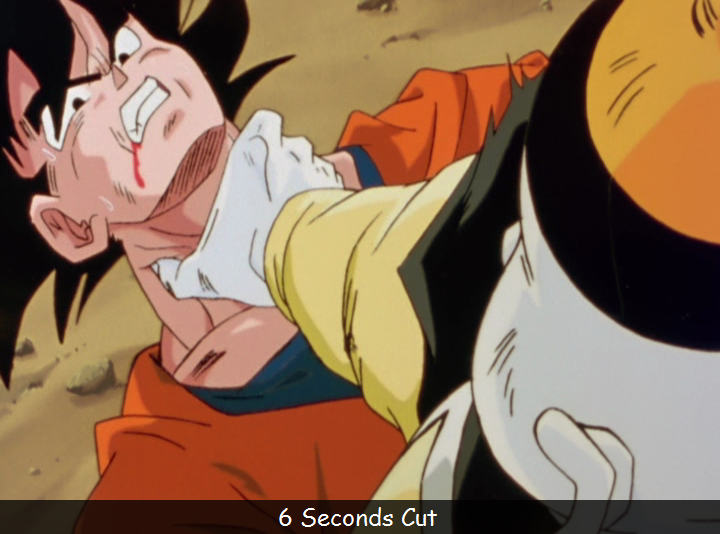 The others try to help Goku but Android 20 stops them in their tracks. Then there is a slight cut to a pan shot of Android 19 holding Goku's neck. The cut starts right before we see Goku's face…
And then another shot of the android holding Goku, as well as a reaction shot of Goku were cut. Also cut which was included in the "android holding Goku" shot was a close up shot of the android looking down at Goku, but it shows up in just a moment…
With all these shots being cut the only thing left in the TV version are the slightly awkward shots of Goku holding Android 19′s arm.
Then as the narrator is wrapping up the episode we see a few more shots of Goku and the android holding him which were all just replaced with a shot of Android 19 looking down, which was taken from a shot they just removed seconds ago. I guess they didn't really remove it, just moved it around a bit. I should note it's about 9 seconds that was cut here and replaced with that Android 19 looking down shot…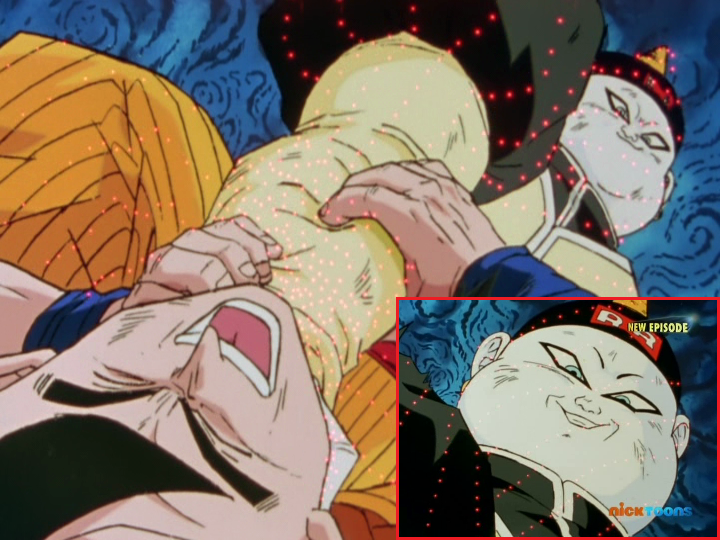 And that's it for episode 60!