As the episode begins, a power full blast is heading straight for Gohan. Vegeta rushes in and knocks him out of the the way. I don't see why they needed to edit this with a flash…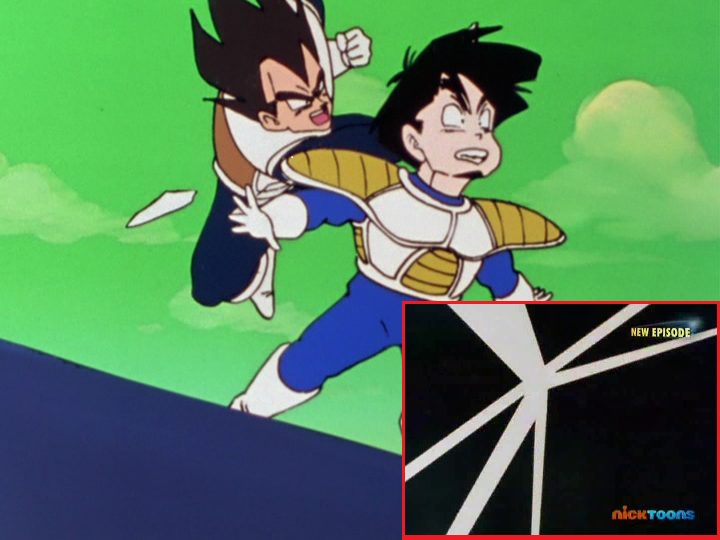 Vegeta claims to have enough power to defeat Freeza. He powers up and attacks, as the others watch – everyone except Piccolo thinks Vegeta still doesn't have enough power to finish the job…
Vegeta continues to attack Freeza. Vegeta goes to bash Freeza but he disappears. Frustrated, Vegeta yells…
Freeza taunts Vegeta for a while telling him he can't be a Super Saiyan because he's still too weak. Vegeta start's blasting Freeza aimlessly. Piccolo yells…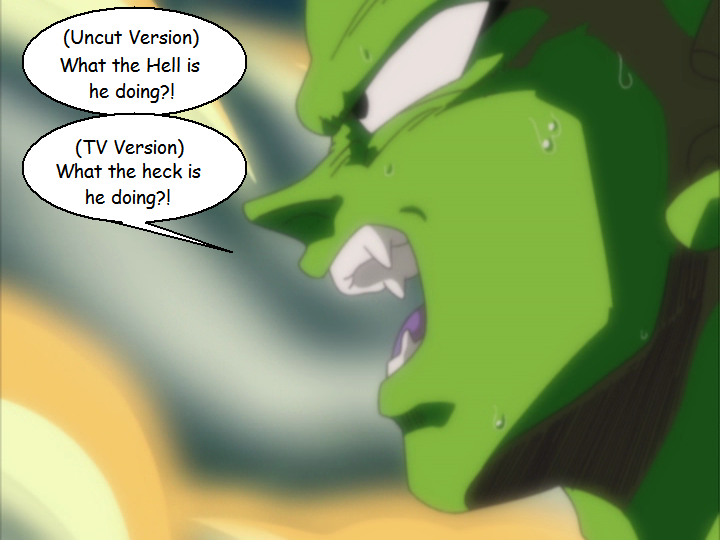 Vegeta shoots a power full blast at Freeza and yells…
Freeza kicks his blast away like it was nothing, attacks Vegeta and smacks him with his tail, sending him right into the ocean. Freeza parts the ocean and lands near where Vegeta is lying.
Freeza grabs him by the hair and starts punching him. This was cut in the TV version…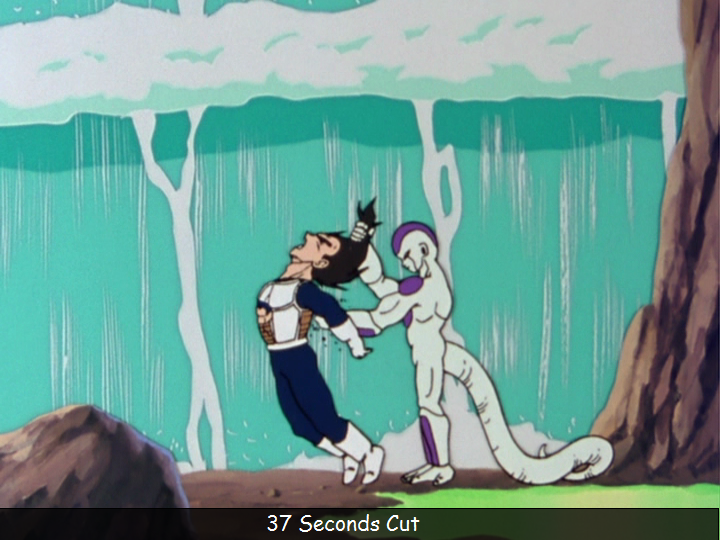 Freeza then drops him to the ground again, and this is where the TV version picks up. It was made to look like Vegeta was laying there from the initial tail smack.
Freeza then kicks Vegeta and then kicks him again this time even higher into the air. The second kick is edited out with a white flash to make it look like Freeza used one kick make Vegeta airborne…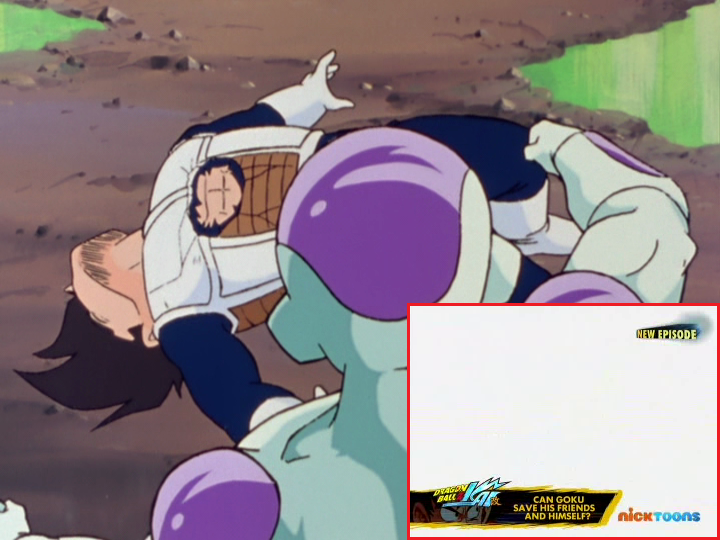 While in the air, Freeza elbows Vegeta several times. These hits where edited out…
Freeza knocks Vegeta into the ground. The shot of Vegeta lying on the ground have been edited for blood…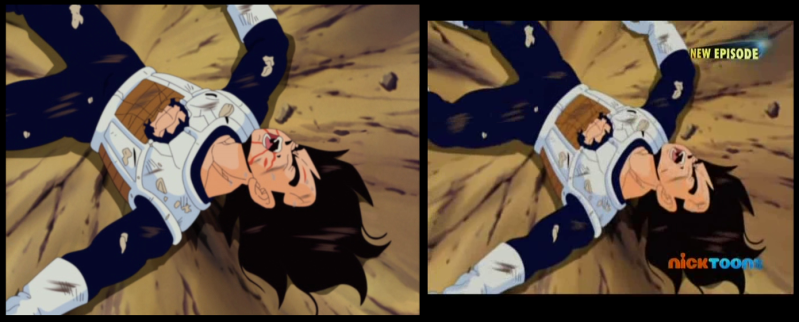 Freeza then picks him up with his tail and continues to taunt and punch Vegeta. This was edited out of the TV version…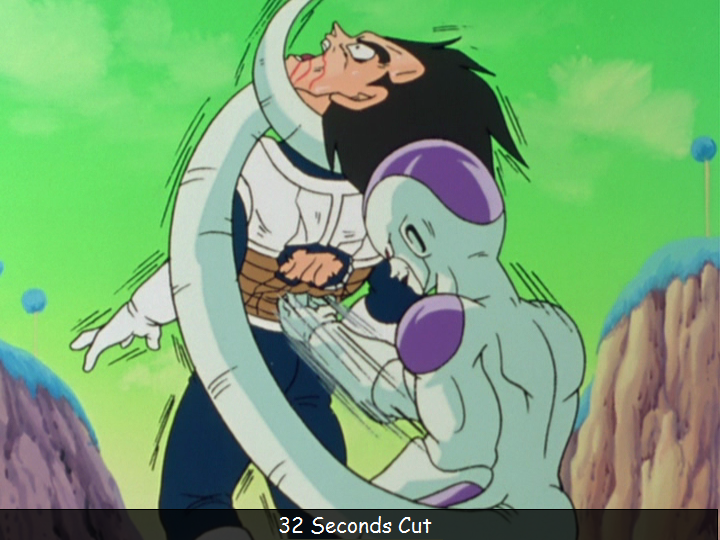 During this scene Freeza teases the others watching this by telling them they could jump in anytime. This line was actually moved in the TV version to right after Freeza lands on the ground next to where Vegeta was laying…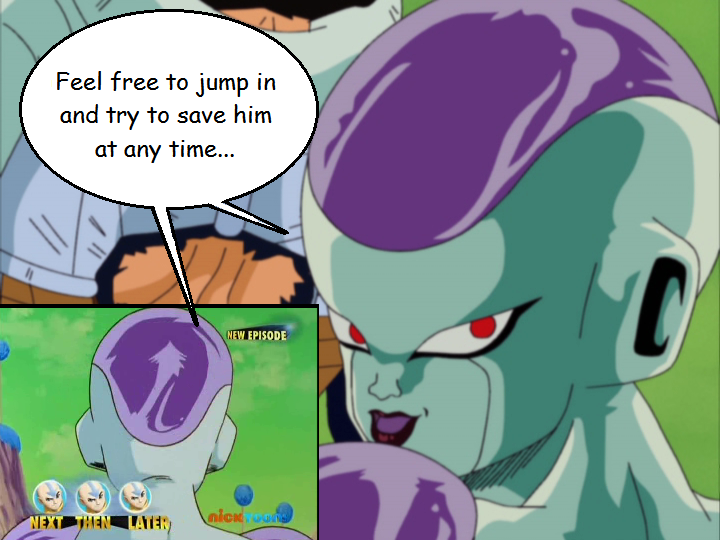 As the others watch Vegeta getting pummeled, the sound effects of Freeza's punches have been omitted during the reaction shots to make it look like they are just in shock at Vegeta getting slammed into the ground. Basically the reaction shots take the place of the shots of Vegeta getting pummeled…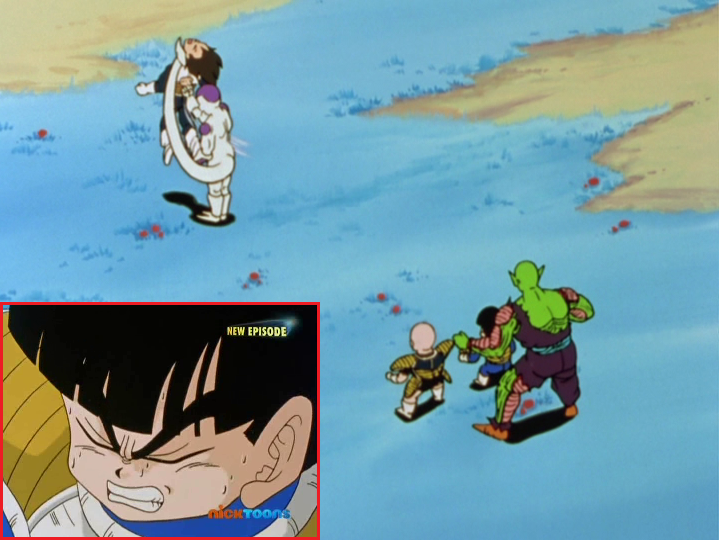 Goku is finally healed and burst out of the healing tank. As the narrator sums up the events of the episode, there is a scene of Vegeta getting punched. This scene, along with the narrators dialoged during the scene are omitted in the TV version…