Yeah, for some odd reason, the TV version of this episode doesn't have a title card!
As the episode starts, the first 38 seconds are cut out. The cut scene is of Freeza beating on Vegeta while the others watch helplessly…
The next scene shows Goku on top of Freeza's ship, then goes back to Vegeta getting beat. Again, this scene of Freeza beating on Vegeta is cut out of the TV version…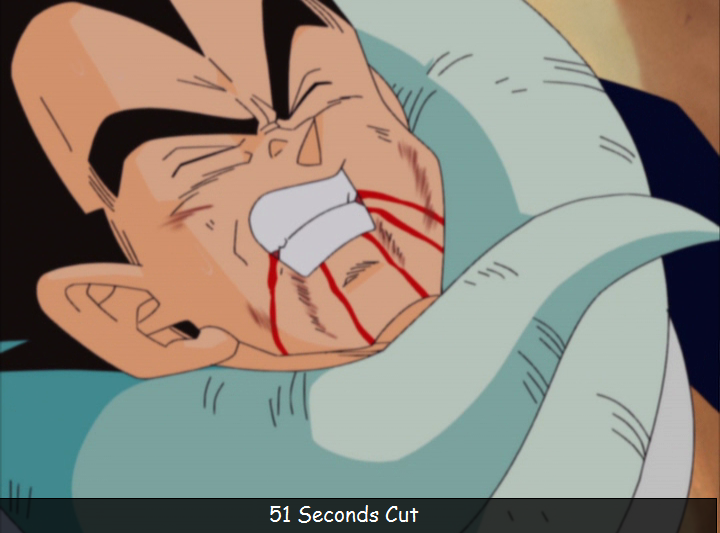 The TV version resumes right before Freeza throws Vegeta into the wall. In the uncut version there is a close up of Freeza's face and then he throws Vegeta into the mountain side. In the TV version, we get the close up of Freeza's face, but then there is a tiny edit right before Freeza throws Vegeta. I guess it's so it's not showing Vegeta being held up by Freeza's tail…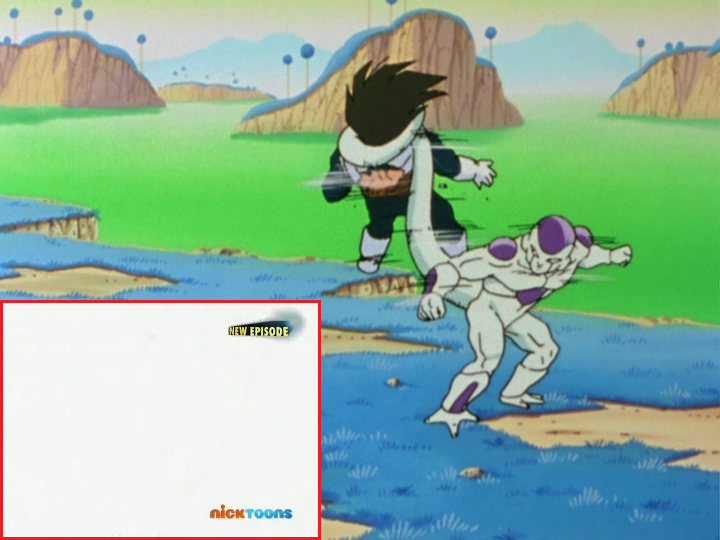 After Vegeta hits the wall and lands on the ground there are some blood edits…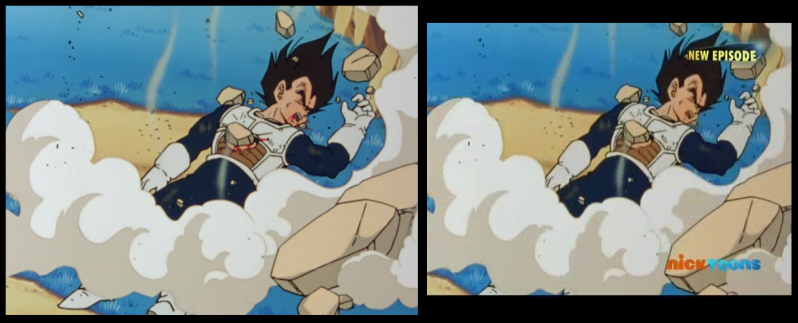 As Vegeta lays on the ground, Freeza walks up to him and grinds a rock into his chest. This is cut out of the TV version…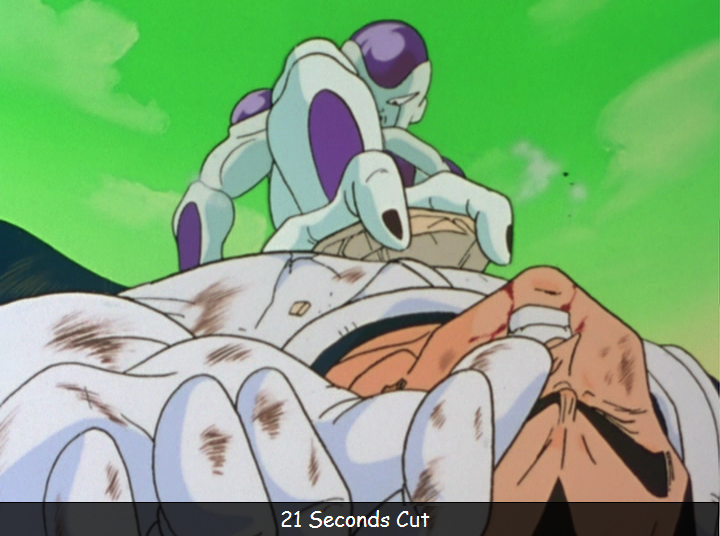 From this point on, whenever you see Vegeta in the TV version there is blood on his face and body that have been edited out. There are a ton of shots of Vegeta so I'm not going to post each one, just know every time you see him there is a blood edit…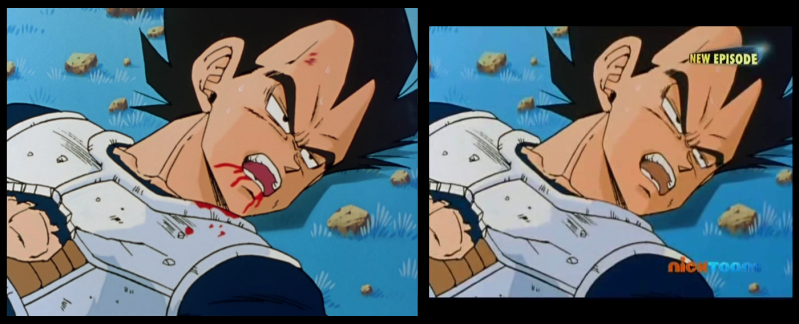 Goku flies over to the battlefield and declares that he'll take it from here. Freeza says to him…
Freeza thinks Goku looks familiar, he then remembers the Saiyan he killed right before destroying Planet Vegeta. In the flashback, every shot of Bardock has been edited for blood and also, on top of that we have an editing error. In the first episode Bardocks scar is removed but here, his face and body are only edited for blood. Odd, guess they forgot…
Thanks to Pokewhiz7 and Kai17 on the Daizex forums for pointing this out.
In Bardock's death scene there is an odd edit. They shorten the scene so little that it becomes almost pointless. They use a white fade out to cut the scene a little short while segueing into the next shot of Bardock. Very odd.
Freeza then tells Goku…
Freeza asks Goku if he's ready and then tries a tail slap, Goku avoids it and kicks Freeza in the face. This hit was edited with a flash…
Impressed by Goku's power, Vegeta tells Freeza he's dealing with a Super Saiyan. Vegeta continues on but, Freeza puts an end to the conversation by shooting a beam right through Vegeta. In the TV version the scene ends right before the beam comes out of Vegeta's back.
As Vegeta falls back, he lets out a gasp of air, in DragonBall Z this shot had Vegeta throwing up some blood, but it's been toned down. Regardless, this now gasp of air is edited out of the TV version…
Like I said before, every shot of Vegeta has been edited for blood. Just for good measure here is a shot from this point in the episode…
Goku then yells to Freeza…
Right after that there is a shot of Vegeta's body spazzing out as he's dying. Odd, they show these spazes when Vegeta starts talking in a few minutes, so why not now? Oh well, this shot was cut…
Goku turns to look at Vegeta and just simply says his name. This was cut out of the TV version…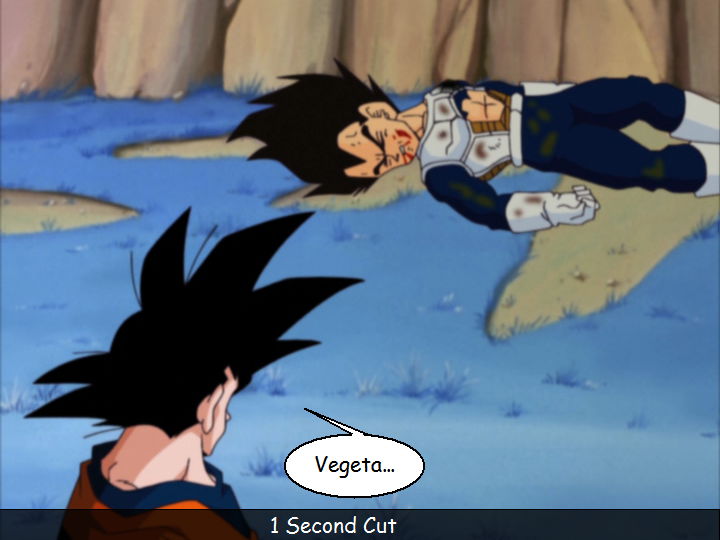 Vegeta start's explaining to Goku that he can't preach that mercy nonsense. He then adds…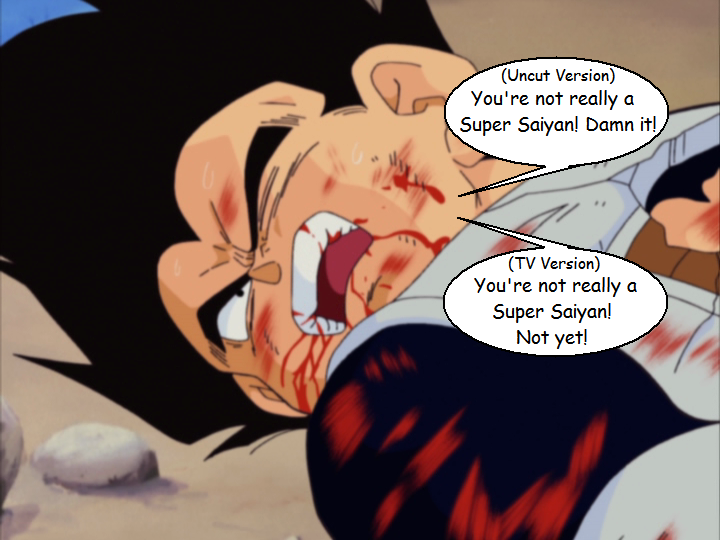 During the flashback of Vegeta and Goku's battle, there are blood edits on Krillin and Goku…
Vegeta goes on to try and tell Goku what a Super Saiyan is but has a spasm, this spasm was cut out, shortening the scene less than one second…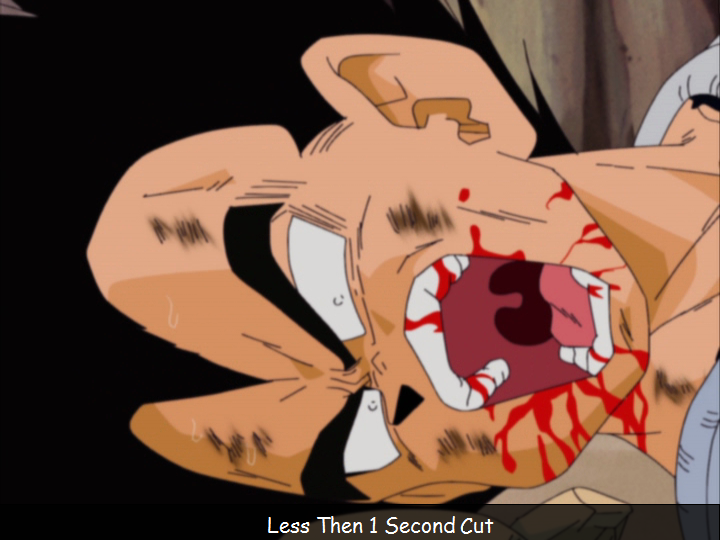 Vegeta soon after has another flashback. The scene of King Vegeta blasting some random aliens are cut out…
Then in the next shot of the flashback, King Vegeta is killed by Freeza. There is a small edit here for blood on King Vegeta's face…
Vegeta begs Goku to defeat Freeza, he then coughs and it's edited out…
After hearing Vegeta talk for a while, Freeza chimes in with…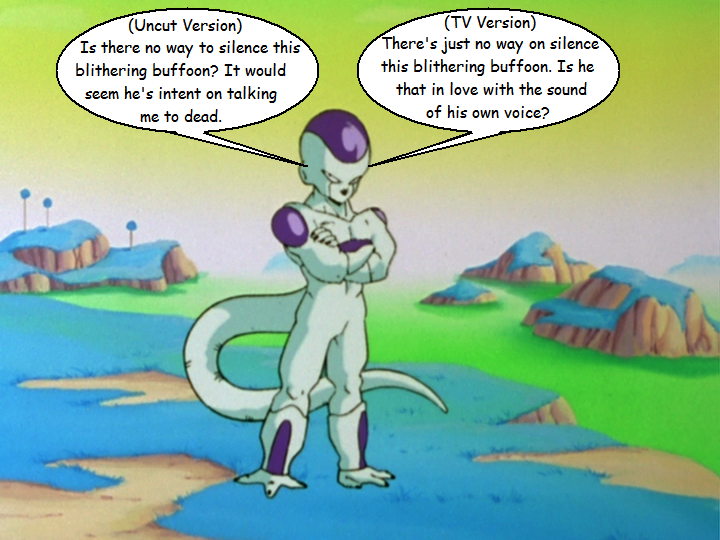 Right before Vegeta dies, he tells Goku…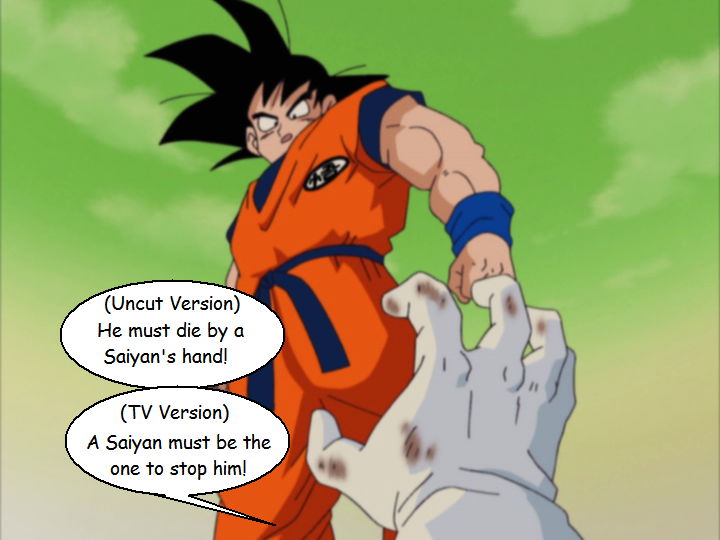 Vegeta then dies. There is a shot where Vegeta's face looses all emotion. This shot was cut out…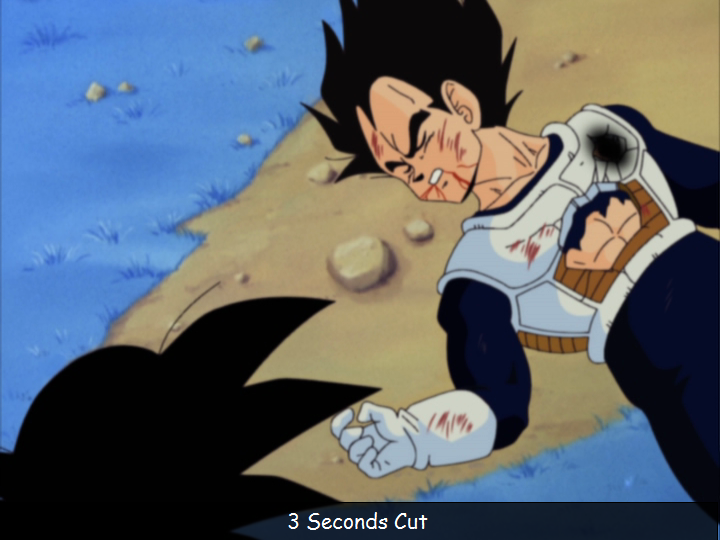 After Goku talks about how hard it probably was for Vegeta to say all those things, there is a pan shot of his body. In the TV version it's just a shot of his upper body which is the last frame in the pan….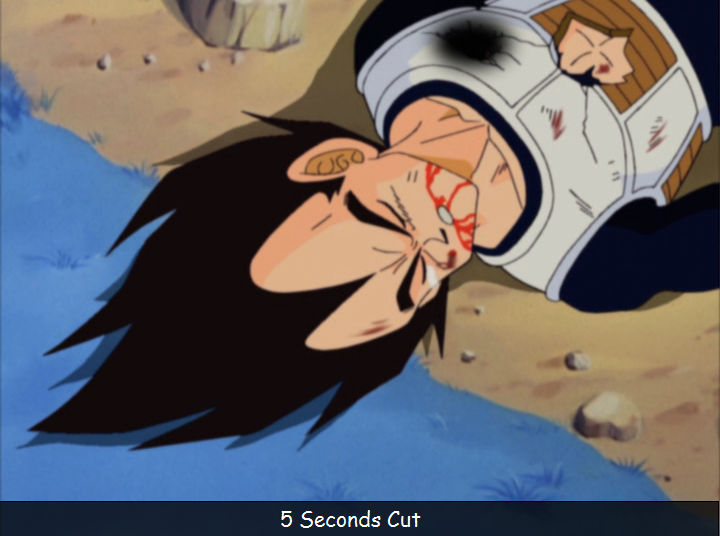 Meanwhile in the afterlife, King Kai tells the others about Vegeta…
Tenshinhan, implying even Vegeta wasn't a match for Freeza yells…
King Kai then explains what happened on Namek. There are some flash backs of Vegeta while King Kai talks, there was one line during this scene that was edited….
Meanwhile on Namek, Goku starts to bury Vegeta. He says to Vegeta's body…
Then a scene of close ups of Vegeta's face and body are edited out…
Goku declares he will defeat Freeza, dramatic music plays and the episode ends soon after.