Episode 56 starts off without a recap just like the previous episode. The last scene from the previous episode is where this episode begins. As such, this is the same exact edit from the end of episode 55…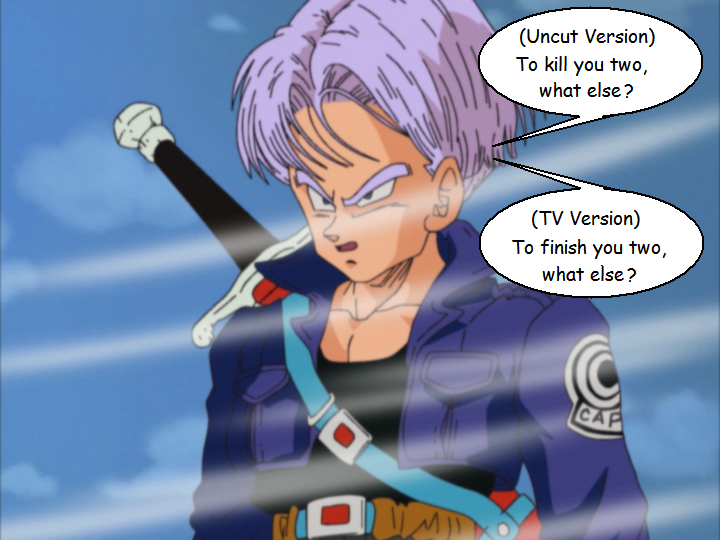 King Cold asks the boy to repeat himself, so he does…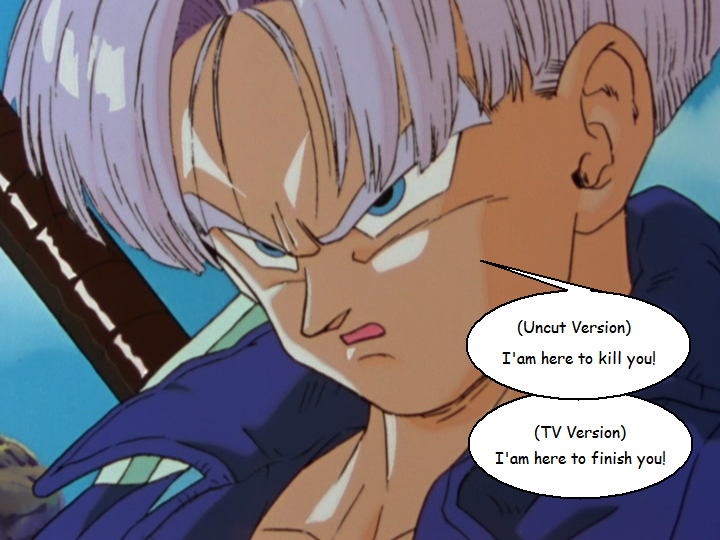 Freeza tells the boy it seems someone failed to tell him that he's the strongest being in the Universe. The boy replies…
Freeza orders one of his minions to take care of the boy, shouting an order to his men…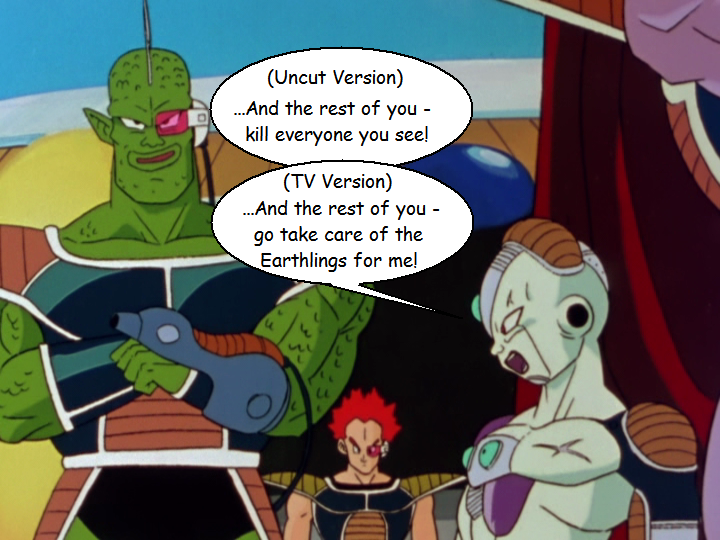 Freeza's men surround the boy. He tells Freeza's men…
Freeza's minion shoots the boy but the blast just gets deflected. The boy then rushes the minion and punches him in the chin. The hit wasn't edited with a typical flash screen, this time they used a white then black screen…
The other minions then rush the boy and one of them yells…
Just a side note: I always try to write these dialogue edits exactly how they're said in the episode. It looks weird that this guy is yelling "going to die" instead of "gonna die" but yeah, that wasn't a slight typo. I had to listen to this line a few times and he does say "going to".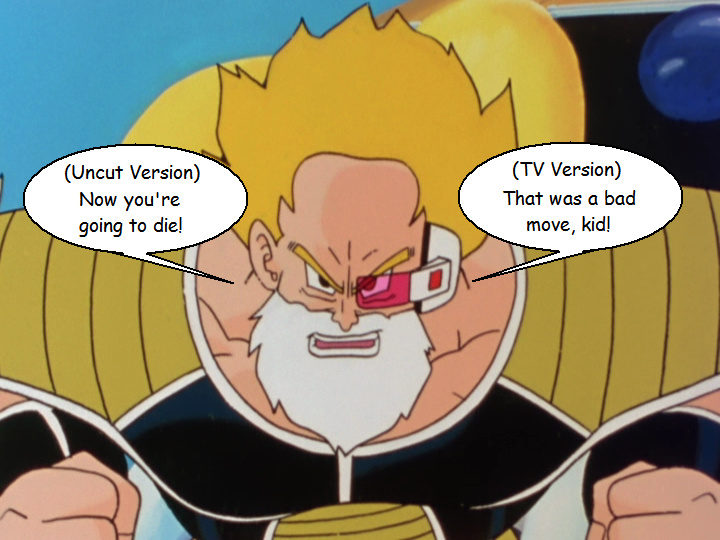 After the boy quickly slices all of them, they drop to the floor and the opening song starts. Followed by, of course, the title card…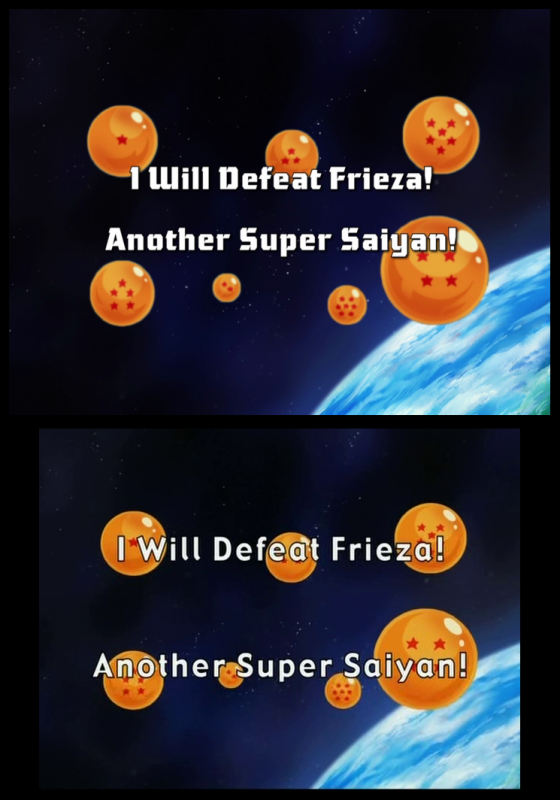 As the boy and Freeza banter back and forth there is a slight edit to a shot of Freeza's men. One of them has a gash in their back. This was edited out…
Freeza and the boy continue to talk…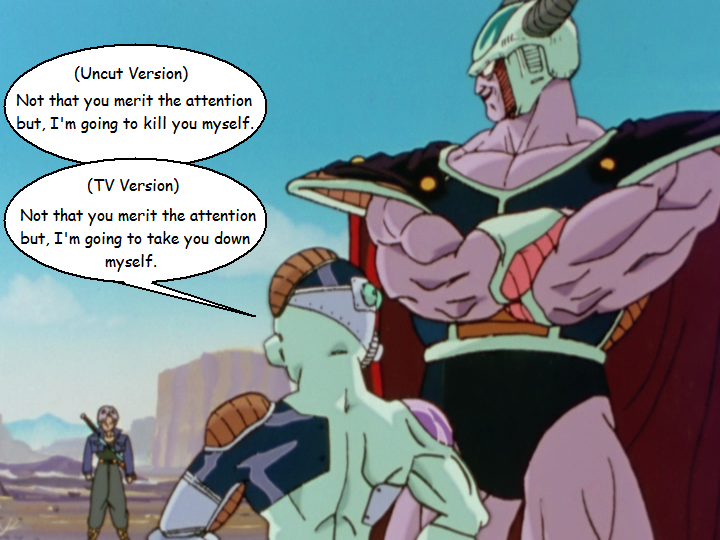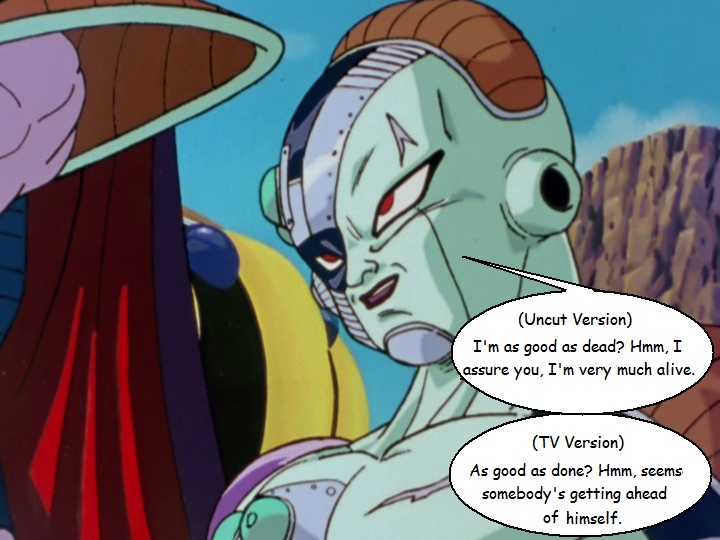 The boy tells Freeza he won't go easy on him like Goku did. King Cold asks Freeza "What's a Goku?" (because apparently they have to reference dumb, inaccurate lines from their Dragon Ball Z for no reason – Editor). Freeza replies…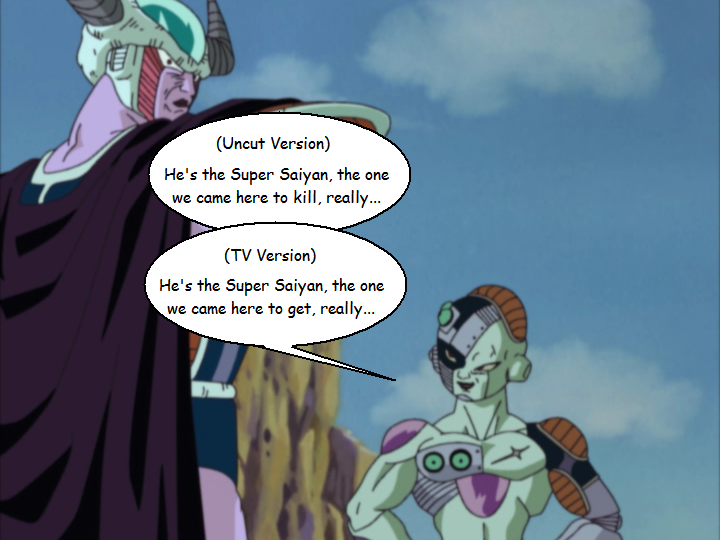 The boy tells Freeza that Goku isn't the only Super Saiyan. Freeza thinks it's all a big joke and yells to him…
The boy starts to transform and we see a shot of Super Saiyan Goku. This shot is edited for blood. There is also another shot of Super Saiyan Goku a few moments later (not shown here, sorry) also edited for blood.
Feeling a Super Saiyan's energy the others are baffled. Krillin goes to fly over to the battle field but Vegeta grabs him before he can take off and yells to him…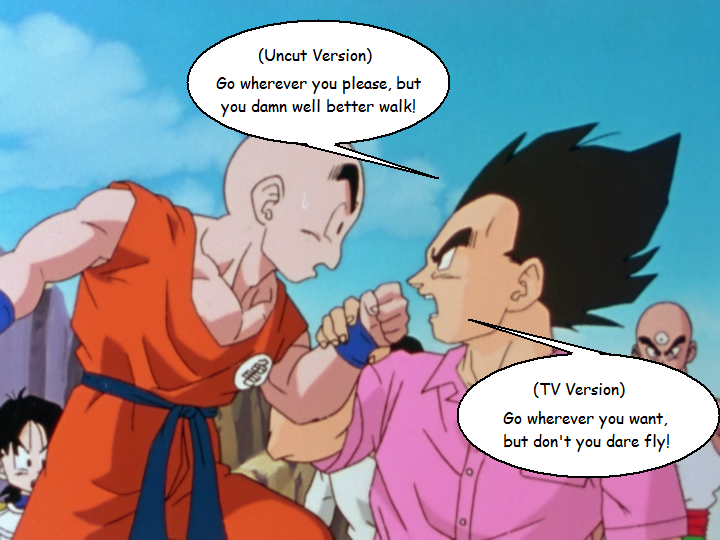 Krillin, feeling hopeless says that without Goku here there really isn't anything they could do. Bulma says that even if Goku is running late, at least they have Vegeta here. Vegeta then yells to Bulma…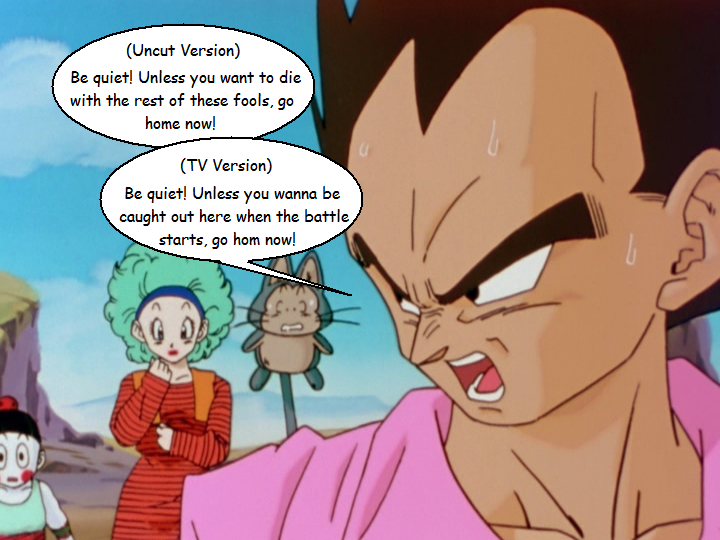 Yamcha defends Bulma and tells Vegeta she might be nosey and bossy (in a good way) but she's also really smart. Bulma grabs Yamcha and yells to him…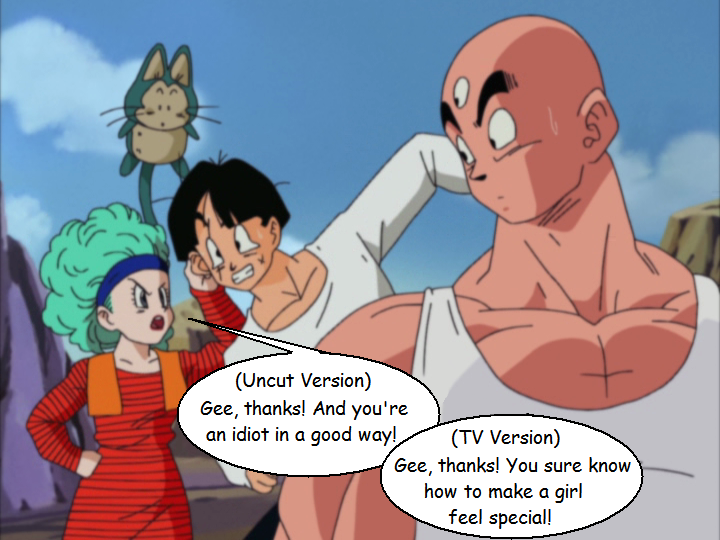 The others then run off to where the battle seems to be going on.
Meanwhile back and the battle field. The boy seems to be unfazed by all of Freeza's attacks. The boy then gets hit with one of Freeza's attack, this time he holds it up with one hand, Freeza yells…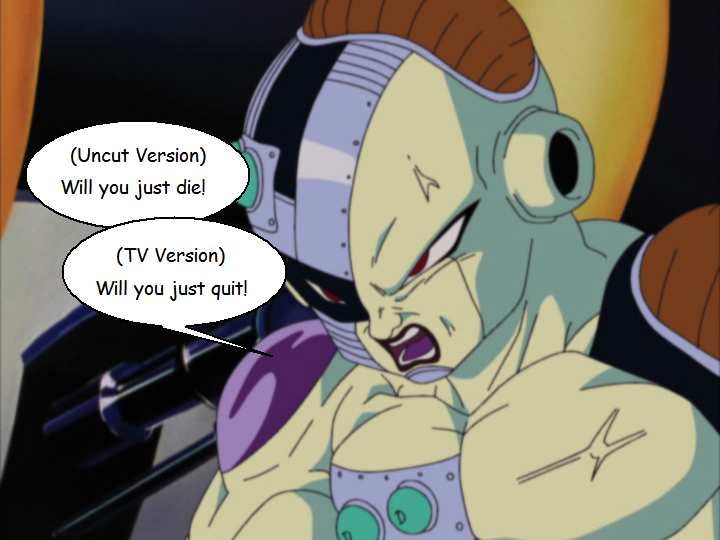 Freeza then throws a smaller blast to break the ball of energy the boy is holding. Freeza thinks it finally finished him off but the boy appears behind Freeza, throws a blast at him then slices him into two!
This is one of the most famous scenes in the DB franchise. This is how it went down on Nicktoons. Everything is fine until the point where Freeza breaks into two half's. Then the cuts begin: there is a shot of Freeza splitting in half then a shot of the boy and Freeza in air while Freeza is still slowly separating. Those two shots are connected so it's one cut.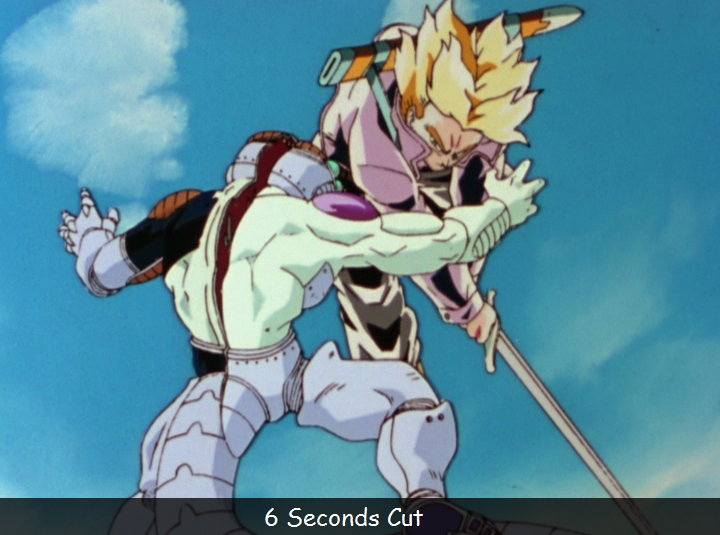 The next cut came after we see a close up of the boy, the scene after that is a pan shot of Freeza and then another pan shot of the boy, Freeza and King Cold. The TV version edited that that last pan shot to only show the boy and King Cold. Those two shots are connected so it's again, one cut.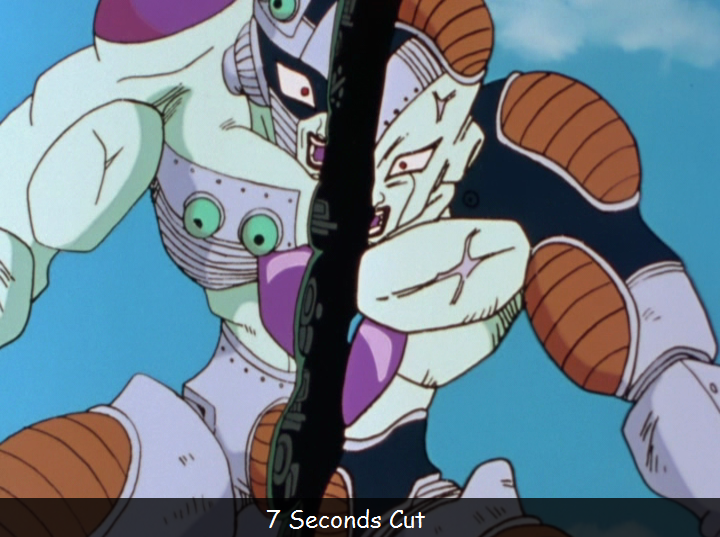 The boy then slices Freeza into pieces. This was also cut (no pun intended).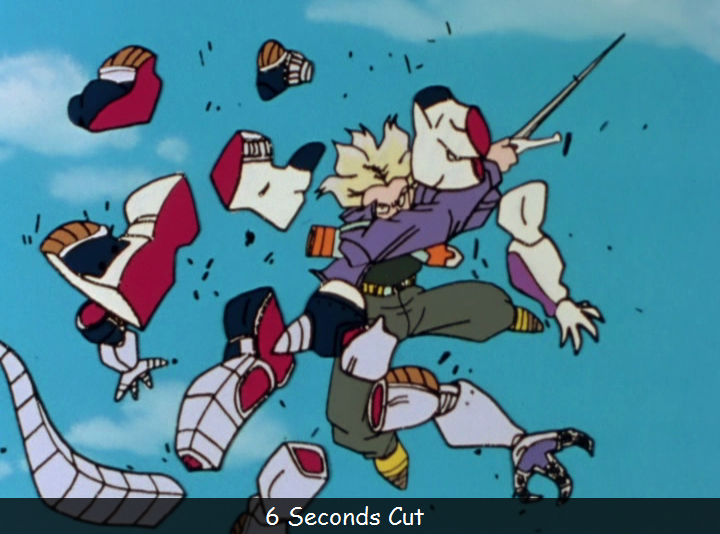 And then blast the bits. The quick shot of Freeza's body pieces before the boy ready's a blast were cut as well…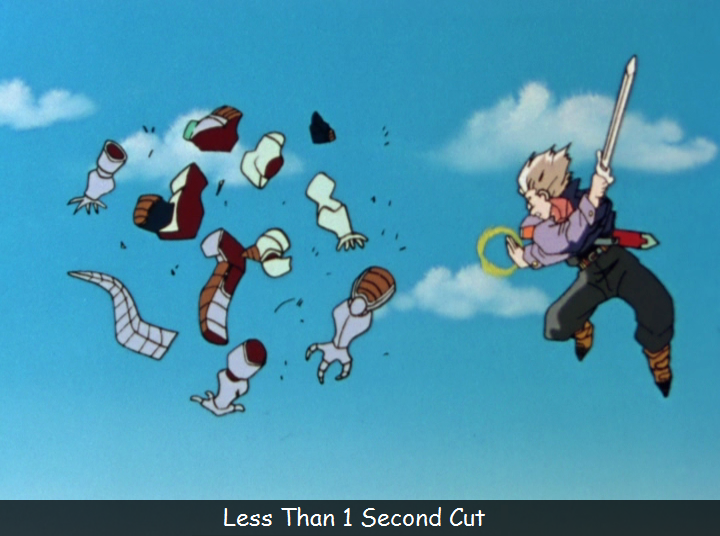 Meanwhile the others see this and are in shock. Vegeta says…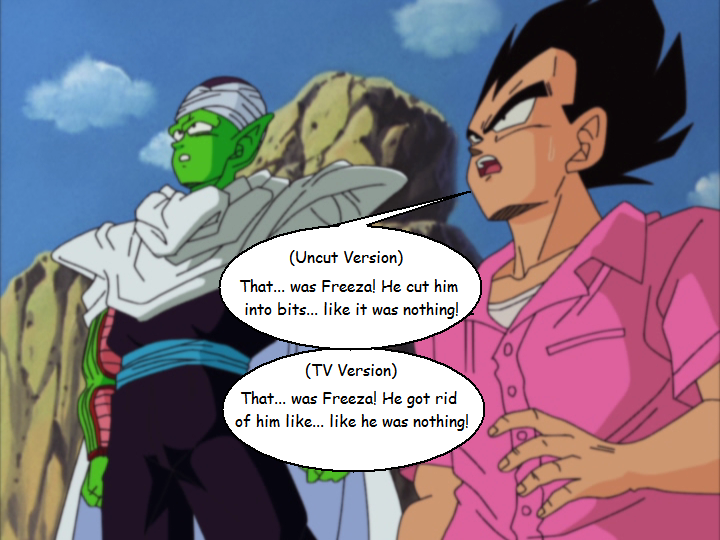 King Cold then confronts the boy. He then asks to see his sword. King Cold says it has to be quit a piece of workman ship, and then adds…
And of course, like you might have guessed, King Cold takes a swipe at the boy…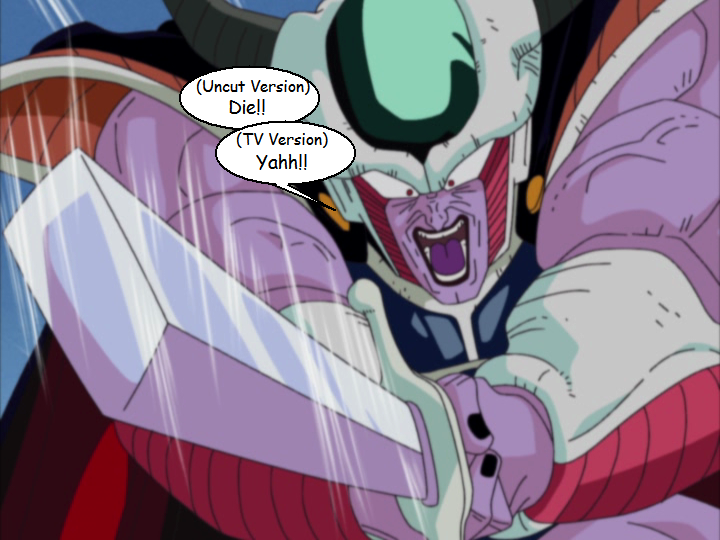 The boy grabs the sword and blast King Cold into a mountain. The reaction shot of King Cold being blasted is replaced with the reaction shot of him when Freeza was sliced in half…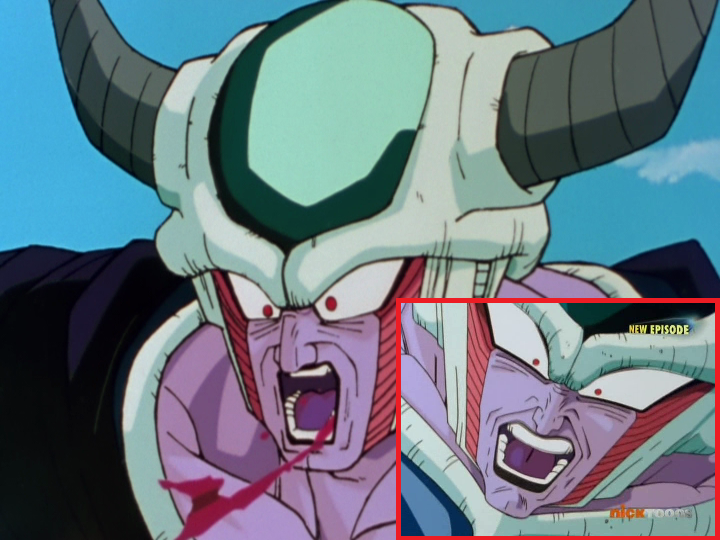 Also, in this scene, King Colds wound has been digitally painted to make it seem like the boy only broke his armor. It's not believable because we saw the blast go through his body, even in the TV version. And of course, the blood is gone as well…
The boy calls to the others, who have been watching in disbelief, to follow him to where Goku's going to land. The others follow and the episode ends soon after.